NEWS
Nadeshiko Japan arrive in Sweden, begin practice
19 July 2016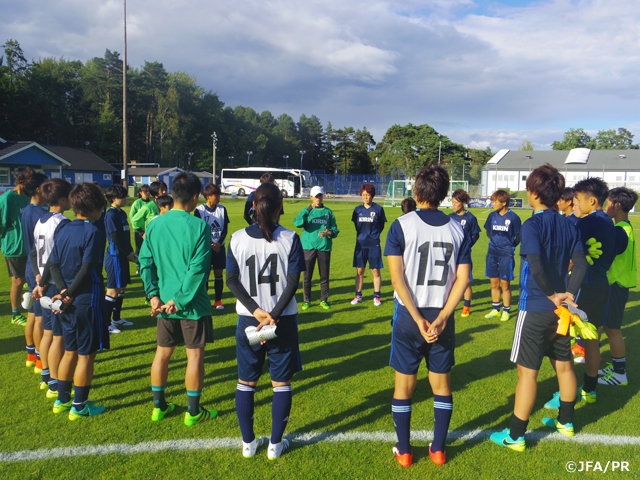 Ahead of an international friendly against Sweden to be held on Thursday 21 July, Nadeshiko Japan (Japan Women's National Team) arrived in their host city Karmar, Sweden and began training on Monday 18.
In the comfortable condition with temperatures of only 20 degrees Celsius compared to the hot and humid weather in Japan, the squad emphasised on recovery in the morning. After a conditioning check with a Yo-Yo test, Nadeshiko players went through 3-on-1 and 4-on-2 passing drills. The afternoon session was centred on possession workouts. The players played 5-on-5 and 8-on-8 with neutral players before finishing the session with a game.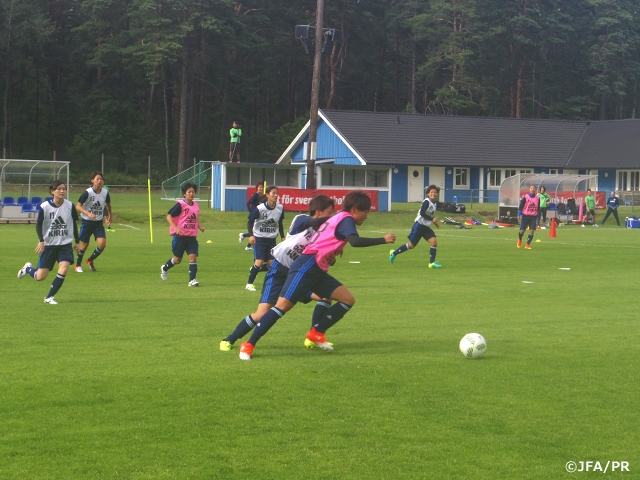 While Japan men's national team will face Sweden in the group stage of the Rio de Janeiro Olympics, Sweden's national teams are also familiar in women's football. In the 2nd FIFA Women's World Cup Sweden in 1995, the current Nadeshiko coaches TAKAKURA Asako and OBE Yumi made an appearance to help their team reach the last eight. They looked back the "memories" in Northern Europe after 21 years.
Add to the story, the current Sweden Women's National Team coach Pia Sundhage was also on the pitch in the group stage match against Japan as one of the squad members at that time. The record between those two teams is Japan's five wins, four losses and three draws. The Takakura's Nadeshiko Japan will prepare themselves for their maiden win ahead of a match on Thursday 21.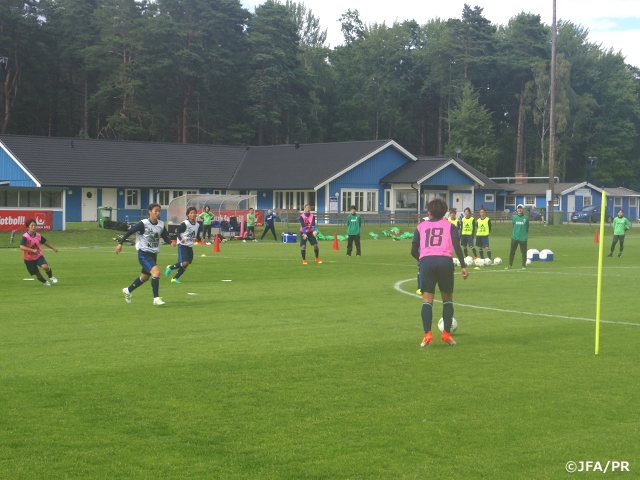 Players' Comments
GK #18 HIRAO Chika (Urawa Red Diamonds Ladies)
My impression on Nadeshiko Japan is they control the defensive line well and attack the opponents' weakness to finish plays whenever needed. I was surprised when I knew I was called up but also happy at the same time. I will keep working hard to be selected again. My strength is to cope with crosses and shots. I will try to showcase those points.
DF #19 SASAKI Mayu (VEGALTA SENDAI LADIES)
In the last US trip, I had problems in coping with 1-on-1 situations on defence. I need to get ready quicker for a next move. On the other hand, when I was successful in collaborating with others, I was able to play well. In this camp, I will try to improve the quality of combination. In the Sweden match, I will work on neat build-ups with only a few ball touches.
MF #21 KUNISAWA Shino (AC NAGANO PARCEIRO LADIES)
(When asked about impression on Nadeshiko Japan) Their comprehensive skills including quick decision-making and passing speed are excellent. I never thought I would be selected. I think I was selected because of my defending ability, so I will try to bring out my strength of how wide I can cover on defence.
FW #11 ARIMACHI Saori (VEGALTA SENDAI LADIES)
I want to get used to the team as quickly as possible and show my strength of getting through space behind defenders and committing myself to each play. In the match, I want to play aggressively and get involved in goal-scoring chances.
JFA-TV (Japanese version only)
Interview - HIRAO Chika (Urawa Red Diamonds Ladies)

Interview - KUNISAWA Shino (AC NAGANO PARCEIRO LADIES)
Schedule
Mon. 18 July
AM/PM
Training
Tue. 19 July
AM/PM
Training
Wed. 20 July
AM
PM
Training
Training *Open to the public beginning 15 min.
Thu. 21 July
16:00
International Friendly Match
vs Sweden (Guldfageln Arena)
Fri. 22 July
AM
Training
Sat. 23 July
AM/PM
Training
Sun. 24 July
14:00
Training Match
vs Kristianstads DFF (Vilans IP)
*Local Time
*The schedule is subject to change due to the team condition, the weather, etc.