NEWS
Sasaki hopes for "boost for back-to-back titles" – Nadeshiko World Match vs Ghana
13 September 2014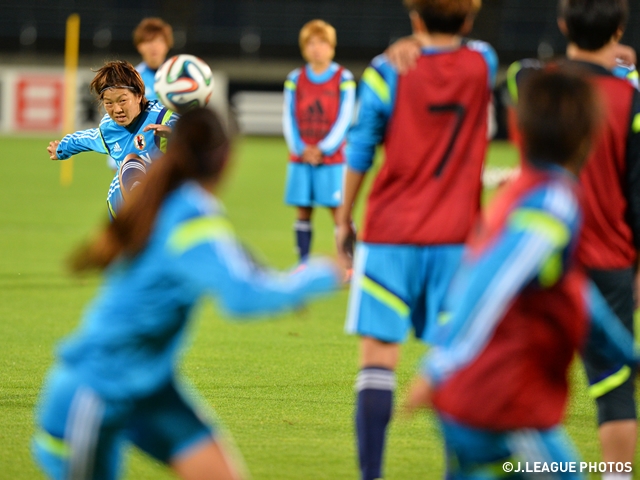 Ahead of the Nadeshiko WORLD MATCH against Ghana Women's National Team, Sasaki Norio, the head coach of Nadeshiko Japan (Japan Women's National Team), expressed his expectation at the official press conference on 12 September at ND Soft Stadium Yamagata, "I hope we can get a boost for the back-to-back titles." His squad are currently working on a tune-up for the 17th Asian Games in Inchon.
During their camp which started on 9th in Yamagata, Nadeshiko Japan have focused on improving the quality of aggressive defence and vertical, quick attacks from there. In the final practice on 12th, the team spent their time working on build-up at midfield, shooting, and review of both executing and defending set pieces.
Since there are a number of players who have little experience in the national team including three new faces, forward Masuya Rika, defender Usui Rie and defender Haza Hisui, the team hope for the development of young players and the emergence of new key players from that group.
Japan will have their first match of the Asian Games (against China) on 15h. Sasaki said "we'll try for the back-to-back titles. And as we do that, I hope we can integrate young players into the team." "There is a possibility that a few newly-called-up players may be on the starting line-up," added Sasaki.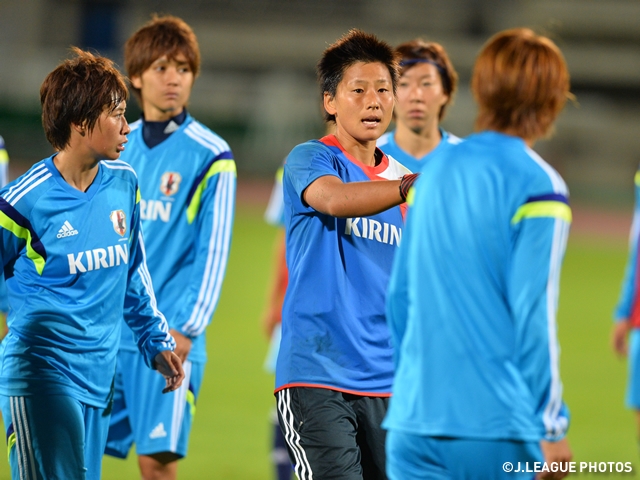 Ghana are at 48th in the FIFA ranking (Japan at 3rd). They aim to clinch the top positions at the African Championship next month so that they can qualify for the FIFA Women's World Cup next year. They had their own training camp inside Ghana before leaving for Japan.
The Nadeshiko squad will certainly experience the differences of styles, charging intensity, length of reaches and build-up rhythm, in the first match-up against Ghana. Sasaki said of his players "I hope they learn how to understand and cope with the situation where they are at." The match will be held in his hometown Yamagata. The boss expressed his enthusiasm, saying "we will fully show our football that is active in both offence and defence in order to get ready for the Asian Games."
The match will start at 7 pm on Saturday 13th.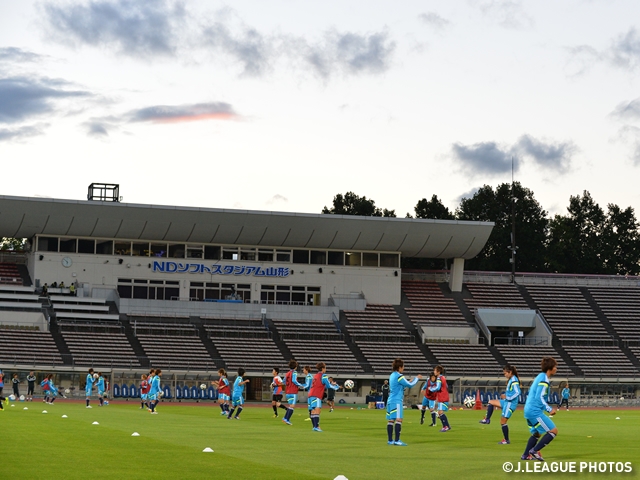 Comments
SASAKI Norio, Nadeshiko Japan Head Coach
We will try for the back-to-back titles. I hope we can integrate young players into the team. Thinking that we'll have six games with only 18 players, we all need to pull together. In such a situation, I believe we can naturally integrate young players well. (At this camp) young players are trying to show what they have. That's a good thing. And they play very well. I can't wait to see them playing in the match. Players from other Asian countries can challenge the ball very quickly from distance and have longer reaches than us. But Ghanaian players also have that style. Even when we think "there is still some safe distance between us," they come quicker and take the position. In that sense, we need to learn how to quickly cope with their moves after observing opponents and understanding the situation.
MF MIYAMA Aya (Okayama Yunogo Belle)
We have lots of new players. We need to build the combination with those players and understand where we are at this moment. We are thinking not only about playing against Ghana. We would like to find out what we are lacking by ourselves. Even in tough situations, we need to be patient and tenacious and get over that tough situation. As long as we put on national team kits, we've got to be aware of what a national team player is expected to do. We are willing to lead the new faces to let them play comfortable, but it's better for them to understand that and show who they really are.
DF OSAFUNE Kana (Vegalta Sendai Ladies)
In a build-up situation, I will try to send forward as many balls as I can. In a defensive situation, I will fasten my decision-making speed when to go forward and when to stay down. Ghana have some fast players up front and they sometimes stay there even when they defend. I will always be careful of the risk of having their counter-attacks. In the camp, communications between our defenders and goalkeepers have gone well. That's something that should lead to our future games in a good way.
FW TAKASE Megumi (INAC Kobe)
My objective this time is to put up a good result both as a team and as an individual. I'll try my best for that. I want to be a forward player who anyone can feel like playing with. I played with other forwards in the camp. And I didn't feel any discomfort with anyone. In that sense we have been well-prepared. In terms of the Asian Games, we won the tournament four years ago where I was on a pitch for the first time as a national team championship member. That was a good experience and still gives me a good image. I will try my best to make something happen in this tournament.
FW KIRA Chinatsu (Urawa Reds Ladies)
Ghanaian players have totally different ability from Japanese players' in terms of the length of reach and speed. The match is going to be different from our usual matches. Even if I lose the ball, I will try to challenge to take it back. I want to actively keep challenging, not to give up and try to create our rhythm with my aggressive attacking efforts. I'm not guaranteed to be selected for the next tournament. I'll keep in mind that this camp and tournament can be my last chance. And I will try to put up a result sticking to scoring a goal every game if I'm sent on the pitch.
Yussif BASIGI, Ghana Women's National Team Head Coach
Our strength is that we are all-rounders. We didn't allow any goal in the four matches of (the African Championship) qualifiers. We also have an ability to score no matter where the match takes place at home or on the road. We have some fatigue after the long trip, but we are in good form as there are no injured players. I'm confident that we can show a good match. Japan are a good team. Playing against the world champion is very valuable for us. I hope Japan also find some value in playing against us.
JFA-TV
SASAKI Norio Head Coach

KAWASUMI Nahomi

MASUYA Rika
Nadeshiko Japan WORLD MATCH
Nadeshiko Japan (Japan Women's National Team) vs Ghana Women's National Team
Sat. 13 September 2014 Kickoff at 19:00 (estimate time) / Open 17:00 (estimate time)