NEWS
Nadeshiko Japan's friendly against U-23 women's national team on the third day of training camp in Yamagata
12 September 2014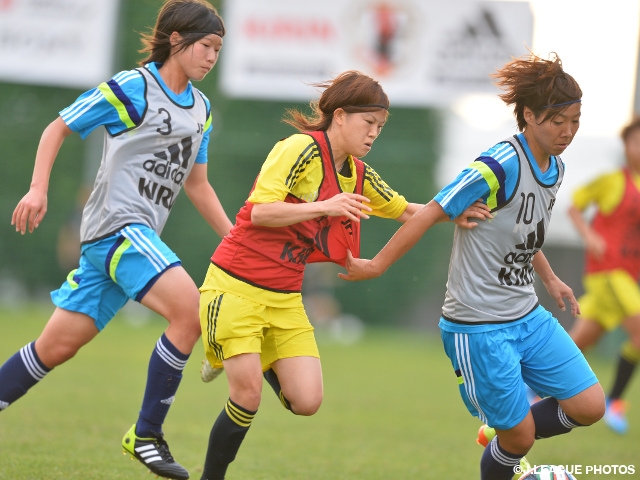 Nadeshiko Japan held practice sessions in Yamagata for the 'Nadeshiko Japan WORLD MATCH' against the Ghana women's national team at the NDsoft Stadium Yamagata on Saturday 13 September, which will be the last friendly before the 17th Asian Games next week.
In the morning, the players started with a warm up and moved on to shooting practices. Then in the afternoon, they did some ten-on-seven or five-on-four passing with the local high school boys.
On 9 September, the players played a friendly with 25-minute halves against the U-23 women's national team, who were also having their own training camp there, and were able to show their own speed. The players on the bench also stayed vocal, watching their teammates near the touchline.
The defender Iwashimizu Azusa, who had not been completely fit, finally joined the camp and participated in the afternoon training session. She looked back to usual herself, mainly adjusting to her condition by jogging separate from her teammates.
After the practice sessions, Sasaki Norio, the head coach, got a visit from Ishizaki Nobuhiro who is the head coach of Montedio Yamagata.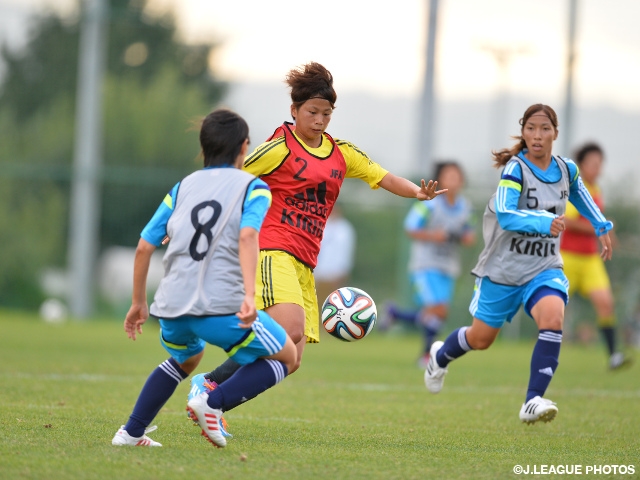 Comments
NAOMOTO Hikaru(Urawa Reds Ladies)
I think I know what I'm here for and what to do more than the last time in May. There are some new players here, but it's not difficult to coordinate with them. Just like in Urawa Reds Ladies, I'd like to move a lot, get close to the goal to assist or score a goal, and defend properly as I'm expected. I'll do my best in each of the matches in the Asian Games. The game against Ghana is a chance to show why we should be selected. So I will make the most of it, rather than just adjusting myself.
KIRYU Nanase(Sky Blue FC)
Although it's been a while since I last joined Nadeshiko's training camp, I'm enjoying myself. People say my game got stronger, but I'm not sure. In this camp, I'm practicing facing forward to start attacks and switch swiftly back to defence. The game against Ghana will be the last chance for us to adjust our game. So I'd like to play normally and play well as a team.
MASUYA Rika (INAC Kobe)
Gradually, I'm getting used to the Nadeshiko's style, as I got to know the other players' characters and skills. I was really impressed by their defences, which made me think I had to try harder. The goal scored from Muto Yoshinori's dribbling in the match against Venezuela inspired me a lot. I'd like to play my style and show plenty of ambition to score, if I'm in the match against Ghana.
KAWASUMI Nahomi(INAC Kobe)
We really want to be back-to-back champions at the Asian Games. As last time we won the championship without the players, who played in leagues abroad, I believe that we can do it again. Every match is important, but the first game against China is vital - we need to play as though it is the final. I guess China are determined, as they deeply regretted and felt frustrated in the previous Asian Cup. However, we'd like to be challengers once more to win the title, rather than playing as defending champions. We can be even stronger when we play harmoniously as a team. We'd like to do our best in order to become back-to-back champions.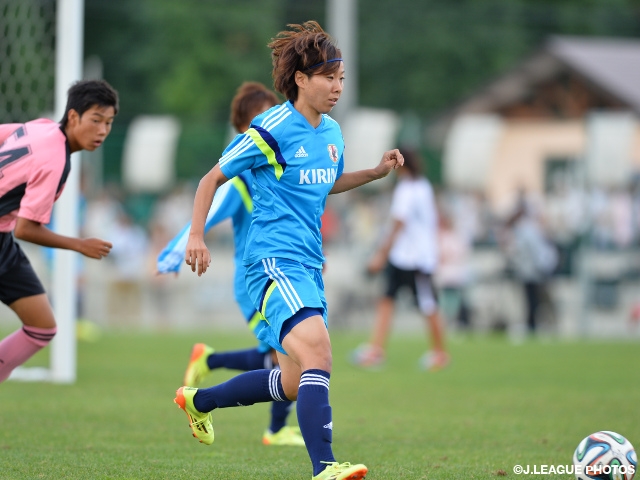 Nadeshiko Japan WORLD MATCH
Nadeshiko Japan (Japan Women's National Team) vs Ghana Women's National Team
Sat. 13 September 2014 Kickoff at 19:00 (estimate time) / Open 17:00 (estimate time)