NEWS
Nadeshiko Japan WORLD MATCH - Ghana Women's National Team arrive Japan and start training
10 September 2014
Ghana Women's National Team arrived in Japan on Mon. 8 September for game against Nadeshiko Japan, Nadeshiko Japan World Match scheduled on Sat. 13 September.
The squad looked very tired when they arrived at Haneda Tokyo International Airport after taking a long flight. On 9th the next day, but they became relaxed and gradually filled with pretty smiling faces as they moved to Yamagata taking Shinkansen and as time goes by conducting training in the afternoon and taking dinner. They started off with light training in first day to adjust their jet lag to begin with.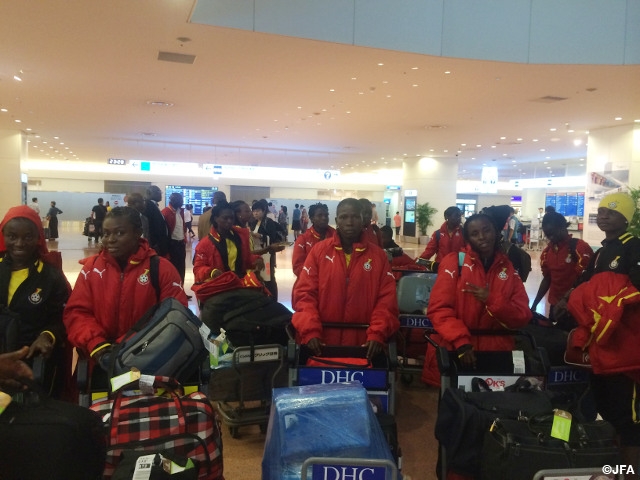 Comments
Yussif BASIGI, Head Coach
This is my first time in Japan and I was surprised to see beautiful environment. I am really impressed with scenery and fantastic design of building and hospitality of Japanese staff and touched with everything goes as scheduled. This game is very important for us with African Women's Championship (AWC) is coming up in October. We are going to fight enthusiastically for the game between two of continental champions. I have an impression of superb free kick of Miyama. We take every care for not giving free kick to Japan.
I am going to train up my squad for meeting Japan team again in FIFA Women's World Cup Canada 2015.
MF Leticia ZIKPI (Captain)
First time in Japan. Having been here for just a short time, I found Japan is very good country because everything is beautiful and everybody is kind.
First time to play game against Japan as well. I heard Japan is strong team but we are determined to win this game as we united and get momentum for the African championship next month, eventually leads to qualifying for the World Cup next year.
MF Mercy MYLES (Vice Captain)
This is second time in Japan since I came here for FIFA U-20 Women's World Cup in Hiroshima in summer of 2012. I was in Hiroshima previous time and I am really impressed with wonderful Japanese hospitality. As Japan is the number one team in the world, it should be a very tough game but we want to show the outcome of training camp held just before coming to Japan in Ghana and definitely want to win the game.
GK Patricia MANTEY
This is second time for me as well to come to Japan since 2012. Nice weather and other wonderful surroundings, all those things make me feel at home. I have an impression of Japan team playing very fast when I watched the final of FIFA Women's World Cup 2011. Three days till the game, I want to make a good preparation for not to lose the game.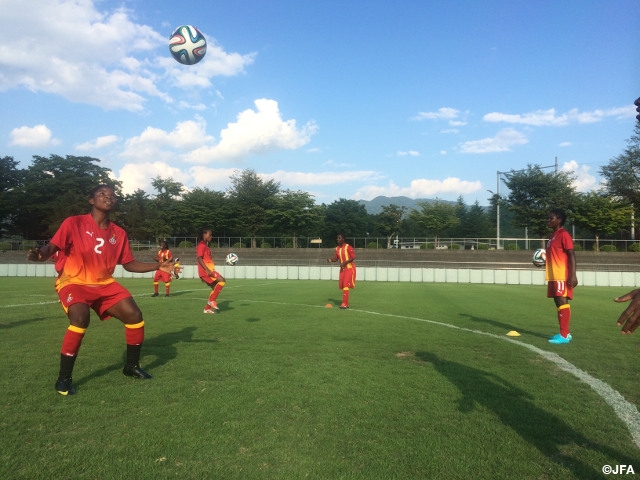 Nadeshiko Japan WORLD MATCH
Nadeshiko Japan (Japan Women's National Team) vs Ghana Women's National Team
Sat. 13 September 2014 Kickoff at 19:00 (estimate time) / Open 17:00 (estimate time)