NEWS
Higashi Fukuoka keep hopes alive to avoid relegation - Prince Takamado Trophy JFA U-18 Football Premier League 2021 WEST
22 November 2021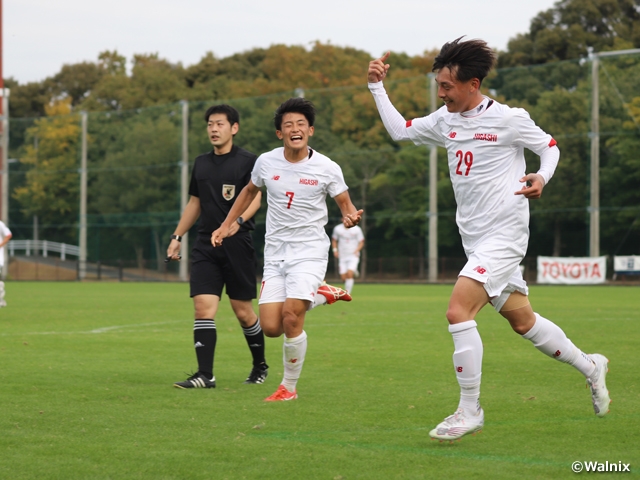 The 16th sec. of the Prince Takamado Trophy JFA U-18 Football Premier League 2021 WEST took place on Saturday 20 and Sunday 21 November, as Jubilo Iwata U-18 (Shizuoka) faced Higashi Fukuoka High School (Fukuoka).
Pick-up Match
Jubilo Iwata U-18 0-3 (0-2, 0-1) Higashi Fukuoka High School
After seeing both Vissel Kobe U-18 (Hyogo) and Kyoto Sanga FC U-18 (Kyoto) winning their match on Saturday, Higashi Fukuoka was provisionally ranked bottom of the table, as URA Juzo (#36) reflected, "After seeing the results of the two teams, we were fully determined to win our match, too."
The match started with Higashi Fukuoka keeping possession of the ball as they moved the ball from side to side. In the 28th minute, Ura, who mentioned "You have to play to your fullest in order to compete at the Premier League," played a give and go with OBUCHI Raiju (#29) to break through the right flank before taking a shot. The shot was initially blocked by the goalkeeper, but Obuchi was there to convert the deflection. The Fukuoka side managed to double their lead before halftime, when SONODA Hisashi (#2) connected with a corner kick delivered by TUJI Kodai (#3) to set up the goal of MUKUNO Kaito (#8).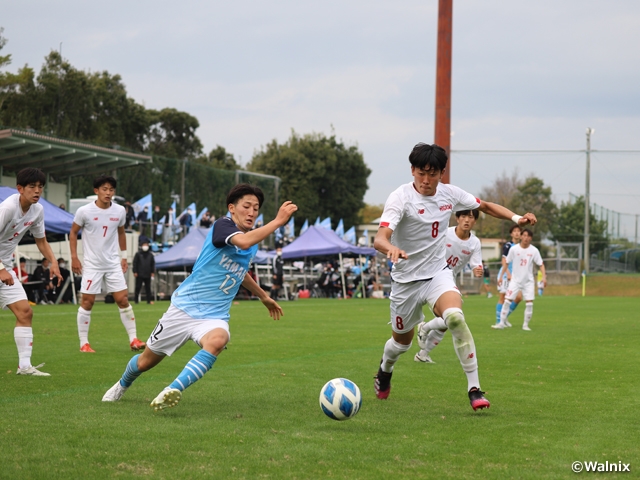 In efforts to rally back, Iwata shifted NISHIMURA Hinata (#10) to the left side to seek for opportunities from the flanks. As coach KOBAYASHI Minoru told his players, "Let's try to exploit the space before their defence is prepared," Iwata's FUJIWARA Kensuke (#13) delivered multiple passes into the open space to threaten the Higashi Fukuoka goal. However, as Mukuno later reflected, "I kept talking with Sonoda to maintain the clean sheet intact," the Higashi Fukuoka defence showcased great focus to keep the Iwata offence at bay. In the 79th minute, a golden opportunity arrived for Iwata, as GOTO Keisuke (#23) struck a header off of a corner kick, but the shot was cleared by MUKAI Takato (#6).
After evading a critical moment, Higashi Fukuoka created one last opportunity in the 81st minute, when Obuchi received a clear ball from his own half and made his way down the left flank before squaring the ball to Ura who scored the third goal. Higashi-Fukuoka finished the match 3-0 in an ideal fashion, staying in contention for the relegation race.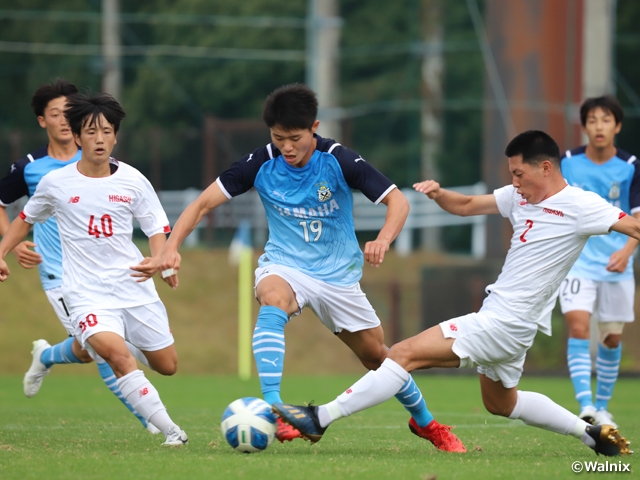 Coaches and Players' Comments
KOBAYASHI Minoru, Coach (Jubilo Iwata U-18)
After facing Higashi Fukuoka and Ozu in the first half of the season, we knew the strong points of the high school teams. I told my players that we had to get our jobs done in order to prevent our opponent from gaining momentum, but once we got on the pitch, we weren't able to perform well in the first half. Although it seemed like we were controlling the match in the second half, it felt like we were playing within their expectations. We need to be more creative and deliver more passes into the box in order to create more opportunities in the final third.
FW #10 NISHIMURA Hinata (Jubilo Iwata U-18)
Compared to the other teams of the Premier League, I feel that we have not grown enough through this season. We need to play with more intensity in order to win matches in this league. For us third year players, the remaining matches will be the last Premier League matches of our lives. As much as we want to leave no regrets, we want to win these matches, because winning and losing is part of football. The third year players must play with a sense of urgency, and I want the younger players to step up to the occasion. In order to do so, we must raise the intensity level from our training sessions.
MORISHIGE Junya, Coach (Higashi Fukuoka High School)
We are satisfied with this result. We were able to take the initiative from the first half. I was a little worried when we failed to capitalise on two of our chances, but I was relieved to finish the first half with a two goal lead. However, we knew that anything could happen in football, so we tried to stay focused until the end. In fact, we were dominated in the second half. We were able to finish the match on a high note because we were able to keep our composure and score the third goal.
MF #8 MUKUNO Kaito (Higashi Fukuoka High School)
Higashi Fukuoka have never been relegated from the Premier League and the third year players have been determined to keep that streak going. This team shares a close bond, and the seniors are actively communicating with others to pass on the torch to the younger generation. We are happy with this win, but we must reset our minds to prepare for our next match against Sanfrecce Hiroshima. The last time we played them, we lost 0-4 at home, so we will prepare ourselves in the best way possible to have our payback.
Results of other matches
Kyoto Sanga FC U-18 4-2 (4-0, 0-2) Cerezo Osaka U-18
Vissel Kobe U-18 2-1 (1-0, 1-1) Nagoya Grampus U-18
Sanfrecce Hiroshima F.C Youth 4-2 (1-2, 3-0) Sagan Tosu U-18
Gamba Osaka Youth 2-2 (0-0, 2-2) Ozu High School
Led by the opening goal scored by KOYAMA Mao (#17), Kyoto Sanga FC U-18 (Kyoto) scored four goals in the first half to defeat Cerezo Osaka U-18 (Osaka), earning their second win of the season. Vissel Kobe U-18 (Hyogo) won over Nagoya Grampus U-18 (Aichi), thanks to the goals of NAGASAWA Mikaze (#10) and OZAKI Yusei (#4). League leaders Sanfrecce Hiroshima F.C Youth (Hiroshima) overcame a two goal deficit to defeat Sagan Tosu U-18 (Saga) 4-2. Gamba Osaka Youth (Osaka) came from behind twice to draw 2-2 with Ozu High School (Kumamoto) at home.

Prince Takamado Trophy JFA U-18 Football Premier League 2021
League Duration: Sat. 3 April - Sun. 5 December 2021