NEWS
Iwata and Tosu share a point apiece - Prince Takamado Trophy JFA U-18 Football Premier League 2021 WEST
15 November 2021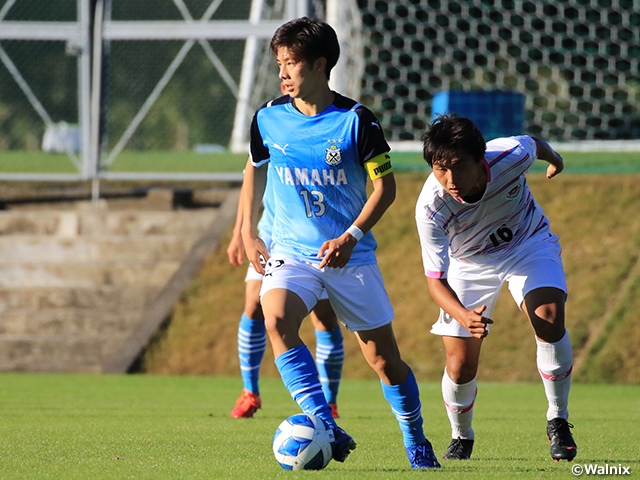 Two of the postponed fixtures of the Prince Takamado Trophy JFA U-18 Football Premier League 2021 WEST took place on Saturday 13 and Sunday 14 November. At Yumeria Stadium, a fixture from the sixth sec. between Jubilo Iwata U-18 (Shizuoka) and Sagan Tosu U-18 (Saga) took place.
Pick-up Match
Jubilo Iwata U-18 1-1 (1-0, 0-1) Sagan Tosu U-18
Last time the two sides clashed nearly a month ago, Iwata suffered a humiliating loss of 0-7, but coach KOBAYASHI Minoru prepped his players by telling them, "Don't let the result drag you down, and try to keep a positive attitude." Entering the match with the right mindset, Iwata captured the opening goal from a free kick earned by UENOHIRA Kira (#8) in the 24th minute, as FUJIWARA Kensuke (#13) assisted the goal of ITO Ryosuke (#22). After hitting the woodwork in their previous match against Gamba Osaka, coach Kobayashi sent off the first year striker by telling him, "Go out there and score this time."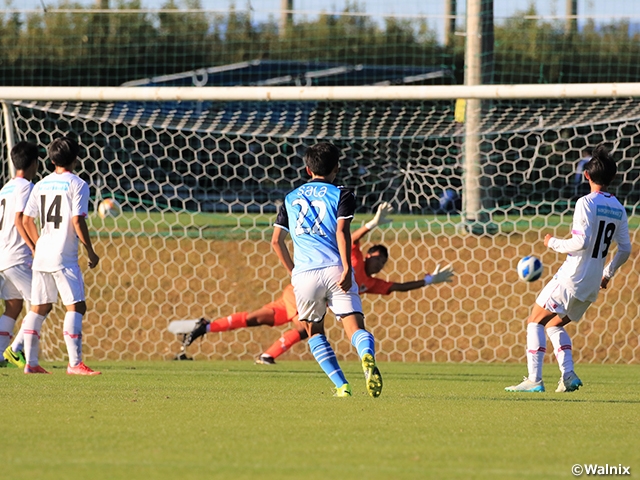 In efforts to equalise, Tosu's FUKUI Taichi (#14) made an attempt from a free kick he earned himself in the 41st minute but failed to hit the target. Two minutes later, Fukui delivered a cross that nearly connected with NARAHARA Yoshiki (#8) but missed by a small margin.
Iwata rallied in the closing minutes of the first half, as NISHIMURA Hinata (#10) responded to a cross sent by MATSUDA Kazuki (#15) to strike the cross bar. ITO Takeshi (#19) also tried his luck from distance, but his shot also fell short from finding the back of the net, as Iwata entered halftime with a 1-0 lead.
The second half saw Tosu increasing their intensity level. As time ticked away, Tosu's team captain ANDO Toshiki (#3) kept telling his teammates, "Stay calm and don't rush your plays," as the defender reflected, "I knew we wouldn't be able to score a goal if we rushed our plays." In the 89th minute, Ando fired a header into the Iwata goal, but the play was ruled offside. However, Tosu continued to showcase their tenacity, which led to the equaliser scored in the sixth minute of additional time, when the corner kick delivered by TAGUCHI Ryota (#7) deflected off an Iwata defender and ended in the back of the net, giving Tosu their long awaited equaliser. As a result, the intense match between Iwata and Tosu ended in a 1-1 draw, giving the two sides a point apiece.
Coaches and Players' Comments
KOBAYASHI Minoru, Coach (Jubilo Iwata U-18)
We all tried to do our best against a tough opponent, and we were able to score the opening goal. In order to prevent our opponent's counterattacks, we wanted to finish our plays with a shot, and that is exactly what our players did today. Despite conceding at the end, the players fought hard during the difficult time in the second half. While taking a positive attitude, we would like to get back the two points we lost at the end in the remaining four matches.
MF #13 FUJIWARA Kensuke (Jubilo Iwata U-18)
The last time we played Jubilo, I was not in the game, but after losing 0-7, we kept telling each other that, "We have to repay the debt." In such match, we were able to take shots and score the opening goal. In the second half, we tried to keep our concentration, but it was unfortunate that we conceded at the very end. We will need to build on our strong points while improving our set plays, defence, and how we approach the ball.
TANAKA Tomonori, Coach (Sagan Tosu U-18)
We had a hard time getting into the game in the first half and made it difficult for ourselves. In the second half, we were able to take control of the game to some extent, and our players worked hard until the end. With a goal being disallowed, it was a game that challenged us mentally, but we were able to score a goal in the end. I would like to praise the players for not giving up.
DF #3 ANDO Toshiki (Sagan Tosu U-18)
We were able to improve how we run, fight for the ball, and make transitions during halftime, which allowed us to play our style of football and score the equaliser in the second half. When I was called offside, I thought I timed myself pretty well, so it was a bit disappointing to have the goal disallowed. I'm good at scoring goals with my head, so I wanted to score that one.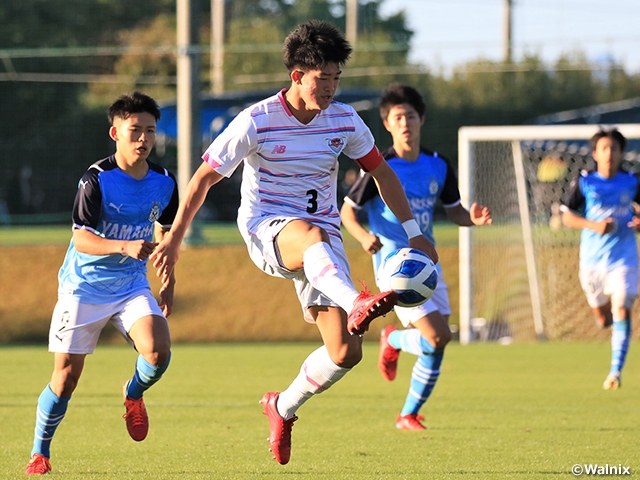 Results of other matches
Gamba Osaka Youth 6-1 (3-1, 3-0) Sanfrecce Hiroshima F.C Youth
Gamba Osaka Youth (Osaka) took a two goal lead over Sanfrecce Hiroshima F.C Youth (Hiroshima) in the first half with the brace of SAKAMOTO Isa (#11), and after ASANO Naoki (#7) scored a hat-trick in the second half, the Osaka side thrashed the league leaders 6-1.

Prince Takamado Trophy JFA U-18 Football Premier League 2021
League Duration: Sat. 3 April - Sun. 5 December 2021