NEWS
Shimizu earn shutout victory to get even with the league leader in points - Prince Takamado Trophy JFA U-18 Football Premier League 2021 EAST
15 November 2021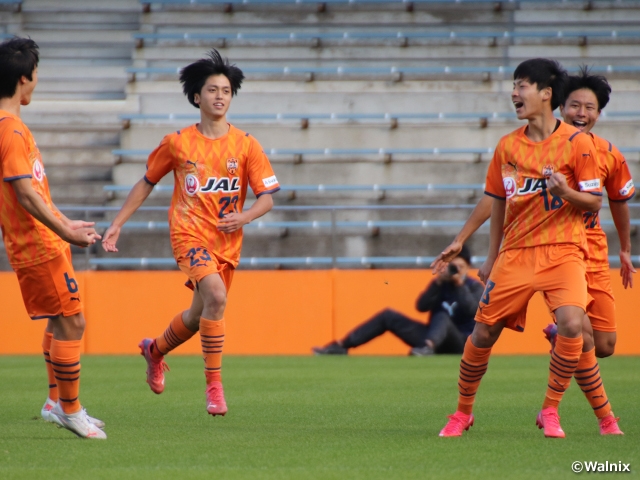 Three of the postponed fixtures of the Prince Takamado Trophy JFA U-18 Football Premier League 2021 EAST took place on Saturday 13 and Sunday 14. At IAI Stadium Nihondaira, Shimizu S-Pulse Youth (Shizuoka) and Yokohama F.Marinos Youth (Kanagawa) played their postponed fixture from the 10th sec.
Pick-up Match
Shimizu S-Pulse Youth 4-0 (3-0, 1-0) Yokohama F.Marinos Youth
Riding a three game winning streak, second place Shimizu welcomed Yokohama FM to IAI Stadium Nihondaira for their first home game with spectators this season.
When the two sides faced each other in season opener, Shimizu won 4-1. As their ace CHIBA Kanta (#9) mentioned, "I was really fired up for this match," the home side was greatly energised by the cheering crowd.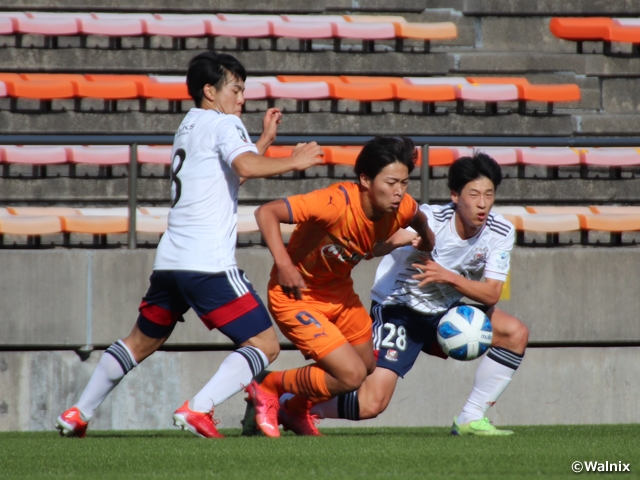 The opening goal came in the sixth minute, when YAMADA Riku (#18) converted a deflection off a corner kick to give Shimizu the lead. Chiba scored back to back goals in the 29th and 41st minute to extend the lead 3-0, as he later reflected, "Marinos is a team that can possess the ball while keeping a high line, so we were anticipating for our chances to counter." By scoring a brace, Chiba, who tops the scoring charts, has now scored 14 goals this season.
Shimizu kept their momentum into the second half, as KANEKO Seita (#7) broke loose from a counterattack to capture the team's fourth goal in the 62nd minute.
"Although there were many first-year players, there were times when we were able to possess the ball and control the game," said coach OKUMA Yuji, as Yokohama FM created numbers of opportunities in the second half, but with the superb performance showcased by Shimizu's goalkeeper NAKAJIMA Atsuki (#1), the match ended 4-0 to give the home side a shutout victory.
"The level of our opponents has gone up, and it was a good opportunity for us to find out how much we have grown," said coach IWASHITA Jun, as Shimizu has now won four consecutive matches to tie the league leader Aomori Yamada High School (Aomori) in points.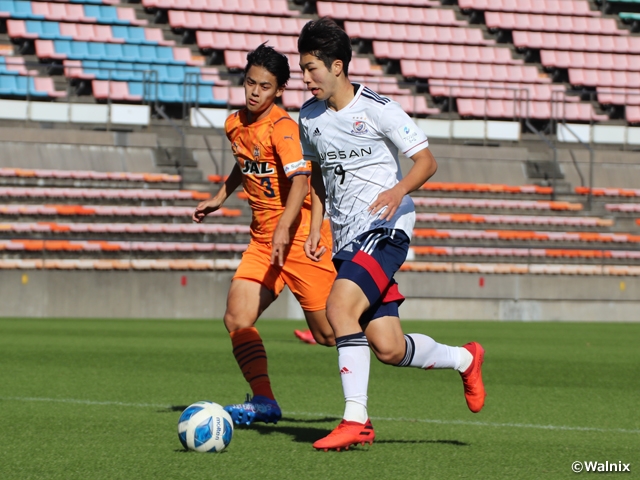 Coaches and Players' Comments
IWASHITA Jun, Coach (Shimizu S-Pulse Youth)
There were many times when we were a step late to pressure the ball, which resulted in us conceding goals in the recent matches, but today, I think we were able to defend in a coordinated manner, taking one more step toward the opponent, while covering the space for each other. Marinos kept moving the ball around and it was hard for us to keep up with them, but I told my players that they were running very well and that we should continue until the end. We still have a lot of work to do, but I think it was good that we were able to apply pressure from our frontline today.
FW #9 CHIBA Kanta (Shimizu S-Pulse Youth)
With this being our first match played in front of the crowd, the players were really pumped up for this match. Although we allowed our opponent to dominate in the closing minutes, we were able to execute our game plan and capitalise on our opportunities. I am aware of the goal rankings, but I am more focused on scoring goals that are meaningful, rather than how many I score. In that sense, next week's match against Aomori Yamada will be really important.
OKUMA Yuji, Coach (Yokohama F.Marinos Youth)
We played too passively in the first 10 minutes, and the goal we conceded during that time had a huge impact on how we played the game today. However, there were times when we were able to possess the ball to control the game, even though there were many first-year players. Just like our top team, we are striving to move the ball around while applying numbers upfront, which creates more opportunities for us to lose the ball, and we need to do a better job to respond in those situations. We also need to take more risks in the build-ups, so that we can take the initiative of the match.
MF #27 MATSUMURA Kosuke (Yokohama F.Marinos Youth)
We made things difficult for ourselves by conceding a goal early in the match. We rushed our plays, didn't use the width of the pitch, and were slow on our transitions during the first half. In terms of offence, we knew our opponent would play 4-4-2 and mark us man-to-man, so I tried to keep myself and Shimada wide and the fullbacks to position themselves inside to increase the number of people in between the lines. However, I feel like we weren't able to keep the entire team on the same page, so we hope to do a better job in sharing the information in our next match.
Results of other matches
Kashiwa Reysol U-18 5-0 (2-0, 3-0) Omiya Ardija U18
FC Tokyo U-18 1-0 (1-0, 0-0) Yokohama FC Youth
Led by the opening goal scored by YAMAMOTO Ota (#18), Kashiwa Reysol U-18 (Chiba) scored five goals in their shutout victory over Omiya Ardija U18 (Saitama) at home. FC Tokyo U-18 (Tokyo) held onto the one goal lead given by MORITA Sho (#3) in the 39th minute to win over Yokohama FC Youth(Kanagawa).

Prince Takamado Trophy JFA U-18 Football Premier League 2021
League Duration: Sat. 3 April - Sun. 5 December 2021