NEWS
Top teams to clash in both leagues at the 11th Sec. of the Prince Takamado Trophy JFA U-18 Football Premier League
22 August 2019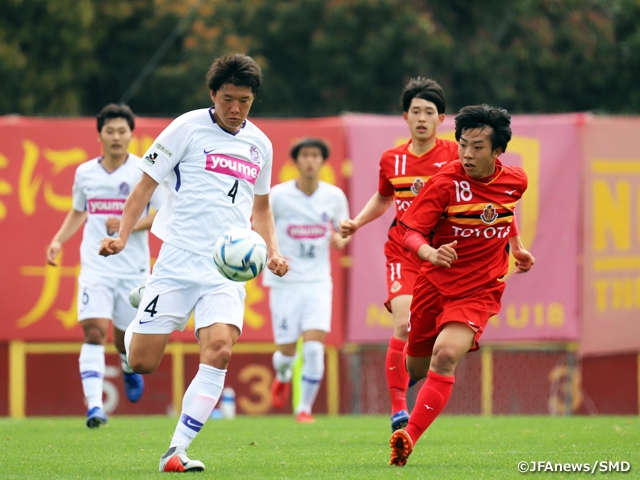 The 11th Sec. of the Prince Takamado Trophy JFA U-18 Football Premier League will take place on Saturday 24 and Sunday 25 July, at various locations.
EAST
Omiya Ardija U18 (Saitama) will seek to end their four game winless streak when they welcome Funabashi Municipal High School (Chiba) at home. The Omiya side has been kept scoreless in three of the matches during the streak, and the team will turn to their forward ARAI Seijiro (#9) and the attacking third to pick up their momentum in offence. Jubilo Iwata U-18 (Shizuoka) will face the league leader Aomori Yamada High School (Aomori), where their defence led by YONEDA Shin (#4) will play a key role in this match.
An intriguing matchup between two strikers will take place when Shoshi High School (Fukushima) squares off against Ryutsu Keizai University Kashiwa High School (Chiba). Shoshi's SOMENO Itsuki (#9) and Ryutsu Keizai's MORIYAMA Itto (#11) has been consistent goal threats throughout the season and they will be the focal point in this match as well. Urawa Red Diamonds Youth (Saitama) will seek to earn their first win since the sixth Sec. when they face Kashima Antlers Youth (Ibaraki).
The pick-up match in the EAST features a fixture between second place Kashiwa Reysol U-18 (Chiba) and third place Shimizu S-Pulse Youth (Shizuoka). Despite their solid performance in the first half, Kashiwa has conceded multiple goals in the matches played beyond July, including those played at the JAPAN Club Youth (U-18) Football Championship, and their key to success will rely on the performance of their defence led by DE Keita (#4). On the other hand, Shimizu has tied three of their recent matches, and they will seek to break this trend through their offence led by AOSHIMA Taichi (#11) and CHIBA Kanta (#30).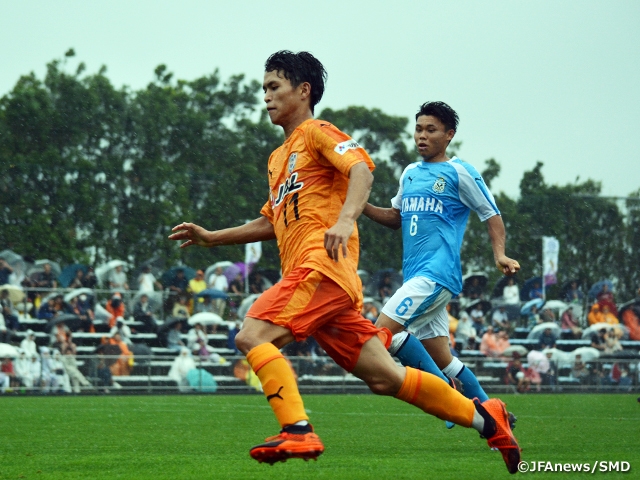 WEST
League leader Kyoto Sanga F.C. U-18 (Kyoto) will square off against sixth place Vissel Kobe U-18 (Hyogo), where the two aces, Kyoto's TOYAMA Haruki (#19) and Kobe's OSHITOMI Taiki (#16), will feature an intriguing matchup in the midfield. The battle between the two midfielders may determine the outcome of this match.
Despite their struggles in the first half of the season, Cerezo Osaka U-18 (Osaka) will try to turn around their momentum when they face Sanfrecce Hiroshima F.C Youth (Hiroshima) this week. The Osaka side has made a habit of conceding goals in the second half to drop points in their matches, thus their key to success will lie on their ability to maintain their focus until the final whistle.
Third place Ozu High School (Kumamoto) will seek to take the league lead when they welcome eighth place Avispa Fukuoka U-18 (Fukuoka) to their home. For Ozu, five out of their six wins came when they scored the opening goal, and they will try to earn another victory through this winning formula. Gamba Osaka Youth (Osaka) will attempt to stop their three game losing skid when they face Ehime FC U-18 (Ehime). Osaka's defender NISHIMURA Sho (#4) will try to rebuild their defence, who has been conceding multiple goals in their recent matches.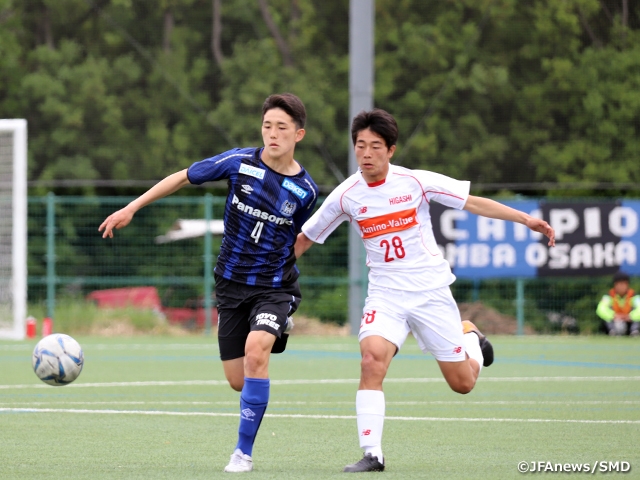 The pick-up match in the WEST features an enticing matchup between Nagoya Grampus U-18 (Aichi) and Higashi Fukuoka High School (Fukuoka). Despite their early struggles, Nagoya has been undefeated since game week seven, and they have recently won the title at the JAPAN Club Youth (U-18) Football Championship. If they can carry on the momentum, another victory is within their grasp. Higashi Fukuoka is also in great form, as they are coming off back-to-back victories. Their two midfielders, UEDA Mizuki (#18) and AOKI Shunsuke (#17), will play a key role in this match for their survival in the title race.
EAST Sec. 10 Highlights
WEST Sec. 10 Highlights
Prince Takamado Trophy JFA U-18 Football Premier League 2019
League Duration: Sat. 6 April - Sun. 8 December 2019