NEWS
High school teams, Ozu and Shoshi, regain spots in Premier League as result of Prince Takamado Trophy JFA U-18 Football Premier League 2018 Play-Offs
18 December 2018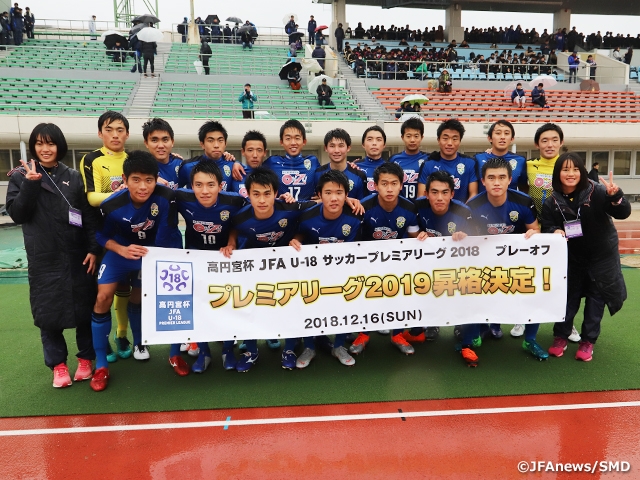 Sunday 16 December saw the Prince Takamado Trophy JFA U-18 Football Premier League 2018 Play-Offs. Four games of the 2nd Round were held in Hiroshima in order to decide the four teams getting promoted to the Premier League for the 2019 season.
Pick-up Match 1
Yaita Chuo High School (Kanto1/Tochigi) 1-3 (0-1, 1-2) Ozu High School (Kyushu2/Kumamoto)
In the first match held at Coca-Cola Bottlers Japan Hiroshima Stadium, Yaita Chuo High School, the champions of the Kanto Prince League, played against Ozu High School, who aimed to return to the Premier League after getting relegated a year ago. Although the match saw Yaita Chuo initiating powerful attacks from their long balls, Ozu did well to evade their attacks as their defender FUKUSHIMA Hayato (#6) later commented, "Our opponents dropped back deeper than we expected, so we managed to keep possession of the ball." Through their composed defence and ball movements, the Ozu side picked up their momentum. In the 43rd minute, they broke through the right flank with a through ball, allowing their midfielder OTAKE Yusei (#8) to strike the opener.
In efforts to level the match, Yaita Chuo utilised their substitutes in the second half and showcased a fierce attack, but Ozu continued to display a solid effort to keep their lead intact. Once forcing a turnover, Ozu initiated their counter attacks, which Coach HIRAOKA Kazunori describes as one of their strong points. In the 54th minute, midfielder MIZUNO Yuta (#10) retrieved the ball in his own side before breaking through the left flank. The ball was then delivered to OSAKI Shun (#9) who fired a right footed shot to extend Ozu's lead to two goals. Although Yaita Chuo managed to score back a goal in the 56th minute with a penalty kick converted by their forward IIJIMA Tsubasa (#10), Ozu secured their win with Osaki's second goal scored in the 89th minute, assisted by IWAMOTO Yudai (#3). With this 3-1 victory, Ozu clinched their spot into the Premier League for the third time.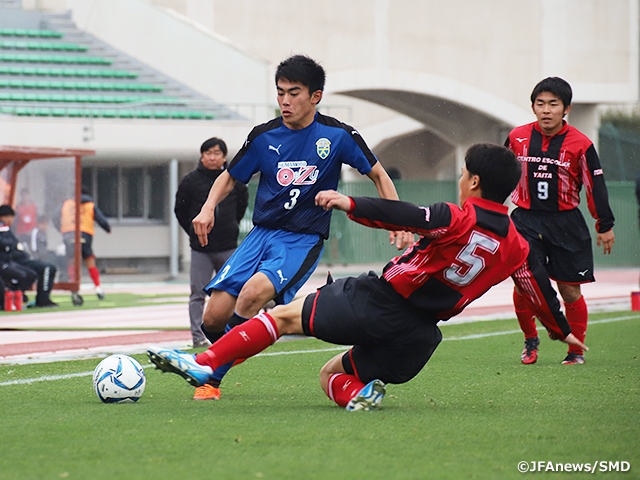 Pick-up Match 2
Shoshi High School (Tohoku1/Fukushima) 2-1 (0-1, 2-0) Yokohama F-Marinos Youth (Kanto2/Kanagawa)
The second game was played between Shoshi High School and Yokohama F-Marinos Youth, both of whom aimed to regain their spot in the Premier League. As soon as the match kicked off, Yokohama FM displayed skilful passing and dribbling to break down the opposing defence, but the Shoshi side, who were expecting a tough match, reacted with calm. As Coach NAKAMURA Koji described their approach, "I told the players that taking our time would help us in the long run. The longer we keep a clean sheet, the more the opponent will feel frustrated," the Shoshi side defended tenaciously while they anticipated for their opportunity to attack.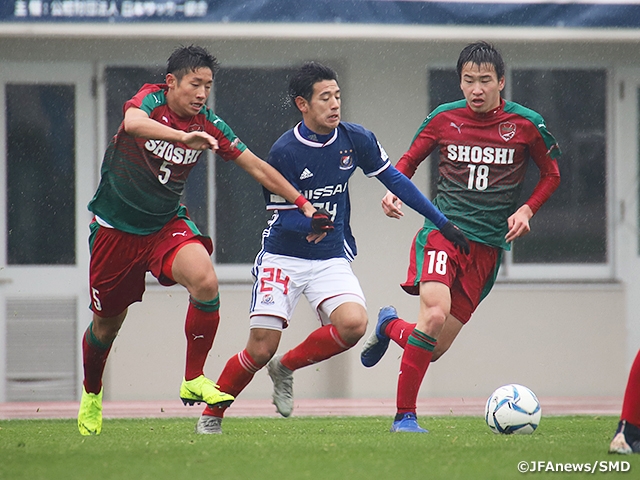 Even after Yokohama FM scored the opener in the 29th minute with SAKAKIBARA Keigo's (#10) goal, Shoshi kept their concentration at a high level. They managed to keep their opponents from finding the second goal by applying more numbers in the midfield to force turnovers and brought in three of their attacking players in the second half in efforts to score a goal. As their forward SOMENO Itsuki (#9) later reflected, "I wanted to score the deciding goal to send our team back into the Premier League," Shoshi attacked fiercely to bring the momentum on their side. With an own goal tying the match in the 60th minute, Shoshi's ITO Ryota (#10) broke through the area to earn a corner kick in the 90th minute. It was Someno who converted this corner kick with a header to give his side a come-from-behind victory that earned them their first Premier League appearance since 2011, which was the inaugural year of the League.
Coaches and Players' Comments
DF #4 SHIRAI Haruki (Yaita Chuo High School)
I feel like we were able to perform well, but we simply weren't good enough. Our opponents did well to convert their counter attack. Even when we took control of the match, Ozu High School defended with great persistency and I think that they had the upper hand overall. We tried to reset our minds after winning the Kanto Prince League, but this result is disappointing as the representative of the Kanto league. If we could have won a spot into the Premier League, we could have opened a spot in the Prince League, so we feel responsible for this outcome.
HIRAOKA Kazunori, Coach (Ozu High School)
As a coach looking after these players for the three years in high school, I've always wanted my players to nurture a habit of thinking before acting. And I feel like these players have gradually gained that habit. We have started to show more cohesiveness as a team and as a result, we have managed to fight through even in tough times. Their victory has given the opportunity for the younger grade players to play at a new environment and gives them more motivation to play. The Premier League is where these young players can really strive to become a better player. The opportunity is given to those chosen players and for players coming from a public high school like Ozu, this will give them a priceless experience at a weekly basis. We have many talented prospects, so we will continue to give our very best in the following years.
NAKAMURA Koji, Coach (Shoshi High School)
Following the great earthquake, there weren't much good news coming towards Fukushima Prefecture. However, with our team making it into the Premier League, I feel like we can provide a positive news to the local residents of Fukushima. When we participated in the inaugural year of the Premier League, we saw many talented players making their way into Fukushima, such as the current Japan National Team member NAKAJIMA Shoya. That gave the players who were in junior high school back then, the opportunity to see the national level. In that sense, next year will be another exciting year for the Fukushima football community.
MF #7 TSUBAKI Naoki (Yokohama F-Marinos Youth)
Although we managed to score the opening goal and enter the match in an ideal way, we failed to break down the opponents who retreated deep in their territory. In the second half, we gave up the equaliser too easily and couldn't regain our momentum from that goal, which ultimately caused us the match. We were confident that we can win the match, and even after we conceded the goal, we played with confidence that we can still take the match, but our opponents showed more heart in this match. The underclassmen have the experience of playing in the J Youth Cup Final. I want them to build a winner's atmosphere while keeping in mind of the bitterness we experienced today.
Results of other matches
Tokaidai Osaka Gyosei High School 1-3 (0-0, 1-3) Omiya Ardija Youth
Efime FC U-18 1-0 (1-0, 0-0) Niigata Meikun High School
The match between Tokaidai Osaka Gyosei High School (Kansai1/Osaka) and Omiya Ardija Youth (Kanto3/Saitama) was won by the Omiya side who will return to the Premier League after getting relegated a year ago. Ehime FC U-18 (Shikoku/Ehime) clinched their spot into the Premier League for the first time in seven years, with their victory over Niigata Meikun High School (Hokushinetsu/Niigata).
Prince Takamado Trophy JFA U-18 Football Premier League 2018 Play-Offs
Tournament Dates: 1st Round Fri. 14 December, 2nd Round Sun. 16 December 2018
Tournament Venue: Hiroshima Koiki Park Football Stadium No.1, Coca-Cola Bottlers Japan Hiroshima Stadium, Kure General Sports Center