NEWS
Hiroshima win big, step closer to Prince Takamado U-18 Premier League WEST title
28 November 2016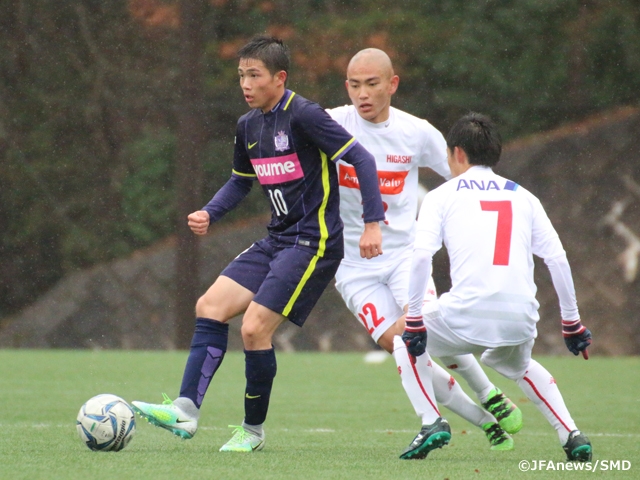 Pick-up Match
Sanfrecce Hiroshima FC Youth 3-0(1-0, 2-0)Higashi Fukuoka High School
Sanfrecce Hiroshima FC Youth (Hiroshima) faced Higashi Fukuoka High School (Fukuoka) as the Prince Takamado Trophy U-18 Premier League held its 16th matchday on Saturday 26 and Sunday 27 November.
Prior to the match, Hiroshima had a possibility to clinch the league title depending on the outcome of the matches of their own and second-placed Cerezo Osaka U-18 (Osaka). But that did not affect the team's composure, as IYOHA Osamu Henry said 'we could start the match nicely'. The Hiroshima side moved the ball effectively in their end to gain the momentum. The first highlight came in the 17th minute. They fed a long ball from the middle of their own end to the right flank, which Kawai Ayumu kept for a while and passed forward. MITSUDA Makoto then caught it and sent in a low cross. SENBA Taishi from the opposite side successfully met the ball as he slid to take the first lead of the match. Higashi Fukuoka also created their scoring opportunity in the 24th minute when TAKAE Reo's cross from the left somehow reached KUROSAKI Yuya, who aimed the goal with the first touch. He, however, fell short with the ball going off target.
Hiroshima again took the first initiative of the second half. In the 56th minute, HIGASHI Shunki fed a cross from the left and the ball went over to the other side without being touched. Kawai picked it up to attack again into the middle. Then it was YAMANE Towa who reacted effectively and put his header into the back of the net. He recalled the moment after the match, "I was thinking how I could separate from the defender in front of me. He moved just as I expected, so I could shake off his guard and my header went just as I wanted it to."
In the 65th minute, a corner kick from the right was converted by Iyoha's head to extend Hiroshima's lead to three goals. Before the end of the match, there was a stretch where Higashi Fukuoka tried to take advantage of the mistakes by Hiroshima's backline, but Hiroshima's trusted goalkeeper OSAKO Keisuke helped his team maintain the clean sheet until the last whistle was blown. Because of the win by Cerezo Osaka, who kicked off their own match four hours later, Hiroshima need to wait at least until next matchday. But they certainly neared the title celebration with two matchdays remaining.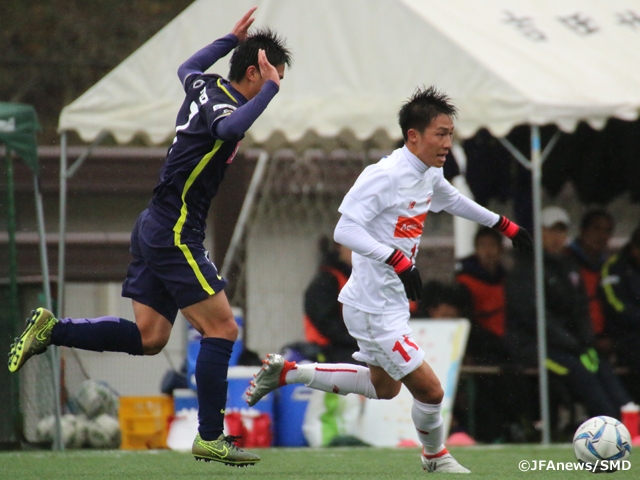 Coaches' and Players' Comments
SAWADA Kentaro, Coach (Sanfrecce Hiroshima F.C Youth)
We had just finished J. Youth Cup last week as runners-up. My players are young and they were so into winning the final of that tournament. So no matter how adults around them including myself said 'the Premier League is as important', it was hard to control their energy in order to put in 100% (into this match). But even so it was good that we scored three goals and won. We were able to keep a clean sheet as well. We stumbled a little in the end, but having Keisuke (Osako) as part of our last line makes us feel safe. We had a few uneasy situations, but as long as we throw our body to the opponents and cut their shooting angles, he will clean up the loose balls. It's very big for our team.
YAMANE Towa (Sanfrecce Hiroshima F.C Youth)
We were still disappointed for a while after the loss at the J. Youth Cup final and some of us had a hard time to reset our mindset. But as each day passed by, we tried to reset our mind and that helped us have good practices for the restart of the Premier League. (On this matchday) we had a good match holding them scoreless. The play style of Higashi Fukuoka was different from what we had envisioned before the match and they were very aggressive in putting pressure on the ball, which surprised us. But we had practised moving the ball in limited areas, and we were able to show that well.
MORISHIGE Junya, Coach (Higashi Fukuoka High School)
We were almost even in terms of physicality, but the difference in mental aspects showed up in the result. They are contending for the Premier League title, and we are already in the mode for the All Japan High School Soccer Tournament, and that difference in motivation showed. Speaking of the details of the match, we were not doing a good job in transitioning from the defence to offence particularly right after we robbed the balls. The number of shots were almost the same with their ten attempts and our nine. But the only shot they attempted in the first half went in and that hurt us. The second goal we conceded was also from our carelessness, so that's not acceptable.
TAKAE Reo (Higashi Fukuoka High School)
We had already lost our chance of winning the Premier League title. But we didn't like to lose, so we came out for this match to win it. As a result, we lost, but it turned out to be a good experience for us to play against Hiroshima who came at us with full strength to win the championship. We found out clearly what we can do well and what we can't. We gained a lot from this match for the All Japan High School Soccer Tournament. Specifically speaking, it was meaningful to experience the defence pressuring us from high positions and the strong ball pressure. We want to stay motivated for the last two matches and play good games.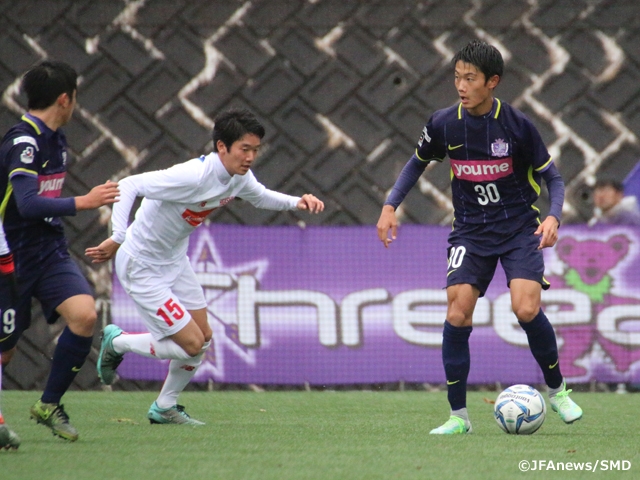 Other Fixtures
Vissel Kobe U-18 2-1(2-0, 0-1) Nagoya Grampus U18
Gamba Osaka Youth 3-0(1-0, 2-0) Oita Trinita U-18
Kyoto Sanga F.C. U-18 0-0(0-0, 0-0) Kobe Koryo Gakuen High School
Cerezo Osaka U-18 7-1(3-0, 4-1) Ozu High School
Third-placed Vissel Kobe U-18 (Hyogo) took on ninth-placed Nagoya Grampus U18 (Aichi). Kobe's UEDA Hayato scored the opening goal three minutes into the match and his teammate NOHARA Kenta widened the lead in the 34th minute. Despite one goal they conceded in the second half, Kobe edged Nagoya to gain three points.

The match-up between Gamba Osaka Youth (Osaka) and Oita Trinita U-18 (Oita) saw Gamba tally three goals including MATSUMOTO Ayumu's momentum-gaining opening goal and come out victorious.

Although they shared a point with Kobe Koryo Gakuen High School (Hyogo) at home, Kyoto Sanga F.C. U-18 (Kyoto) moved up one spot to sixth place.

Second-placed Cerezo Osaka crushed Ozu High School by scoring seven including MATSUOKA Daichi's hat trick, but still trailing Hiroshima by the unchanged six points.