NEWS
Nippon TV looking to win fourth consecutive Empress's Cup title while Urawa seeks for their first - Empress's Cup JFA 42nd Japan Women's Football Championship
28 December 2020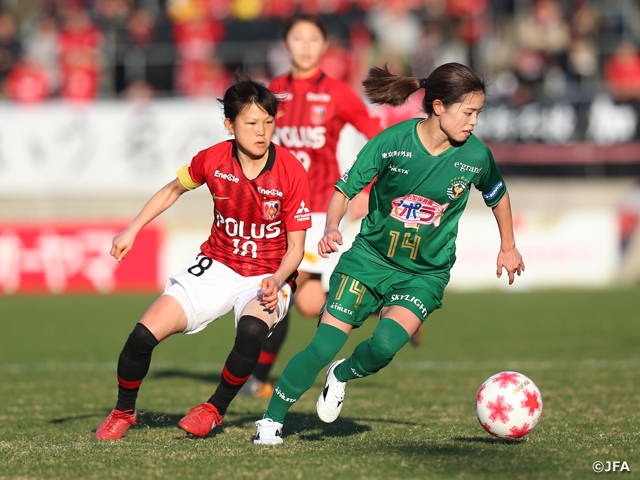 The Empress's Cup JFA 42nd Japan Women's Football Championship final will take place at Sanga Stadium by KYOCERA on Tuesday 29 December, where Urawa Red Diamonds Ladies (Nadeshiko1/Saitama) will square off against the three time defending champion Nippon TV Tokyo Verdy Beleza (Nadeshiko1/Tokyo).
Although this will be Urawa's fifth final at the Empress's Cup, they are yet to raise the trophy. After claiming this season's Nadeshiko League title, Urawa will seek to win their first Empress's Cup title.
The Saitama side has advanced to the final by winning against Albirex Niigata Ladies (Nadeshiko1/Niigata) in PKs at the semi-finals. Their quarterfinal match against JEF United Ichihara Chiba Ladies (Nadeshiko1/Chiba) was decided by a single goal. With the team showing great resilience in close matches, Urawa's coach MORI Eiji analysed his own side, "We are not overpowering our opponents in anyway, but our players are getting the hang of when to attack and when to retreat."
SEIKE Kiko, a defender who has massively contributed to the Urawa's goal tally, mentioned about the team, "This season, we have been playing with the concept to 'defend as a team' and we have been focusing on keeping a sharp defence." The team has lost only two matches in 22 league and cup matches this season, while they have not lost a single match when scoring the opening goal.
TAKAHASHI Hana will be a player to keep an eye on, as the defender has scored in three consecutive matches against Nippon TV Beleza at the Nadeshiko League. At this Empress's Cup, Takahashi has started in two of the four matches, and it will be interesting to see what kind of a role she will be given at the final.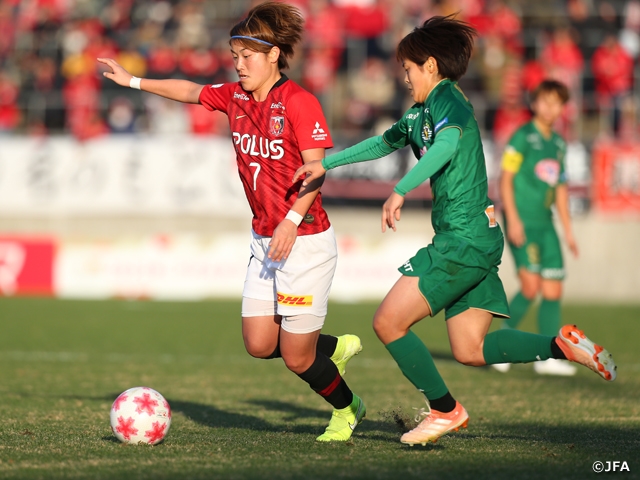 Three time defending champion Nippon TV Beleza has shown their dominance at the Empress's Cup final, as the Tokyo side has won nine consecutive times when reaching the final. Their last loss at the final came in 2003, when they lost to Tasaki Perule FC. The team holds the record for most Empress's Cup title with 14, but they have never won the title four years straight. (Shimizudaihachi SC holds the record with seven consecutive titles: 1980-1986)
Nippon TV scored four goals against Mynavi Vegalta Sendai Ladies (Nadeshiko1/Miyagi) at the semi-finals, including ENDO Jun's hat-trick. With KOBAYASHI Rikako also marking a hat-trick at the quarterfinals, the team has registered 14 goals in four matches at the Empress's Cup, showing off their fire power.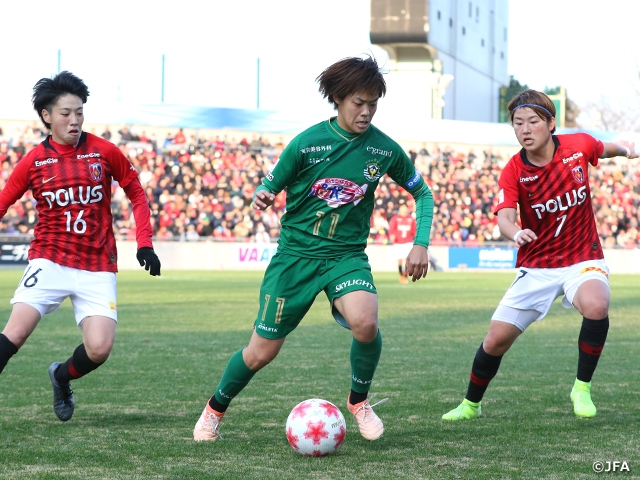 At this season's Nadeshiko League, Urawa took the title, while Nippon TV finished in third place. The two teams shared a match apiece in their two head-to-head fixtures, making this cup match a rubber match for the two. When looking at their head-to-head record at the Empress's Cup, Nippon TV holds an immaculate record of seven wins and zero losses, including three wins at the final. After failing to defend their title at the Nadeshiko League, Nippon TV will certainly seek to keep the Empress's Cup title under their belt.
Please stay tuned for the rubber match between this year's league champion and the three time defending champion, who has phenomenal success at the Empress's Cup final.
Empress's Cup JFA 42nd Japan Women's Football Championship
Tournament Duration: Sat. 28 November - Tue. 29 December 2020
【1st Round】Sat. 28 / Sun. 29 November
【2nd Round】Sat. 5 / Sun. 6 December
【3rd Round】Sat. 12 / Sun. 13 December
【Quarterfinals】Sat. 19 / Sun. 20 December
【Semi-Finals】Thu. 24 December
【Final】Tue. 29 December