NEWS
Seeded teams including Ehime FC Ladies and INAC Kobe Leonessa advance to third round of the Empress's Cup JFA 42nd Japan Women's Football Championship
07 December 2020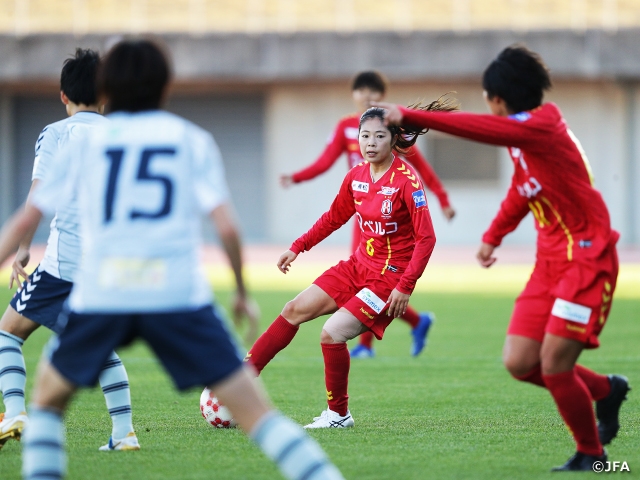 Eight second round fixtures of the Empress's Cup JFA 42nd Japan Women's Football Championship took place on Sunday 6 December. Following the fixtures played on Saturday, two teams from the first division of the Nadeshiko League made their appearance at Miki Sogo Bosai Park Athletic Field, as Ehime FC Ladies (Nadeshiko1/Ehime) and INAC Kobe Leonessa (Nadeshiko1/Hyogo) faced Sakuyo High School (Chugoku/Okayama) and Norddea Hokkaido (Hokkaido), respectively.
Pick-up Match1
Ehime FC Ladies 4-1 (1-0, 3-1) Sakuyo High School
After winning the first round against Hokkaido Lira Consadole (Hokkaido) 4-0, Sakuyo High School squared off against Ehime FC Ladies. The high school side has won against JEF United Ichihara Chiba Ladies in last year's Empress's Cup, and they were set to make another upset in this year's tournament as well.
With full intention to repeat their feat from last year, Sakuyo applied aggressive pressure from the early minutes. In the 10th minute, ISE Satsuki, who scored the opening goal against JEF United last year, fired a shot that struck the post. ONISHI Kana also came close to scoring the opener, as she chased down a through ball, but Ehime's GK SAKIMA Miki did a fine job to put the fire away.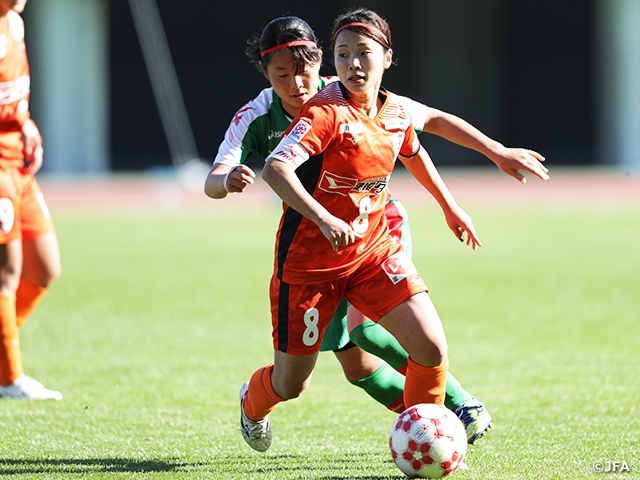 While the high school side showed great aggression and intensity, Ehime effectively utilised the width of the field to connect their passes, making their opponent chase the ball. The Nadeshiko League side scored the opening goal in the 39th minute, when TAKETA Natsumi connected with a cross delivered by NISHIGAWA Sayumi. With momentum on their side, YAMASHIRO Miyuki made it 2-0 on the 47th minute mark. Sakuyo High School responded with the goal scored by HONDA Mikako in the 48th minute, but their rally stopped there.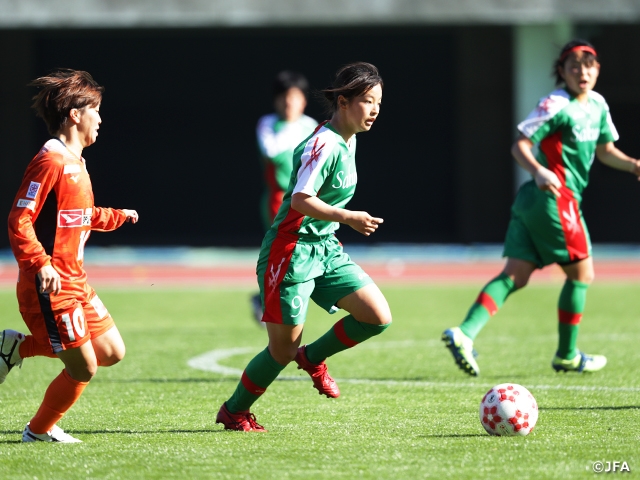 It was OYA Ayumi who sealed the match, as she scored back to back goals in the 60th and 74th minute. As a result, Ehime FC Ladies walked away with a 4-1 victory against the high school side, making their way into the third round.
Pick-up Match2
INAC Kobe Leonessa 4-0 (2-0, 2-0) Norddea Hokkaido
In the second match played at Miki Sogo Bosai Park Athletic Field, INAC Kobe Leonessa welcomed Norddea Hokkaido from the Challenge League East, who won against Ryutsu Keizai University 3-1 in the first round.
Kobe entered the match with their full line-up and applied pressure from the early minutes. TAKASE Megumi, who is a Hokkaido native, showcased her physical strengths and scored the opening goal for Kobe in the third minute. TANAKA Mina followed in the 31st minute when she displayed a fantastic individual effort to score Kobe's second goal.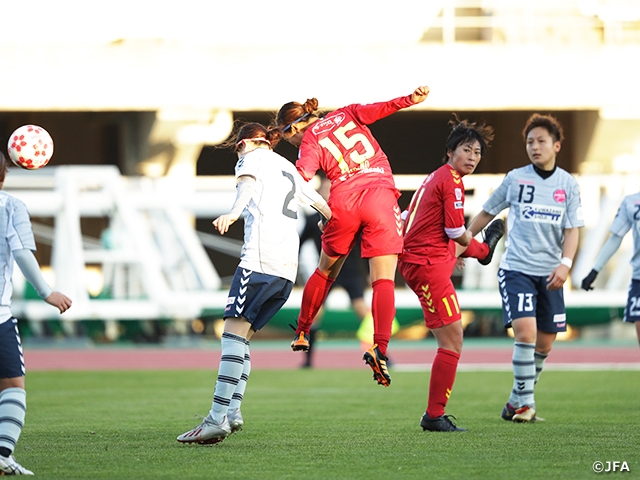 After taking a two goal lead, Kobe continued to pick up their pace in the second half, as they made tactical changes during halftime. YASAKA Mei, who entered the match from the second half, scored her first goal of the season in the 46th minute, followed by a goal scored by SAKAGUCHI Moeno in the 52nd minute. Although Kobe continued to create chances in their attacking third, Norddea's GK SAWADA Norimi showcased numbers of superb saves, while MARUGATA Rie and MINATO Akiho also displayed tenacious efforts to defend their goal.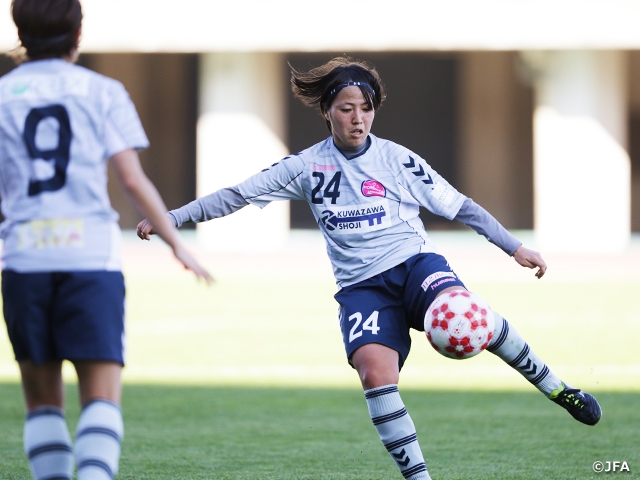 As a result, Kobe won the match 4-0, showing their dominance by taking 23 shots while keeping the Hokkaido side to just one shot.
Coach and Players' Comments
FW #9 OYA Ayumi (Ehime FC Ladies)
We entered the match with the intention to get our jobs done. We knew our opponent was going to come out with great intensity, so we managed to keep our composure and build our offence from the defensive end. I was able to score those two goals because of the great passes delivered by Yamaguchi. I was able to score goals that helped our team seal the match, so I am glad I was able to convert them.
MF #10 EZAKI Seira (Sakuyo High School)
Our opponent had the upper-hand in terms of pressure and individual skills, but our football was still effective against them, so that gave us confidence. While we struggled to convert our opportunities, our opponent capitalised on their first chance. We saw many flaws in our game, so this was a great learning experience ahead of the All Japan High School Women's Football Championship. I have bitter memories from the national championship, so I hope to do well in my final year of high school.
MF #28 YASAKA Mei (INAC Kobe Leonessa)
After watching our team from the bench, I recognised that we lacked runs down the line, and that was exactly what I can provide for the team. My minutes have been limited in our league matches, so I wanted to contribute for the team when I was given the opportunity to play on the pitch. It is hard to leave an impact as a substitute, but that is what I am asked to do, so I will continue to give my utmost efforts to help the team win matches.
ISHII Hajime, Coach (Norddea Hokkaido)
We wanted to see how far we can go with our experience at the Challenge League, but our opponent played with greater pace and accuracy. Despite conceding multiple goals, our players played with great discipline and worked hard until the very end. We were able to play against one of the best teams in the Nadeshiko League, so this gave our players a priceless learning experience.
Empress's Cup JFA 42nd Japan Women's Football Championship
Tournament Duration: Sat. 28 November - Tue. 29 December 2020
【1st Round】Sat. 28 / Sun. 29 November
【2nd Round】Sat. 5 / Sun. 6 December
【3rd Round】Sat. 12 / Sun. 13 December
【Quarterfinals】Sat. 19 / Sun. 20 December
【Semi-Finals】Thu. 24 December
【Final】Tue. 29 December