NEWS
Shizuoka SSU Asregina and NGU Loveledge Nagoya advance to second round of the Empress's Cup JFA 42nd Japan Women's Football Championship
29 November 2020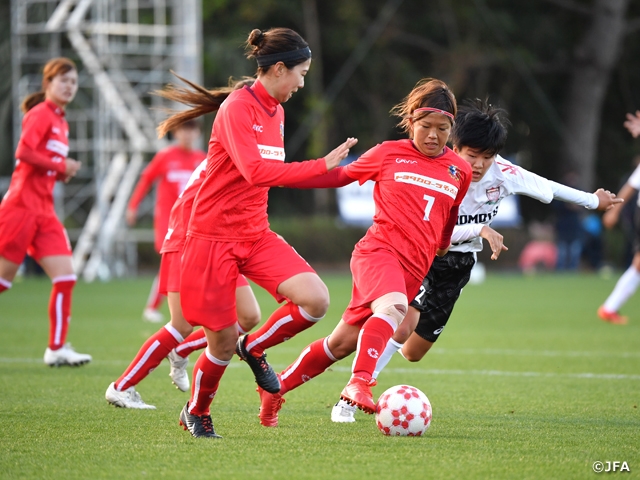 The Empress's Cup JFA 42nd Japan Women's Football Championship kicked off on Saturday 28 November, where eight first round fixtures took place. Two matches were played at Prince Takamado Memorial JFA YUME Field, featuring four teams from high school, university, and the Challenge League.
Pick-up Match1
University of Tsukuba 0-3 (0-2, 0-1) Shizuoka SSU Asregina
After making their first Empress's Cup appearance in four years, University of Tsukuba (Kanto/Ibaraki) faced Shizuoka SSU Asregina (Tokai/Shizuoka), who finished in third place at the 2020 Plenus Challenge League EAST.
Led by coach HONDA Midori, Asregina scored the opening goal in the 18th minute, when HIRANO Asami struck a spectacular shot following a corner kick delivered by TAKASHIMA Ayane. Sayama Momoko made it 2-0 just before halftime, converting a set piece, which was once again delivered by Takashima.
In efforts to change the dynamics of the match, Tsukuba brought in CHIBA Remina in the second half, as she initiated numbers of attacks to threaten the opposing goal. Tsukuba's fullbacks also added layers to their offence, while HASUWA Makoto tested Asregina's defence with her set pieces, but the university side struggled to score goals. Conversely, Asregina's FUJITA Momoka scored the team's third goal in the 86th minute, giving the Challenge League side a 3-0 victory.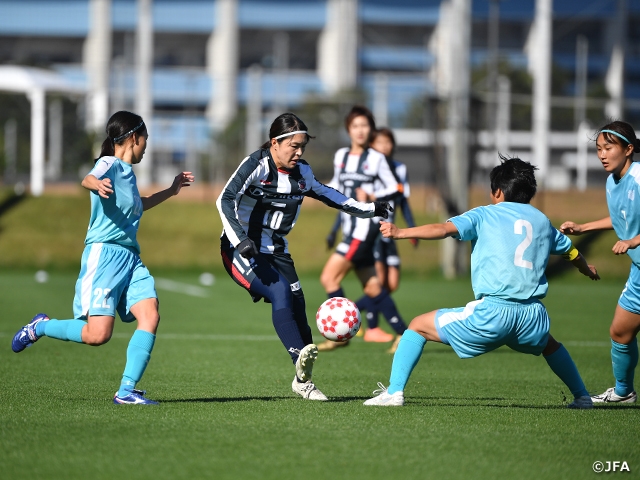 Pick-up Match2
NGU Loveledge Nagoya 4-2(2-1, 0-1, Ex: 2-0, 0-0) Hinomoto Gakuen High School
The match between the runners-up of 2020 Plenus Challenge League EAST, NGU Loveledge Nagoya (Tokai/Aichi) and high school powerhouse, Hinomoto Gakuen High School (Kansai/Hyogo) went into overtime to determine the winner.
After winning the Tokai region qualifiers, Loveledge carried their momentum into the Empress's Cup, as KITAGAWA Wakana captured the opening goal in the 22nd minute. The Challenge League side doubled their lead in the 36th minute, when MIURA Momo converted a cross delivered by TAKAHASHI Ruriko.
Hinomoto Gakuen responded in the 39th minute, as KURITA Sora connected with a corner kick delivered by TABUCHI Yuiko to make it 2-1 at halftime.
Although Loveledge used their substitutes to change their side-halves during halftime, the team struggled to push forward after they were in the leeward of the field. In the 79th minute, Hinomoto Gakuen's SHINODA Honoka, who was just introduced to the match, was brought down inside the box to earn a PK. With Shinoda converting the spot kick, Hinomoto Gakuen levelled the score to send the match into overtime.
Despite the late surge made by Hinomoto Gakuen during regulation time, it was Loveledge who took the initiative at overtime, as TAJIMA Mitsuyo and TAKEBAYASHI Yuma scored back to back goals in the early minutes, giving the Challenge League side a dominating lead, which held up after 120 minutes of play, as Loveledge advanced to the second round with a 4-2 victory.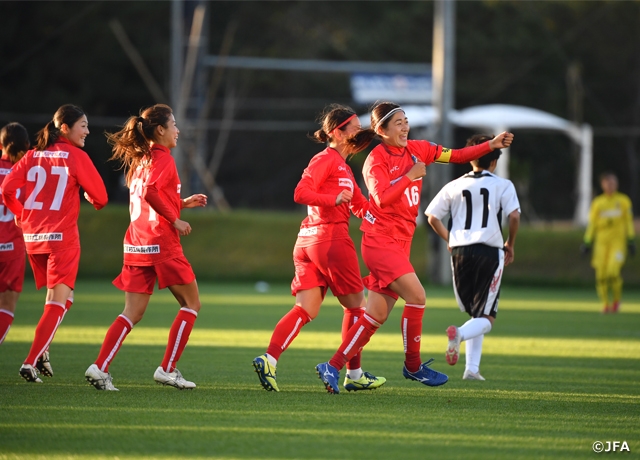 Coaches and Players' Comments
DF #2 KODAIRA Maho (University of Tsukuba)
We had to play against the wind in the first half, so we wanted to defend through the first half and attack in the second half, but we ended up conceding from set-plays during the first half. Despite creating numbers of opportunities in the second half, we failed to convert them, and our lack of patience also contributed to this loss. The All Japan University Women's Football Tournament is also a knockout tournament. We hope to showcase a strong performance at the tournament, just like how Asregina did today.
HONDA Midori, Coach (Shizuoka SSU Asregina)
If we could have created more chances early in the first half, we would have won this match much easier. However, that is the issue we are currently facing as a team. We must continue to focus on connecting the short passes in our future matches. Our next opponent, Sfida Setagaya FC, is a team who has won the second division of the Nadeshiko League, so we must fight hard to win the ball and keep the ball moving against them.
MF #10 MIURA Momo (NGU Loveledge Nagoya)
Our defensive midfielders are always anticipating to jump into the mix when the ball is crossed from the flanks, and I was able to time myself perfectly to score that goal. It was great to see our side score two goals in the first half, but we conceded from set-plays, which is something we can make adjustments and improve, so we hope to do a better job in our next match. We have nothing to lose in our next match against Albirex Niigata Ladies, so we will enter the match as a challenger to play against a first division team.
MURAKAMI Yuko, Coach (Hinomoto Gakuen High School)
Ahead of the All Japan High School Women's Football Championship, we entered this match with the intention to test our strengths against an experienced team. Our players fought extremely hard until the very end, as our goal was to outrun and to get to the ball faster than our opponent. This was our first time playing in a 90 minute match, and we even fought through overtime. I am glad to see our players fight through and showcase how much they have improved over the years.

Empress's Cup JFA 42nd Japan Women's Football Championship
Tournament Duration: Sat. 28 November - Tue. 29 December 2020
【1st Round】Sat. 28 / Sun. 29 November
【2nd Round】Sat. 5 / Sun. 6 December
【3rd Round】Sat. 12 / Sun. 13 December
【Quarterfinals】Sat. 19 / Sun. 20 December
【Semi-Finals】Thu. 24 December
【Final】Tue. 29 December