NEWS
Sumida Buffaloes earns spot in final round of the 23rd All Japan Futsal Championship
04 March 2018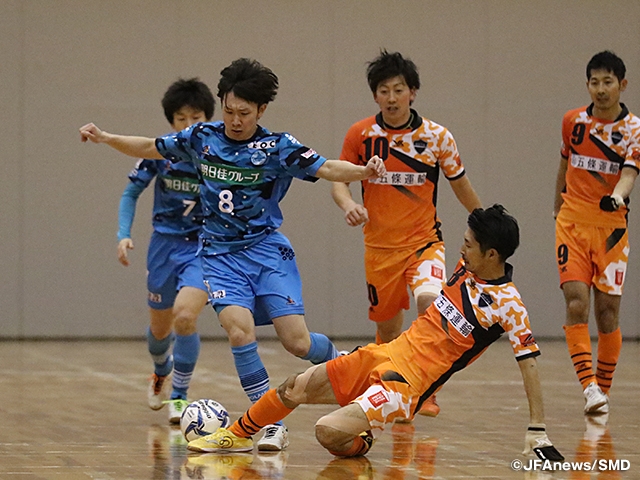 The 2nd Sec. of the first round in the 23rd All Japan Futsal Championship took place on Saturday 3 March. As a result, Fugador Sumida Buffaloes (Kanto 3/Tokyo) in Group B secured a spot in the final round.
Sumida Buffaloes, who caused an upset by beating Vasagey Oita (F League) on the first day of the championship, faced Agleymina Hamamatsu from the F League in the 2nd Sec. Although Sumida Buffaloes allowed NAKAMURA Yusuke to score the opener in the second minute, the team managed to level the game with an own goal shortly after that. Sumida Buffaloes would win the match 5-2 with the help of their captain SHIMIZU Seiya's hat-trick. In their third and final Sec. of the first round, Sumida Buffaloes will now face Micalo Sendai (Tohoku/Miyagi), who are still without any points after the 2nd Sec. Based on tournament regulation, results of head-to-head competition between two tied teams will determine the tie-breaker, thus Sumida Buffaloes became the first team to win a spot in the final round.
Espolada Hokkaido (F League) played against Member of the Gang (Tokai 2/Mie) in the first game of Group C. Espolada Hokkaido struck many goals, including captain SAKAI Ryotaro's hat trick, and won the match 6-1.
In the second game, Shonan Bellmare (F League) won over SWH Futsal Club (Kansai 2/Hyogo) 8-2. Their ace, Rodrigo shined in this match, being involved in five goals, leading his team to victory. After each team played two games, Shonan came out on top with a three-goal advantage in goal difference. They will now face Espolada in the final Sec. of the first round.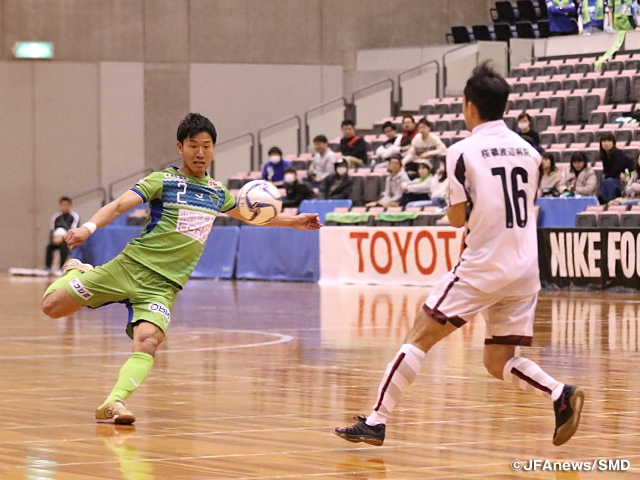 In the first game of group D, Boaluz Nagano (Hokushinetsu/Nagano), who is to join the newly established F League Division 2 next season, played against Ligare Tokyo (Kanto 1/Tokyo). Both teams stayed competitive and performed well. Ligare were given two free-kicks from the second penalty mark in the first half. USUI Koichiro capitalised on these opportunities, scoring in both occasions. KOMETANI Satoru added another goal, giving the team a three-goal lead before halftime. In the second half, Nagano, who adjusted their defence, forced turn-overs to create counter attacks, which led them to scoring two goals. Nagano fought hard until the final whistle, but Ligare maintained their lead and won the match 3-2, grabbing their first win in the championship.
The reigning champion Shriker Osaka (F League) played against Hiroshima University Futsal Club (Chugoku/Hiroshima) in their second match, displaying their overwhelming firepower. In the fourth minute, Crepaldi Vinicius struck the opener, followed by a goal from SATO Toru, who is set to retire after this season, and Tiago added another goal just before the end of the first half. The team accelerated in the second half, adding nine goals to their tally. Though Hiroshima University attacked back and struck a goal with KUSAKA Shota's shot, they suffered two consecutive losses in this championship. Osaka, who will meet Nagano in the next match, can grab a spot in the final round with a win or a draw.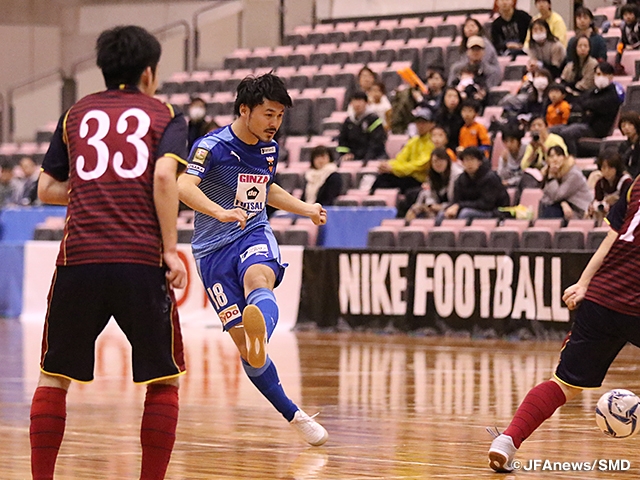 The final Sec. of the first round will be held on Sunday 4 March. All six teams advancing to the next round will be determined on this day. Stay tuned to find out who will go to the final round and claim No.1 in the nation.
Coaches' and Players' Comments
SAKAI Ryotaro (Espolada Hokkaido)
I am satisfied with this result, since we managed to win with a huge result of 6-1 after a frustrating match yesterday. Regarding the goal we conceded right at the end of the game, we weren't marking our opponents clearly enough. If we show this kind of weakness tomorrow, Shonan Bellmare will surely take advantage of the opportunity, so we need stay careful. I scored a hat trick today, but I'm determined to win tomorrow even if I can't contribute to the score line.
WATANABE Heitaro, Coach (SWH Futsal Club)
Regardless of who we face, either they are from the F League or not, our focus in this championship is to play our game and display what we have been working this year. We also need to understand where we stand in this championship. We found it very difficult facing bigger and stronger opponents. But we are the biggest underdog in this group. We'd like to fight back and grab a win in the final game before going home.
TAKEUCHI Kenta (Boaluz Nagano)
We faced the game seeking for revenge, since we had lost to the same team 3-0 in the regional champions league two years ago. We might have been a bit overwhelmed in that sense as we ended up with too many fouls in the first half. But it's just a result of us doing what we wanted to do, so there're no regrets. I will retire after this championship, and if we win the next match, there is still a chance to earn a spot in the final round. But I know it's not an easy task. I never imagined myself facing the defending champions, Shriker Osaka, in the last game of my futsal career. I'll see how much I can perform against them tomorrow.
WATANABE Kodai (Hiroshima University Futsal Club)
We entered the game with positive spirits, and we fought with all we had. Even though we lost the game by a huge margin, we performed as hard as possible. I'm not sure if the spectators got our spirit, but we all ran hard until the final whistle. With that being said, it was a great experience for us. Our aim is to win the All Japan University Futsal Championship this summer. It was such a precious experience to play in a such high-level competition. Since we have another match tomorrow, we'd like to grab three points.
SATO Toru (Shriker Osaka)
Since coach Higa Rikarudo has been leading the team, we have been playing more of a zone defence rather than man marking style. In terms of offence, we still utilise what we had been working on with our former coach, KOGURE Kenichiro. We understand that we are one of the teams that must advance to the final round. Once we get through, we can face Pescadola Machida again. We lost against them in the F League play-offs, so that's a huge motivation for us to advance to the next round.

The 23rd All Japan Futsal Championship
1st Round
Tournament Period: 2 March 2018 (Fri.) - 4 March 2018 (Sun.)
Venue: ECOPA Arena/Shizuoka Prefecture, Kishiwada City Gymnasium/Osaka Prefecture, Green Arena Kobe/Hyogo Prefecture
*Free admission during the first round!
Final Round
Tournament Period: 9 March 2018 (Fri.) - 11 March 2018 (Sun.)
Venue: Komazawa Olympic Park General Sports Ground Gymnasium/Tokyo
For tournament information (Japanese website)
Final round ticket information (Japanese website)