NEWS
The 23rd All Japan Futsal Championship kicked off in three cities
03 March 2018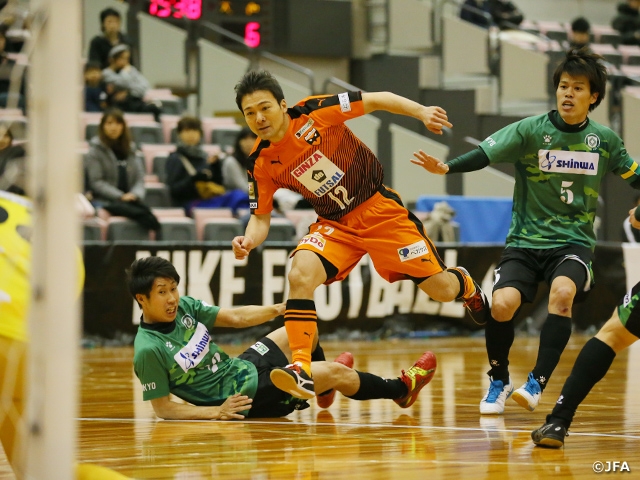 On Friday 2 March, the 23rd All Japan Futsal Championship began its matches. The first round fixtures taking place at three arenas; ECOPA Arena in Shizuoka, Kishiwada City General Gymnasium in Osaka, and Green Arena Kobe in Hyogo. 10 clubs from the F League who finished between 3rd and 12th in the 2017-2018 season and 14 clubs who earned their spots through regional qualifiers will join the action. Total of 24 teams will compete to advance to the final round held at Komazawa Olympic Park General Sports Gymnasium.
In the last tournament, the F League side showcased their superiority, winning all 20 matches they fought. But this year brings a different set of competition as all four matches played in Group A and B at ECOPA Arena saw the regional clubs scoring the game opener.
In the first match of Group A, the F League side Voscuore Sendai faced Bork Kitakyushu (Kyushu 2/ Fukuoka), who is to join the newly established F League Division 2 next season. Kitakyushu scored first with KOBAYASHI Kenta's goal in the 8th minute. However, they gave up a penalty kick just a minute later, allowing Sendai's Marlon to score the equaliser. Sendai, who seemed to loosen up after this goal, netted four total goals including Marlon's hat-trick in the first half. Sendai went on to add another goal from HORIUCHI Michiya and a brace from MIKAMI Yuki in the second half, grabbing a 7-1 comeback victory.
Bardral Urayasu (F League) played against PSTC Londrina (Kanto 2/ Kanagawa) in the second fixture at ECOPA Arena. Londrina, a subordinate team of the F League club Shonan Bellmare, opened the scoring with Urayasu's own goal induced by SATO Rei's shot in the 6th minute. Urayasu would soon get back on level terms with Diduda's shot. In the 18th minute, ARAMAKI Taro and ONO Daisuke scored consecutive goals, giving Urayasu a two-goal lead at the break. Londorina created several chances early in the second half but failed to convert them. After surviving through some difficult stretches, Urayasu extended their lead even further while keeping the opponent's rally to one goal from a power play. Urayasu won their first match with a final score of 7-2.
The championship saw a giant-killing in the first match of Group B. Vasagey Oita who finished last place in their last campaign of the F League faced Fugador Sumida Buffaloes (Kanto 3), who plays in the Tokyo Regional League Division One, a league that is three categories lower than the top league. Sumida Buffaloes played a full-court press from the beginning of the match, giving no space for Oita to create chances. Sumida took the initiative and scored first with HIROTO Taishi's goal in the 6th minute. The Tokyo side netted another goal from a counterattack in the second half after forcing a turnover. Oita would cut the deficit in half after scoring a goal with a power play in the closing minutes, but their efforts would not be enough to equalise the match. Conversely, Sumida added another goal when goalkeeper KISHI Shota fired a long-range shot into the unguarded goal following their opponent's power play. Sumida would go on to win the match. It is the first time in two championships that a regional club grabbed a win over a F League club.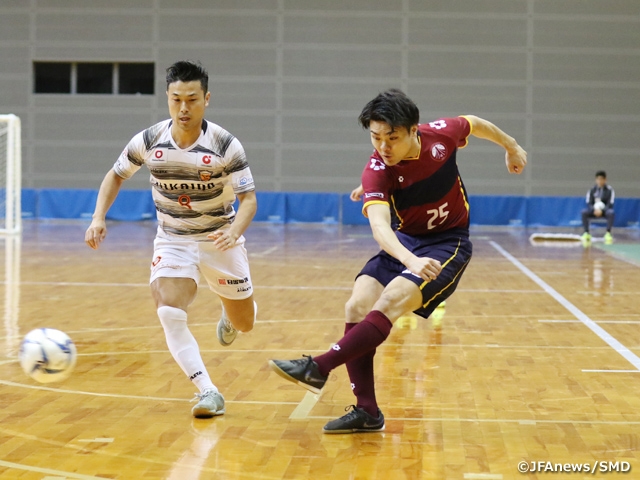 In the second match of Group B in Shizuoka, the hometown team Agleymina Hamamatsu (F League) played against Micalo Sendai (Tohoku/ Miyagi). Three minutes into the match, Sendai's OBARA Kengo struck a powerful shot off a kick-in to score the opener. Hamamatsu came back tying the match in the 12th minute when NAKAMURA Yusuke scored the equaliser off their own kick-in. In the 22nd minute Hamamatsu's John Lennon blasted a shot to score the go-ahead goal. Hamamatsu's pressure played out effective in the second half, allowing them to control the game, but struggled to score another goal. Their efforts materialised three minutes before the end of the match when Nakamura scored his second goal of the day. Shutting down Micalo Sendai's come-back efforts, Hamamatsu closed out the match with a 3-1 victory to secure three points.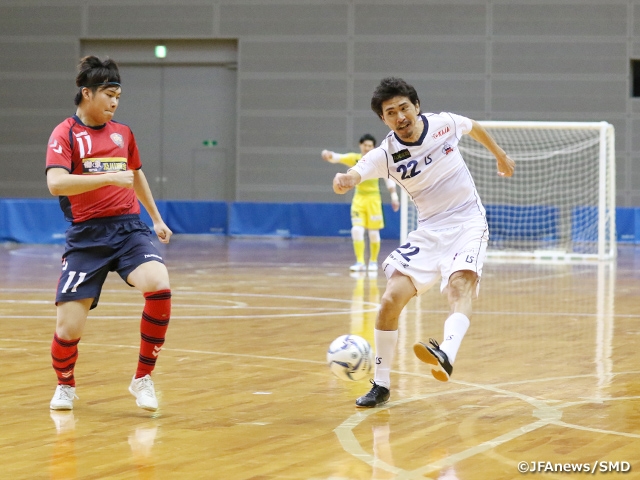 The tournament continues on Saturday 3 March, as the second match-day of the first round will present a total of 12 matches. Stay tuned to see if another upset would be seen following Sumida Buffaloes' impressive victory.
Coaches' and Players' Comments
SUENAGA Kazuhiro (Bork Kitakyushu)
We put up a good fight against a F League club. But they were much critical in goal scoring opportunities compared to us. At the end of the day, I think that decided the match. The fact that we face two clubs from the F League in this competition would give us great opportunities to prepare for the F League Division 2 we join next season. Through these matches, we'll find out what we lack and improve on it as we move forward.
IWAMOTO Masaki (Bardral Urayasu)
We seem to find ourselves in a tough situation every year in the opening match of the All Japan Championship. With no exception, this year we gave up an early goal and faced a tough stretch. But it was good that we pulled off a win. I announced my retirement, making this my last All Japan Championship, but I'm not thinking about it at this point. This team has a mood that makes ourselves believe that we can win any match, and it's important in the All Japan Championship that you build your confidence and improve the quality of your plays as you win each match. Once you can get into that groove, the tournament gets more interesting. We have tough matches ahead of us, but we want to move on to the final round in Komazawa.
TOMINARI Hiroyuki, Coach (Fugador Sumida Buffaloes)
We have many young players and we train intensely in a regular basis, so we had confidence in our ability to keep pressing throughout the 40 minutes. We were in good shape and were able to keep the high intensity until the very end. I think our players played very well. We will be fatigued, but we are here to find out how much we can run in the three matches. In the F League, there are tournaments where they play two matches in a row with this kind of intensity. Our players' goal is to play at that level, and this will be a good test for them to see how much they can perform.
SHIMIZU Seiya (Fugador Sumida Buffaloes)
There is an undeniable difference between a F League club and a regional club. This week, we have trained with our focus on how to minimise that gap with our strengths. I am glad our efforts materialised today. But it's still one win. Tomorrow, we will play against Agleymina Hamamatsu, then against Micalo Sendai the following day. They are both better teams than us, but we proved that we can win against stronger teams if we play the way we did today. We want to have a good rest and play again with good momentum.
NAKAMUR Yusuke (Agleymina Hamamatsu)
We knew going into the match that it was going to be a tough one. But we managed to keep our composure even after we conceded the opening goal. We believed in ourselves and as a result we were able to tie the match. Tomorrow we'll face Sumida Buffaloes, who's running hot. If we can win three matches we will for sure move onto the final round. So, we'll do our best to win tomorrow and the day after to advance to Komazawa.

The 23rd All Japan Futsal Championship
1st Round
Tournament Period: 2 March 2018 (Fri.) - 4 March 2018 (Sun.)
Venue: ECOPA Arena/Shizuoka Prefecture, Kishiwada City Gymnasium/Osaka Prefecture, Green Arena Kobe/Hyogo Prefecture
*Free admission during the first round!
Final Round
Tournament Period: 9 March 2018 (Fri.) - 11 March 2018 (Sun.)
Venue: Komazawa Olympic Park General Sports Ground Gymnasium/Tokyo
For tournament information (Japanese website)
Final round ticket information (Japanese website)