Japan Football Hall of Fame
JFA Hall of Fame Inductee
11th Olympic Games Berlin (1936) Japan National Team
Special Selection: 13th Japan Football Hall of Fame Inductee in 2016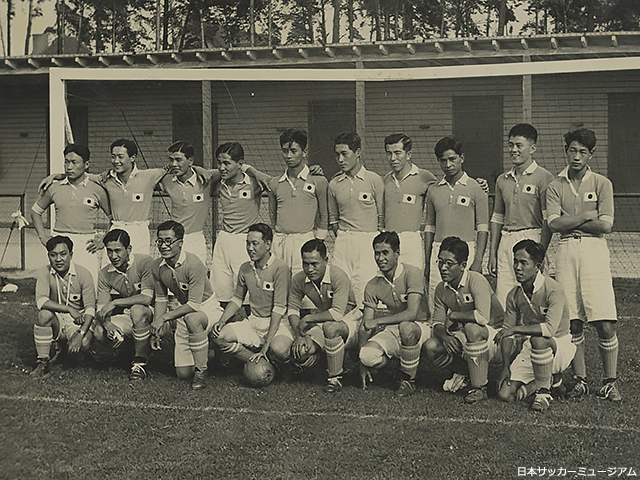 The 11th Olympic Games Berlin (1936) Japan National Team were the first representative side from the country to qualify for the Olympic Games (Football), earning a comeback win against the powerhouse Sweden.
SUZUKI Shigeyoshi's team was made up largely of players from Waseda University of the Kanto League, and ahead of the Games they underwent a change in formation from two at the back to three, on account of that being the style of choice of the local sides they faced in training games after their arrival in Germany, and squared off against Sweden.
After a difficult start against Sweden which saw them 2-0 down at half time, Japan bounced back in the second period, drawing level and then securing a dramatic win thanks to MATSUNAGA Akira's 85th minute strike.
The first-ever victory in the Olympics for the Japan National Team and the historic win over one of the powerhouses in the world became later known and crowned as the 'Miracle of Berlin'.
Coach:SUZUKI Shigeyoshi
Assistant Coach:KUDO Koichi, TAKENOKOSHI Shigemaru
Chief of Administration:ONO Takuji
Squad:UKON Tokutaro, OITA Koichi, KAMO Takeshi, KAMO Shogo, KAWAMOTO Taizo, KIM Yong Sik, SASANO Sekiji, SANO Rihei, SUZUKI (TAKASHIMA) Yasuo, TAKAHASHI Toyoji, TAKEUCHI Teizo, TATSUHARA Motoo, NISHIMURA Shoichi, FUWA Sei, HORIE Tadao, MATSUNAGA Akira