NEWS
Halilhodzic on Belgium match: 'It's a big test.'
14 November 2017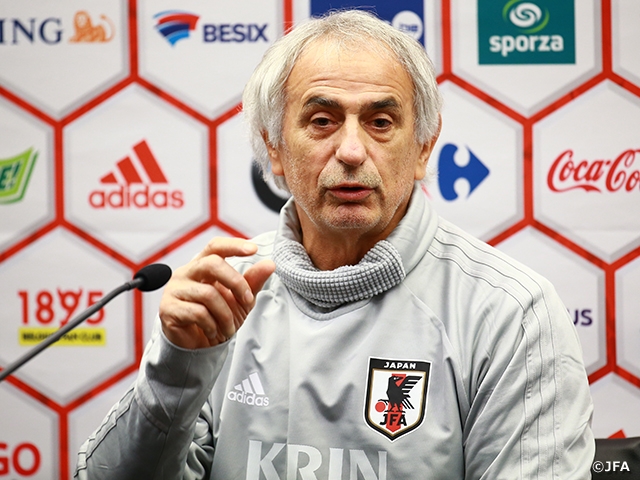 On Monday 13 November, after SAMURAI BLUE (Japan National Team) practised one last time at the stadium in Bruges before the international friendly against Belgium National Team on the following day, their coach Vahid HALILHODZIC said, "It's a big test for us. It will be the match where we can find how we should evolve for the future."
For the Japanese squad preparing themselves for the FIFA World Cup next year, this Belgium match follows their contest against Brazil National Team on Friday 10 November.
While Japan are currently ranked at 44th in the FIFA Ranking, Belgium are at 5th. The western European team clinched their World Cup spot very quickly with their lossless record of 9 wins and 1 draw after defeating countries such as Greece and Bosnia Herzegovina.
Their squad includes star players in England's Premier League and other major leagues in Europe such as forwards Eden HAZARD (Chelsea) and Romelu LUKAKU (Manchester United) and midfielder Kevin DE BRUYNE (Manchester City).
Halilhodzic, in his effort of trimming down his squad and strengthening it at the same time, said "It will be another match where we play against one of the best teams in the world to find out our strength and weakness and also where we can find how we should evolve for the future." He also indicated a few possible changes in the starting line-up from the Brazil match.
Belgium drew with Mexico 3-3 on Friday 10 in Brussel.
The last match-up between Belgium and Japan was the intranational friendly in Brussel in October 2013, where Japan came out with a 3-2 victory. Their all-time record is Japan's 2 wins and 2 draws.
Defender Thomas MEUNIER (Paris Saint-Germain) who was on the pitch in the previous contest says "It was my second match with our national team and the disappointing result. Japanese players may be small but are always quick and very skilful. We weren't able to win the Mexico match, but we want to get over that experience by winning against Japan."
Both team had their respective training session in the afternoon on that day at Jan Breydelstadion where the match will take place. Japanese players worked out for about an hour, making sure the feeling of the pitch.
During the first 15 minutes of the session, which was open to the media, the players worked on the step work and sprints after light jog. Forward SUGIMOTO Kenyu (Cerezo Osaka) who trained separately on the day before came back to the team practice, while HASEBE Makoto (Eintracht Frankfurt) still worked out on his own.
Hasebe says "I have been trying to get back in shape and get back in matches. Nothing is going in a wrong direction." On Belgian three-back system, he comments "Each player is at a world-class level. We have practised how we put pressure on those opponents. It's important for us to share the idea."
OSAKO Yuya (1.FC Koeln) enthusiastically adds "First of all, I need to score. It's winning one-on-one situations, so I want to play hard to overwhelm my opponent."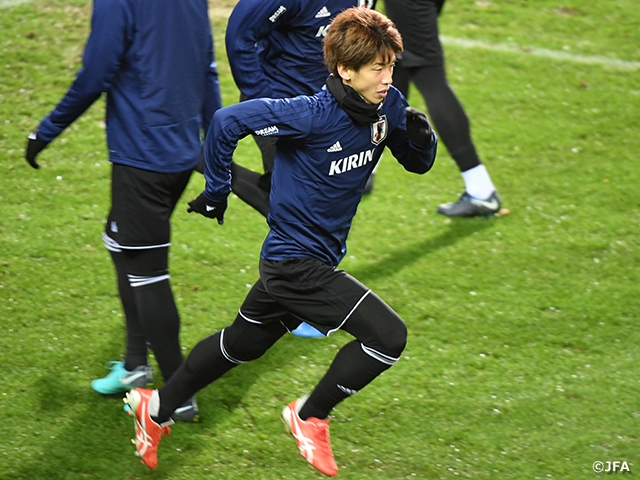 The kick-off is at 8:45 p.m. local time on Tuesday 14 November (at 4:45 a.m. on Wednesday November 15).
Coaches' and Players' Comments
Vahid HALILHODZIC, Coach of SAMURAI BLUE (Japan National Team)
Another big test is waiting for us. It will be another match where we play against one of the best teams in the world to find out our strength and weakness and also where we can find how we should evolve for the future. As Belgium are a quality team, it's a risk to change many starters from the Brazil match. But we possibly change a few.
I am informed that there have been things said about the way Belgium played after their Mexico match, but that may give them extra momentum for the match against us. We expect to play against mighty Belgian team and have been preparing for it.
A match like this is a learning experience. It's very important for us to maintain our speed and our system as we play, and the mental part of the game is also important. No matter how you can play quality football, if you are not decisive, you won't be successful. We may play against teams like Brazil and Belgium in the tournament in Russia, so we have to stay confident and brave.
MF #14 MORIOKA Ryota (Wasuranto-Beferen)
Even at the World Cup, Belgium are one of the title contenders. Imagining the national team match can be at a different level than doing so for league matches, but what matters is not different from the Brazil match, which is how much you can play in each given situation. As we need to defend as effectively as expected, I also want to keep trying to show what I can do and create chances.
MF #17 HASEBE Makoto(Eintracht Frankfurt)
As far as I watch their match against Mexico, Belgium are not so good in defending the balls coming into the space behind their defenders. But I expect they will make adjustments on that. We all aim to attack quickly right after robbing a ball, but if we get preoccupied too much by that and our plays become sloppy, it will take away our stamina. So, at some points we need to calm our game down.
FW #15 OSAKO Yuya (1.FC Koeln)
The opponents should use three-back system, so there may be open space on the sides where we can take advantage of. If I do my job and win in my individual battles, that will create more chances. We did full review on our offence, so I am looking forward to tomorrow.
Roberto MARTINEZ, Coach of Belgium
We are in preparation for the World Cup and still trying to find the right balance for the Cup by collecting more information on players and teams. So, a match like this is very important for our team development. The way Japan won through the qualifiers really impressed me. Their attitude toward matches is fantastic and courageous and they aggressively put pressure on Brazil. Their players are talented in skills and athleticism and they are a very energetic and dynamic team. The way they approach the match is different from us, so it will be how we can match up against the opponents like that.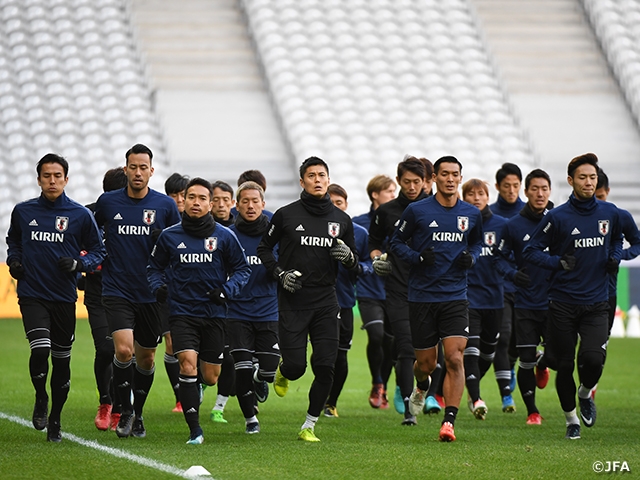 Schedule
Sun. 5 November
PM
Training (In France)
Mon. 6 November
PM
Training (In France)
Tue. 7 November
PM
Training (In France)
Wed. 8 November
PM
Training (In France)
Thu. 9 November
PM
Official Conference,Official Training
Fri. 10 November
1-3
International Friendly Match
vs Brazil (Stade Pierre-Mauroy)
Sat. 11 November
AM
Training (In France)
Sun. 12 November
PM
Training (In Belgium)
Mon. 13 November
PM
Official Conference,Official Training
Tue. 14 November
20:45
International Friendly Match
vs Belgium (Jan Breydelstadion)
*Local Time
*The schedule is subject to change due to the team condition, the weather, etc.
International Friendly Matches
Tuesday, 14 November 2017 Kickoff at 20:45 (local time)
SAMURAI BLUE (Japan National Team) vs Belgium National Team
Belgium / Jan Breydelstadion
More information