NEWS
Halilhodzic's comment on drawing for 2018 FIFA World Cup Russia Asian Qualifiers Final Round
13 April 2016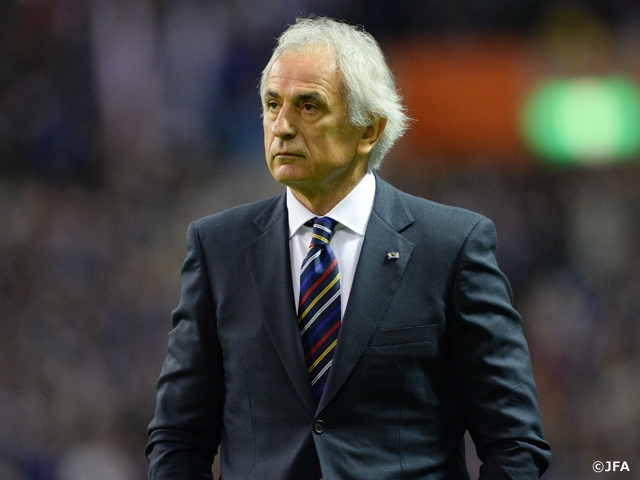 The drawing for the 2018 FIFA World Cup Russia Asian Qualifiers Final Round was held on Tuesday 12 April in Kuala Lumpur, Malaysia. As a result of it, SAMURAI BLUE (Japan National Team) were drawn into Group B, facing Australia, Saudi Arabia, the United Arab Emirates, Iraq and Thailand. Japan will begin their final Asian qualifying round campaign by welcoming UAE at home on 1 September.
Comments from HALILHODZIC after the drawing are as follows.
Coach's Comment
Vahid HALILHODZIC, Coach of SAMURAI BLUE (Japan National Team)
Looking at the pairings, I find three of the last-four teams from the last Asian Cup are in the same group. And the UAE are the team who beat Japan. I feel like the road to Russia is extremely tough. But I already knew that, and we never waver from our goal. We will get through the qualifiers to move on to the World Cup Russia.
The first match is important in the final qualifying round. There are no easy teams. You've got to be 100% committed to play it out in every match. And the first match must end with a beautiful victory as our start. Then, we are going to Thailand. September's two matches will be very important. We've got to try to win those two matches. And by doing that, we can enhance our confidence and solidarity so that we can move to the next step.
To take this team to the finals, I will deal with all the difficulties ahead. I've kept telling my players over the past few months that the final qualifiers are really difficult. The team need to improve their performance even more. At that time when I took up the coach role, the disappointment from the World Cup and the Asian Cup annoyed them, and they weren't ready for the World Cup in Russia. But over the course of the year, we've discussed a lot and I feel their hunger and aspiration for a win have changed. Now they've got a mood for the World Cup.
Fans are always supporting us. From now on, there are more difficult teams waiting for us than the ones in the second round. I would sincerely like our fans to show their presence at the stadium and support us more than before.
2018 FIFA World Cup Russia Asian Qualifiers - Final Round
1 September 2016 - 5 September 2017
More information