NEWS
"The importance to accept" Interview with Chair YAMAGISHI Sachiko of JFA Respect and Fairplay Committee and J.League Executive Director SAEKI Yuriko Vol.1
09 September 2020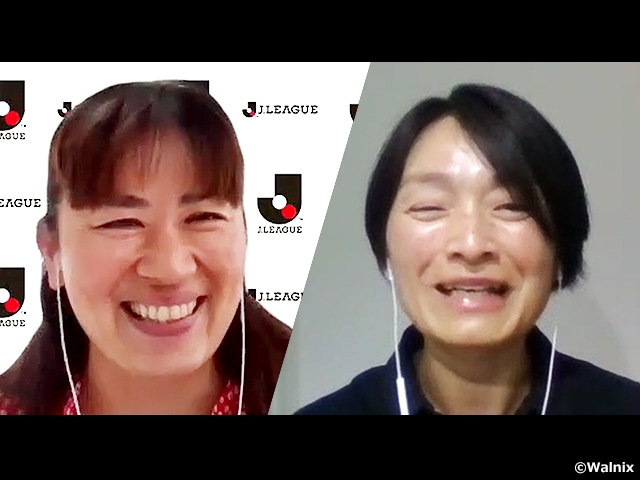 JFA has held the "Respect Fair-play Days 2020" from Saturday 5 to Monday 14 September. During this period, JFA worked with J.League, various other federations, and regional/prefectural FAs to deliver the "Respect/Fair-play oath" and post banners at various matches, while the Respect Symposium was held online on Saturday 5 September.
Through these events, JFA is taking a stand against any form of discrimination and violence in sports, while promoting the spirit of respect (to take care of others) and fair-play.
Here we will share the interview conducted with Chair YAMAGISHI Sachiko of the JFA Respect and Fairplay Committee and J.League Executive Director Ms. SAEKI Yuriko who is also a member of the JFA Women's Committee.
Interviewed online on 14 August 2020
――Both of you have been involved in football for a long time, Ms. Yamagishi as a referee and Ms. Saeki as a coach. From each of your position and experience, tell us your thoughts on "respect towards football."
YAMAGISHI Refereeing is something you cannot conduct alone. It is made possible with the support of the players, family, and everyone involved. Colleagues who share the same passion are also essential. At each turn-point of my career, I have been thankful towards those who support us, and I think that is a part of respecting to football. Even though we are amateurs, we enjoy what we do and prepare ourselves with a sense of professionalism. Our job, enjoying what we do and prepare ourselves with a sense of professionalism, is to allow the players to enjoy playing football without any worries and I believe such approach can lead to respect.
SAEKI The word "respect" was not a widely used word in Japanese society until recently, but the concept was always there. The word is understood as "having dignity or high regard," but as Ms. Yamagishi mentioned, a sense of appreciation should also be included. I have lived in Spain for nearly 29 years, but the word is commonly used in the western society. When I am asked, "what is respect?" the idea of "accepting others" is the answer that makes the most sense to me. It does not necessarily mean that we must actively admit anything, but the act of "accepting others" is one step away from it, and I feel like it embodies the concept of respect.
YAMAGISHI Listening to that story makes me wonder if I am "accepting others" on a daily basis and makes me want to reflect on my behaviours. It must be acknowledged that even if someone has a different opinion or appearance, we are all human and the differences must not be used as an excuse to criticise others.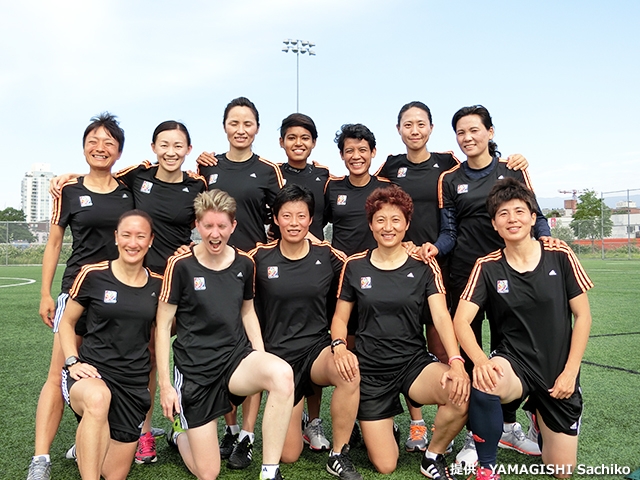 ――Ms. Yamagishi, during your career as a referee, what were the things you focused when communicating with the players.
YAMAGISHI When I first started my career, there were not many female referees, so people looked at me weirdly when I was in charge of a men's game. During these times, I realised that if I can fulfil my responsibility, I can gradually earn respect from others. In order to get accepted by the players on the pitch, you must thoroughly prepare yourselves on a daily basis behind the scenes. In a sense, we are all on the same team to create the match, so there is no hierarchical relationship among us. In order to carry out a smooth match, I always made myself available for the players to talk to.
SAEKI Speaking of a male dominant field, I have a similar experience. After moving to Spain at age 18, I was just a young woman coming from a developing country in the football world. So, when I attended courses to obtain my coaching licence, people looked at me with a bizarre look on their face. 10 years later, even after I obtained a licence equivalent to the JFA S-Licence, many medias came to interview me when I was appointed to coach a team in the third division. At that time, they asked for my opinion regarding the male dominance in the football world, gender inequality, and racism, but I responded by saying, "Because of racism and gender inequality, I am now being interviewed. When these kinds of interviews are no longer conducted, we can say that gender and racial equality have been achieved in our society."
――With football being established into their culture, the spirit of respect must be deeply rooted in Spain, but did you ever have to explain the importance of respect to your players?
SAEKI I did, and that was actually a huge theme that needed to be addressed. The children in Spain have a habit of talking back to whomever they are talking to, either it is against an adult, a teacher, or a coach. This habit is nurtured from a young age, so it is an issue that is extremely difficult to manage or control, which is something quite different from what we see in Japan.
YAMAGISHI I have a similar experience to what Ms. Saeki just mentioned. I have instructed many referees over the years and noticed the difference when instructing referees at different regions within Asia. For instance, people from Eastern Asia are educated to listen to their teachers. They prefer staying quiet than asking questions that would make them look strange. On the other hand, people from Western Asia are much more assertive and want their opinions heard. This was a remarkably interesting difference, and it was important that you find the balance point between the two. It is necessary to listen to your instructor, but it also needs to state your own opinion. Finding that perfect balance point is an exceedingly difficult task.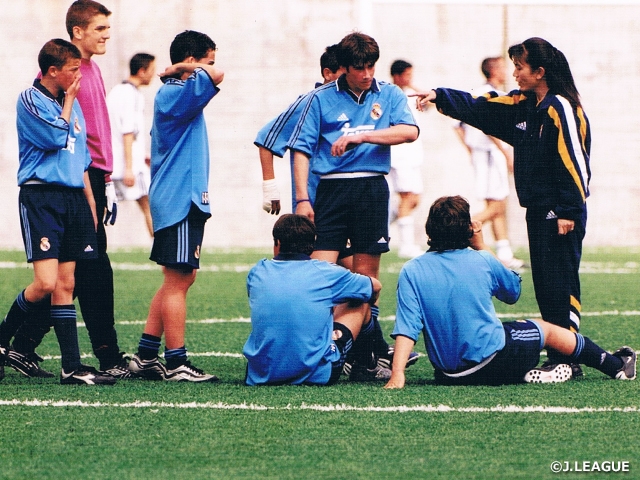 Profile
YAMAGISHI Sachiko
Date of birth: 21 October 1973
Place of birth: Chiba
Joined the school's football club while attending junior college and earned her referee licence during her first year. As she made her way up the category, she became the second women to acquire the Class 1 Referee's Qualification in 2009. She has been nominated as FIFA International Women's Referee since 2003, served as the main referee in various international tournaments, and appointed to serve the FIFA Women's World Cup 2015™. Since 2010, she was named as the AFC Women's Referee of the Year, four years in a row. After retiring as a referee in 2015, she has been involved in referee development as a Class-S Referee Instructor. Starting this year, she has been appointed as the Chair of JFA Respect and Fairplay Committee.
SAEKI Yuriko
Date of birth: 6 October 1973
Place of birth: Fukuoka
At age 18, she moved to Spain with her family, where she played at a local football club. In 1994, she started coaching at Los Yebenes (U-12), followed by other clubs including Real Madrid Football School (U-14). Obtained the NIVEL III licence (equivalent to JFA S-Licence) in 2003. Served as the coach and associate development director for Atletico Madrid C in 2006, followed by her tenure at Villarreal CF, where she worked for the player development department, youth A coaching staff, and women's team coach. Starting this year, she has been appointed to the JFA Women's Committee and J.League board executive director.