NEWS
The equal relationship between a player and a coach - Always have respect Vol.73
26 June 2019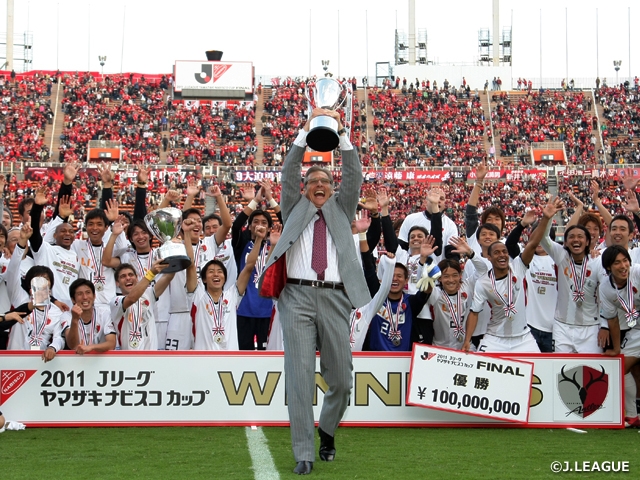 On Saturday 20 April, following the J. League match between Urawa Red Diamonds and Vissel Kobe, Urawa's coach Oswaldo OLIVEIRA was seen surrounded by a few media reporters after the press conference held at the conference room of Saitama Stadium. During his conversation with the reporters, coach Oliveira suddenly made a huge smile on his face.
The person who came approaching coach Oliveira was Kobe's defender NISHI Daigo. Shortly after making the transfer from Kashima Antlers to Kobe this year, Nishi, one of the best fullbacks in the J. League, earned the starting position at his new club, and got his call-up to the Japan National Team as well. On this day, his team lost the match 0-1 despite showing complete dominance, but Nishi's exceptional techniques, game intuition and offensive involvements were on display throughout the match. And Nishi used to play for coach Oliveira when he was with Kashima.
As Nishi approached coach Oliveira wearing a black team suit, the Brazilian coach spread his arms and greeted him with a big hug, saying "Oh, my boy!" before firmly shaking hands with him.
Nishi smiled and mentioned, "I'm 31. Not a boy anymore."
Coach Oliveira looked truly delighted, as he responded, "Yes. You used to be so young, but your plays were fascinating from the beginning."
At Saitama Stadium, the players are obliged to walk through an area called the "mixed zone" to talk with the media reporters following each match, and the room that holds the press conference is located a little deeper from that area. So, in this case, after talking to the reporters, Nishi went out of his way to find coach Oliveira.
After exchanging a few words, Nishi mentioned to the reporters, "Sorry to disturb you," and left the scene.
Professional football players and coaches do not spend a long time with a single club. There are some players who spend their entire career with a single club, and coaches who spend decades with a certain club, but those are quite rare occasions, and most players are bound to go through numbers of transfers during their career. Generally speaking, that is even more true for coaches.
However, despite sharing a very limited time together, it is evident that players and coaches share a common "respect" for one another.
In matches, we commonly see players approaching the opponent's coach before kick-off to greet them. There is no time for a conversation, but the coach still comes out of the bench to shake hands with the player, and I personally think that those are one of the beautiful scenes we see in football matches. At the J. league, these acts were often taken by foreign players, but recently, we have seen Japanese players doing the same at a regular basis.
With that being said, the act taken by Nishi was something exceptional. Not only did he go out of his way to find the coach, but the sense of respect seemed like a respect between "two individuals who worked together," instead of a "player-coach" or a "mentor-pupil" relationship.
Nishi came out from the Hokkaido Consadole Sapporo Academy, and played five seasons between Sapporo and Albirex Niigata, before joining Kashima in 2011 at the age of 23. That year was coach Oliveira's final year with Kashima, so the time spent together was just one season. At the time when I saw the two engage in a conversation, I wondered to myself, "how many seasons did they work together?" and found myself surprised to know the truth. It made me realise that, regardless of the time spent together, professional players and coaches nurtures a strong bond.
To add to it, the attitude shown by Nishi was not meant towards a former teacher. He approached with an imposing manner, rather than a self-deprecating fashion, which felt like his way of showing respect towards an equal individual.
The gesture was not made because he was a coach, a teacher or a teammate, but an individual who spent the same passion towards a common goal in the past. And it was a gesture of respect towards an "comrade." This imposing presence of Nishi made me feel the maturation of professionalism in Japanese football.
Written by OSUMI Yoshiyuki (Football Journalist)
*This article was originally posted on the Japan Football Association Newsletter, "JFAnews," May 2019 edition.
Japan Football Association Newsletter "JFAnews"
The Japan Football Association Newsletter "JFAnews" contains all the information on the Japan National Team, and all the events hosted by the JFA. Tournament results and team information throughout the nation are also available. The official monthly magazine is a must read for coaches, referees, and all members of the football family.
For information on the newest edition (Japanese website)