NEWS
Kashiwa defeats Omiya in season opener of Prince Takamado Trophy JFA U-18 Football Premier League 2020 Kanto
07 September 2020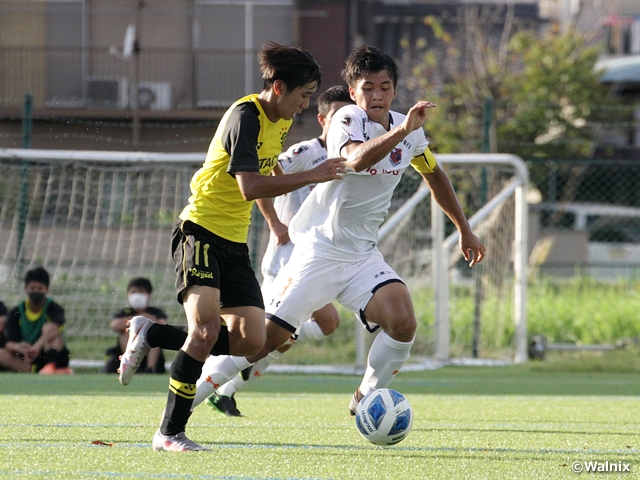 The Prince Takamado Trophy JFA U-18 Football Premier League 2020 Kanto kicked off on Saturday 5 and Sunday 6 September, as four fixtures took place at various locations.
Kashiwa Reysol U-18 3-2 (2-1, 1-1) Omiya Ardija U18
After finishing in second place at the Premier League EAST last season, Kashiwa Reysol U-18 (Chiba) welcomed Omiya Ardija U18 (Saitama) to their home field in the season opener. In measures to prevent the spread of COVID-19, the match was played with no spectators, but with the match being their first official match in a while, the players showed great enthusiasm from kick-off.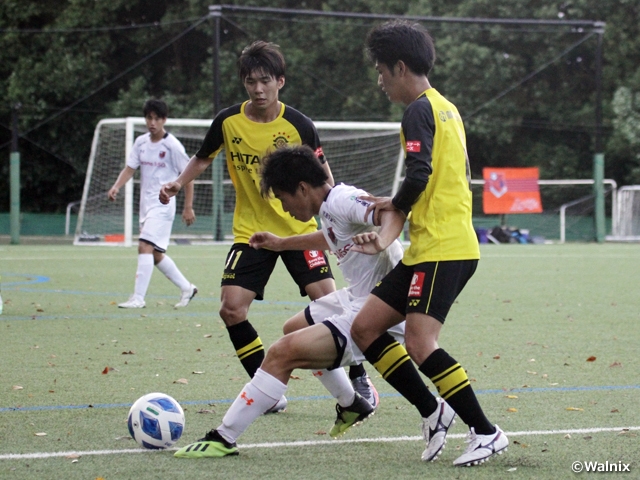 However, both teams struggled to find their rhythm in the early minutes, as some of the players seemed overwhelmed by the pressure, leading them to play too conservatively or make simple mistakes. After seeing his team getting off to a slow start, Kashiwa's goalkeeper SASAKI Masato (#1) was heard telling his teammates, "It's just like a training match, let's try to play our usual game!"
While both teams struggled to pick up their pace to start the match, it was the home side who broke the deadlock. The opportunity came in the 14th minute when MAEDA Daichi (#5) fought for the ball following a corner kick, allowing TANAKA Hayato (#18) to strike a shot that shook the net. Kashiwa managed to double their lead in the 35th minute when NAKAJIMA Shun (#11) broke away to face the goalkeeper one on one and calmly slotted the ball into the goal.
Omiya came back scoring just before the break, as SAKABE Shota (#11) converted the pass delivered by YAMAZAKI Rin (#14) in the 40th minute to cut down the deficit in half. The goal seemed to have given Omiya new life, as they continued to be the aggressor in the second half. With momentum on their side, the visiting side captured the equaliser in the 54th minute, when a pass delivered by SHIBAYAMA Masaya (#10) deflected off a Kashiwa defender, which allowed OSAWA Tomoya (#9) to capitalise on the loose ball.
After seeing their two goal lead diminish, Kashiwa started to pick up their intensity, creating more opportunities upfront. The golden moment came in the 59th minute, when SHIMIZU Yuki (#12) connected with a cross delivered by DATE Yutaka (#25) to score the go-ahead goal with a header. The two teams battled with great intensity, as the match saw many players getting cramps during the closing minutes. Despite the final efforts made by Omiya, the home side took down the match with a final score of 3-2.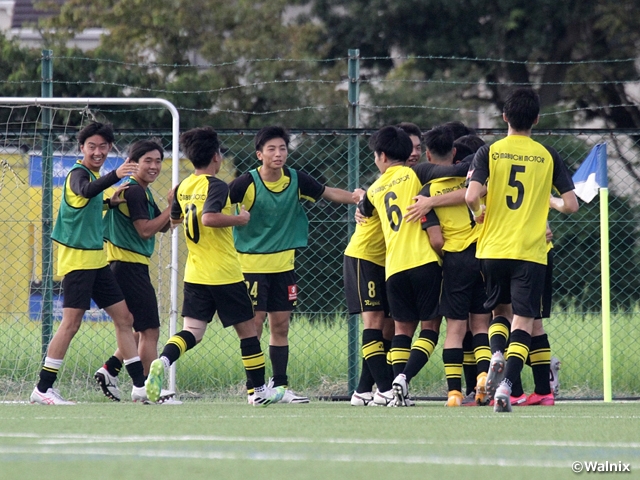 In the other fixtures, two teams making their return to the Premier League clashed head to head, as Yokohama F. Marinos Youth (Kanagawa) defeated FC Tokyo U-18 (Tokyo) 1-0. The match between Yokohama FC Youth (Kanagawa) and Ryutsu Keizai University Kashiwa High School (Chiba) ended in a scoreless draw, while Urawa Red Diamonds Youth (Saitama) won over Funabashi Municipal High School (Chiba) 1-0.
Coaches and Players' Comments
YAMANAKA Shin, Coach (Kashiwa Reysol U-18)
First of all, I would like to thank everyone for their support to make this league possible. I feel great joy to be a part of a stage that will be a significant memory of the players' youth. The match has presented us with a unique nervousness that comes before each official match, which was something we have not experienced in a while. Although there were times we had to be patient, the entire squad showcased their strong will towards victory throughout the match, and that was very impressive. The players have worked hard every day, and they displayed a strong presence on the pitch today. I hope that our players will continue to challenge themselves and make the most out of this league. We will continue to play with intelligence, skills, speed, and power.
MF #6 IBI Shunto (Kashiwa Reysol U-18)
We have not been able to play real matches for a while, so it was great that this league has started. I am glad that we were able to convert our few chances to score goals. We kept our concentration level high even after conceding the equaliser, and that has led to the game winning goal. The fact that we were able to win this tough match will give us great confidence moving forward. We hope to utilise the remainder of the season to build a team that can play intelligently and skilfully. We will continue to work hard so that we can win the league title and finish the season with a big smile.
TANNO Yusuke, Coach (Omiya Ardija U18)
We are grateful to be given the opportunity to play in this league, and thankful to the healthcare workers, JFA, clubs, and players' parents to make this league possible. We were simply able to enjoy ourselves in this match. It was disappointing to lose the match, but that is a feeling we do not get to feel without this league. We saw many players cramping up during the match and I am not sure if it was because they were overly nervous or because of their lack of fitness, but all and all, I think the players were able enjoy the match. I will continue to demand high level of teamwork and hard work from our players, and hopefully we can add individual strengths to that equation. In order to showcase a match that can move the hearts of the spectators, we must display strong teamwork while showing creative individual efforts.
DF #3 FUKUI Keita (Omiya Ardija U18)
We went through a long period of time without playing any official matches, but with the support of everyone, we were able to welcome this day. I personally was looking forward for this day, so I was extremely excited. Looking back on this match, we had to be more critical in the attacking third, while we also needed to respond better in the defensive end as well, but all and all, we had to make more runs as a team. As a defender, I feel like I was able to deny their forwards from creating opportunities and passed the ball well in our build-up plays, but we still conceded multiple goals, so there are many aspects we need to improve on. I will work on my headers and blocking skills to become a more dependable defender.
Prince Takamado Trophy JFA U-18 Football Premier League 2020 Kanto
League duration: Sat. 5 September - Sun. 6 December 2020