NEWS
Kobe prevails over Hiroshima in a high scoring battle at the 10th Sec. of the Prince Takamado Trophy JFA U-18 Football Premier League
16 July 2019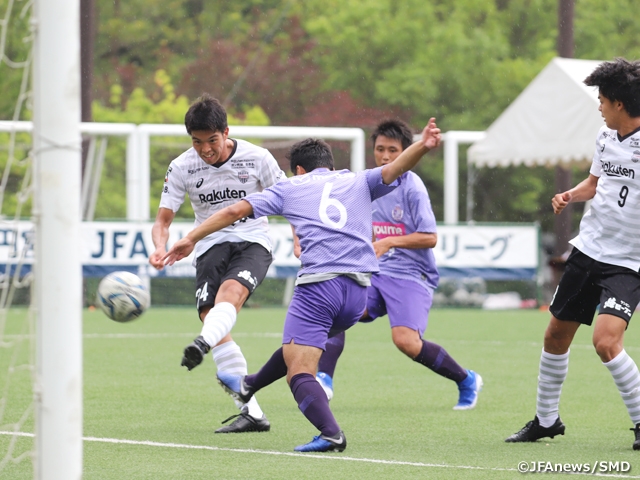 The 10th Sec. of the Prince Takamado Trophy JFA U-18 Football Premier League 2019 WEST took place from Saturday 13 to Monday 15 July, where Sanfrecce Hiroshima F.C Youth (Hiroshima) faced Vissel Kobe U-18 (Hyogo).
Pick-up Match
Sanfrecce Hiroshima F.C Youth 4-5 (2-3, 2-2) Vissel Kobe U-18
With Kobe missing their captain YAMAUCHI Kakeru (#7) due to his participation with the U-17 Japan National Team, OSHITOMI Taiki (#16) mentioned, "we kept ourselves motivated to earn the victory while our captain was absent." However, Kobe struggled to connect their passes in the early minutes of the match, as coach NODA Satoru later reflected, "our opponents applied pressure with their three attackers against our four-back defence, so we felt vulnerable to possess the ball in our defence line." On the other hand, Hiroshima showed effective attacks from the flanks to create opportunities. In the 14th minute, Hiroshima captured the opening goal, when MATSUMOTO Taichi (#12) capitalised on a corner kick delivered from the left side. Kobe responded with consecutive goals scored by MIURA Toshikuni (#24) in the 30th and 36th minute to take the lead. After Hiroshima's TANADA Hayate (#9) scored the equaliser in the 43rd minute, SHIGENO Yoshiki (#8) scored back a goal soon after to give Kobe a 3-2 lead at halftime.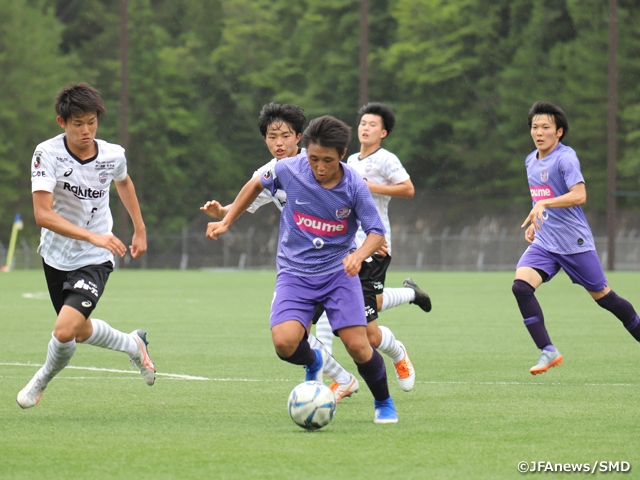 The second half saw the Hiroshima side adding more numbers upfront, but Kobe took advantage of the situation to counter their opponents by utilising their two wingers, ODA Yutaro (#9) and SASAKI Takaya (#20). In the 51st minute, Sasaki earned a penalty kick after breaking through the left flank. Although Hiroshima's goalkeeper HIRANO Aoi (#31) initially saved the spot kick, the deflection was converted by Miura to give Kobe their fourth goal. Three minutes later, SAEKI Shinnosuke (#10) capitalised on a loose ball created by a cross sent by Oda, giving Kobe a three-goal lead.
With a commanding lead, Kobe changed their formation from 4-3-3 to 3-4-3 in efforts to contain Hiroshima's side attacks. However, despite their defensive shift, Kobe conceded back-to-back goals in the 59th and 72nd minute from attacks initiated in the right flank. With momentum on their side, Hiroshima displayed great intensity to level the match, but the Kobe defence, led by their goalkeeper TAKUMI Kagenori (#1), showcased a persistent effort to hold off the opposing attacks and earned a 5-4 victory.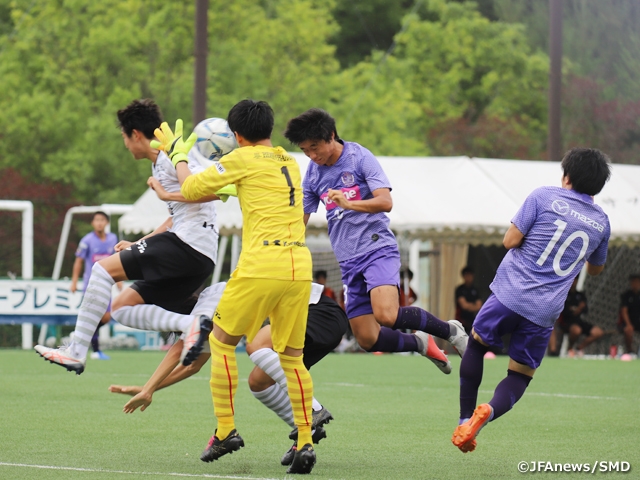 Coaches and Players' Comments
SAWADA Kentaro, Coach (Sanfrecce Hiroshima F.C Youth)
We managed to exploit the space behind our opponent's defence line and showcased a fine performance in the first half. In the recent years, our team has struggled when the opponents dominated the ball possession, but we were able to make aggressive approaches to fight for the ball in today's match. However, we lacked consistency in our approach to force turnovers, and I feel like that was the reason for the conceded goals. We had to be more detail oriented in order to contain our opponents. With all that being said, we still showed improvements in this match, and I believe we just need to polish up on each of our plays.
FW #23 FUKUZAKI Ryosei (Sanfrecce Hiroshima F.C Youth)
Our approach to apply aggressive pressure from the frontline proved to be effective in the early minutes of the match and we were able to score the opening goal, but our opponents eventually found ways to evade the pressure and took away the lead. Despite levelling the match at one point, it felt like we were lacking concentration as a team and eventually gave up the third goal. Looking back, we might had a chance to win this match if we had kept the score tied at halftime. We entered the second half with full intention to score back the goals, but our opponents took advantage of our aggression to score two more goals. There are so many aspects we need to improve from this match, but we should be proud of the fact that we managed to score back two goals at the end. We will work hard to get stronger and get our revenge at the Club Youth Football Championship.
NODA Satoru, Coach (Vissel Kobe U-18)
With our team captain absent from this match, we weren't sure how this match was going to play out. We conceded the first goal from a set-piece and couldn't get off to a good start, but we gradually picked up our pace to take the lead within the first half. We haven't been winning much matches this year, so we entered the second half with a defensive approach to manage our risks. Despite conceding two goals, our players worked very hard to keep the lead.
MF #16 OSHITOMI Taiki (Vissel Kobe U-18)
Our team has always depended heavily on the presence of (Yamauchi) Kakeru, so we struggled dearly in our build-up plays today. However, Miura and the rest of the offence did a great job to score goals for us and proved that we can win matches without our captain. But when looking back on the match, our defence needs to improve both at the team and individual level, as we allowed our opponents to receive the ball freely in the box, especially in the second half. In order to win matches, our defence needs to be consistent, so we must make the adjustments to improve our defence.
Results of other matches
Higashi Fukuoka High School 4-2 (3-1, 1-1) Cerezo Osaka U-18
Avispa Fukuoka U-18 2-2 (1-1, 1-1) Kyoto Sanga F.C. U-18
Ehime FC U-18 1-5 (1-2, 0-3) Nagoya Grampus U-18
Ozu High School 2-0 (2-0, 0-0) Gamba Osaka Youth
Higashi Fukuoka High School (Fukuoka) scored four goals at home to defeat Cerezo Osaka U-18 (Osaka). Avispa Fukuoka U-18 (Fukuoka) and Kyoto Sanga F.C. U-18 (Kyoto) scored two goals apiece to share a point. Nagoya Grampus U-18 (Aichi) marked five goals to cruise past Ehime FC U-18 (Ehime). Ozu High School (Kumamoto) earned a 2-0 victory over the first place Gamba Osaka Youth (Osaka). As a result, three teams are now tied with 19 points at the top of the leader board.
Prince Takamado Trophy JFA U-18 Football Premier League 2019
League Duration: Sat. 6 April - Sun. 8 December 2019