NEWS
U-17 Japan National Team defeats Bosnia and Herzegovina in their second match of the 23rd International Youth Soccer in Niigata
15 July 2019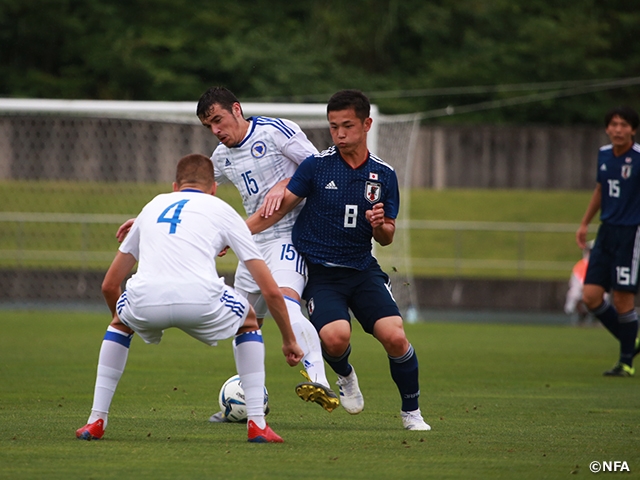 International Youth Soccer in Niigata
vs U-17 Bosnia and Herzegovina National Team
Sun. 14 July 2019 16:30 Match duration 90mins (45minsx2)
Green Stadium Shibata, Niigata
U-17 Japan National Team 3-0 (2-0, 1-0) vs U-17 Bosnia and Herzegovina National Team
Scores
4' TOYAMA Shoji (U-17 Japan National Team)
8' TAKEUCHI Suiju (U-17 Japan National Team)
55' MURAKAMI Yosuke (U-17 Japan National Team)
Starting Line-up
GK: HILL Cailen
DF: SHIMOKAWA Taiyo, MURAKAMI Yosuke, SUZUKI Kaito, HANDA Riku
MF: TANAKA Satoshi, YAMAUCHI Kakeru, NAKANO Ryuma, NAKANO Keita
FW: TOYAMA Shoji, TAKEUCHI Suiju
Reserves
GK: NOZAWA Taishi Brandon
DF: HATA Taiga, FUJITA Joel Chima
MF: YOKOKAWA Asahi, NARUOKA Hikaru, SAGARA Ryunosuke, MITO Shunsuke
FW: SUGIURA Rikito
Substitutions
HT NAKANO Ryuma → MITO Shunsuke
61' HANDA Riku → HATA Taiga
61' SUZUKI Kaito → YOKOKAWA Asahi
69' TAKEUCHI Suiju → SAGARA Ryunosuke
69' TOYAMA Shoji → SUGIURA Rikito
79' YAMAUCHI Kakeru → NARUOKA Hikaru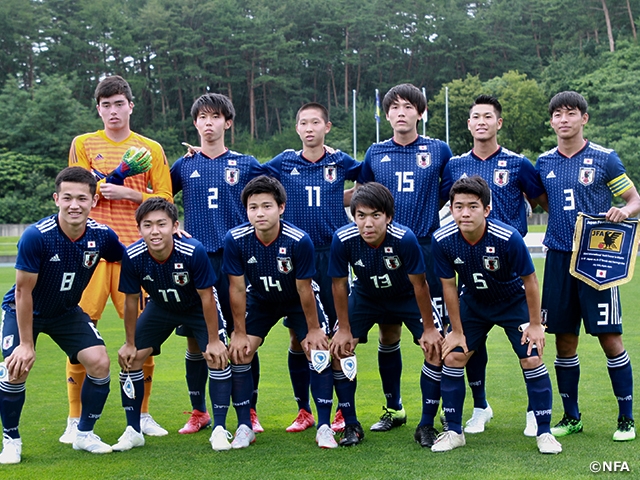 Match Report
On Sunday 14 July, the U-17 Japan National Team faced the U-17 Bosnia and Herzegovina National Team in their second match of the 23rd International Youth Soccer in Niigata. Following their 1-2 loss to Mexico on the day before, coach MORIYAMA Yoshiro sent off the players by mentioning, "If this was the group stage of the World Cup, we have limited the damage within the minimum margin. It means that we must win this second match. Let's try to be critical in the final third."
Despite the heavy rain and slippery turf condition, the match started off with Japan taking the initiative through their quick ball movements. Just four minutes into the match, Japan scored the opening goal, when SHIMOKAWA Taiyo played a give and go with TOYAMA Shoji before sending a cross towards the centre. It was Toyama who connected with this delivery to capture the net with this header.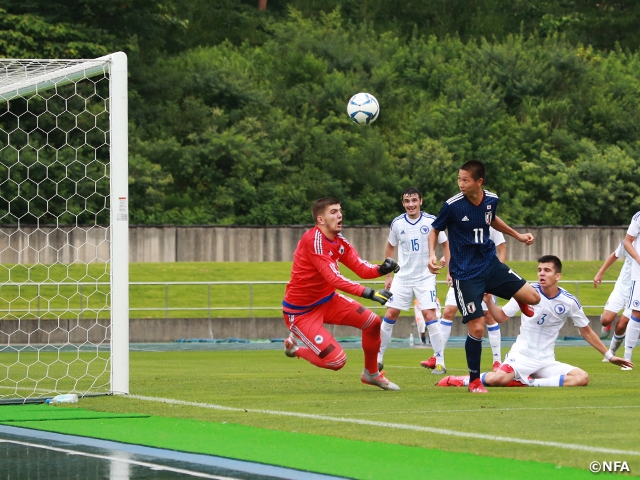 Japan doubled their lead in the eighth minute, when YAMAUCHI Kakeru dribbled up the left flank before sending a through ball to TAKEUCHI Suiju, who directly struck a shot that pierced the net. With the early two-goal lead, Japan took full control of the match, but seemed to lack quality in the final third to score further goals. HANDA Riku showcased his ability to create chances, but his teammates fell short from converting his crosses, as the match entered halftime with Japan leading 2-0.
With momentum on their side, Japan continued to attack the Bosnian goal in the second half. In the 55th minute, MURAKAMI Yosuke converted a loose ball following a corner kick to make it 3-0. However, the goal scored by Murakami was the last goal of this match, as Japan struggled to convert their opportunities in the remaining minutes of the match, as they finished with a 3-0 victory.
With the chance to win the tournament title still remaining, the U-17 Japan National Team will face the U-17 Niigata Select Team on Monday 15 July.
Players' Comments
DF #3 HANDA Riku (Montedio Yamagata Youth)
After suffering a loss to Mexico, this was a match we really wanted to win. It was great that we were able to score two goals in the early minutes of the match. However, we failed to convert our opportunities in the remaining minutes of the first half. Despite making the adjustments in the second half, our only goal scored was a play from a set-piece. Following our Argentina tour in June, our task still remains to be our inability to score goals in crucial moments. We have just three more months before the World Cup. We must become able to create more chances as a team and show more persistency in defence ahead the big tournament.
DF #15 MURAKAMI Yosuke (Omiya Ardija U18)
Following yesterday's match, we made some adjustments for today's match, and I think it means a lot that we were able to keep a clean sheet today. I managed to utilise my aerial strengths to compete against taller opponents and it gave me great confidence moving forward. In our match against the U-17 Niigata Select Team, I will continue to showcase my strengths and finish this tournament with another shutout victory.
MF #8 YAMAUCHI Kakeru (Vissel Kobe U-18)
It was great to see our team score the two goals in the early minutes of the match, but we played poorly in the remaining minutes of the first half. In the second half, we managed to maintain a good distance between each other to keep the ball moving and created more opportunities. I was able to assist a goal and managed to force numbers of turnovers in defence, so I hope to continue on this performance in the following match. We will prepare ourselves so that we can showcase a good performance as a team tomorrow.
MF #14 NAKANO Keita (Kyoto Sanga F.C. U-18)
I am very grateful for all the people who are allowing us to play football. Today, we managed to take control of the match against Bosnia and Herzegovina by scoring two early goals. However, we still saw many rooms for improvements, both as a team and as individuals. We must continue to strive for a higher level ahead of the World Cup scheduled in three months. As a team, we will build a positive vibe from the warm-ups in our match against the U-17 Niigata Select Team.
Schedule
The 23rd International Youth Soccer in Niigata
Sat. 13 July
1-2
vs U-17 Mexico National Team
(Spo-Island Seiro)
Sun. 14 July
3-0
vs U-17 Bosnia and Herzegovina National Team
(Green Stadium Shibata)
Mon. 15 July
15:50
vs U-17 Niigata Select Team
(Denka Big Swan Stadium)
*The schedule is subject to change due to the team condition, the weather, etc.
The 23rd International Youth Soccer in Niigata
Tournament Dates: Sat. 13 - Mon. 15 July 2019
Tournament Venue: Spo-Island Seiro/Green Stadium Shibata/Denka Big Swan Stadium, Niigata