NEWS
Fukuoka Tobiume crowned as champions for the 2nd time in 3 years at the JFA 18th O-50 Japan Football Tournament
02 July 2019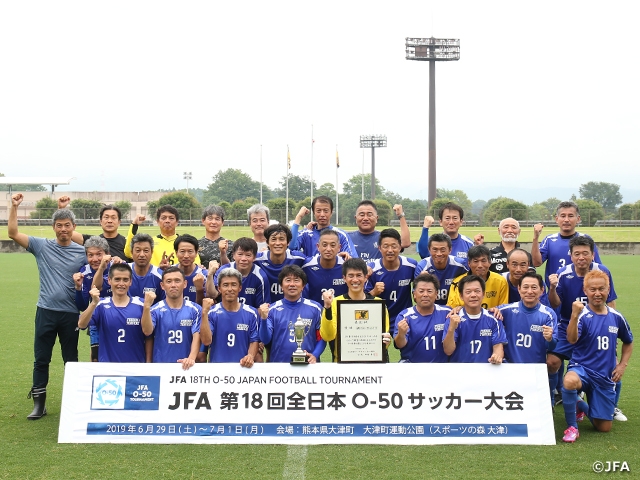 On Monday 1 July, the final match day of the JFA 18th O-50 Japan Football Tournament took place at Ozu Town Sports Park (Forest of Sports, Ozu) at Kumamoto Prefecture, where Fukuoka Tobiume Senior SC (Kyushu/Fukuoka) was crowned as the national champions for the second time in three years.
The first semi-final match featured a match between Gifu Kawasaki FC (Tokai2/Gifu) and Kagawa FC50 (Shikoku/Kagawa). With the team winning all three matches at the group stage, Gifu Kawasaki dominated the early minutes of the first half, but it was the Kagawa side who scored the opening goal at the end of the first half. Kagawa went onto double their lead in the second half to secure their spot into the final.
The other semi-final match was played by Fukuoka Tobiume and Dream Mito Senior FC (Kanto2/Ibaraki). While the two teams showcased an intense battle where both teams created numbers of opportunities, the match ended in scoreless draw, sending the match into penalty shootouts. With all five kickers successfully converting their spot kicks, it was Fukuoka Tobiume who advanced to the final.
Final
Kagawa FC50 0-0 (0-0, 0-0, PK: 1-4) Fukuoka Tobiume Senior SC
The final featured a heated battle where both teams showcased their character. While Fukuoka Tobiume aggressively moved the ball upfront to make runs into the open space, Kagawa FC50 played with great persistency to anticipate for their chance to counter. In the 17th minute, the Kagawa side pounced on an opportunity and applied numbers upfront. The final cross was delivered to DOI Mikio, who struck a header that shook the net, but the play was called offsides.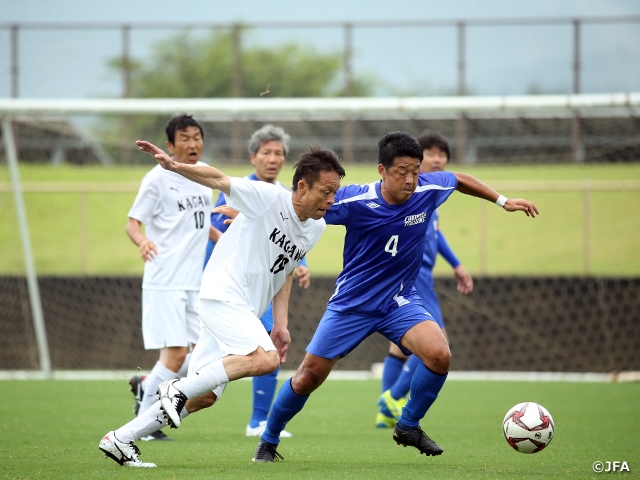 In efforts to take control of the match, Fukuoka Tobiume utilised their substitutions effectively to keep the offence energised. A close shot was taken by the second half substitute IKEBE Hideaki, but his shot went just off the target. In contrast, Kagawa FC50 stuck with their starting line-up, as the 11 players worked tenaciously throughout the match. With both sides showing great intensity, the match ended in a scoreless draw, as the fate was left to be determined by penalty shootouts.
With their goalkeeper ETO Yuji making two saves, Fukuoka Tobiume claimed their second national title in three years.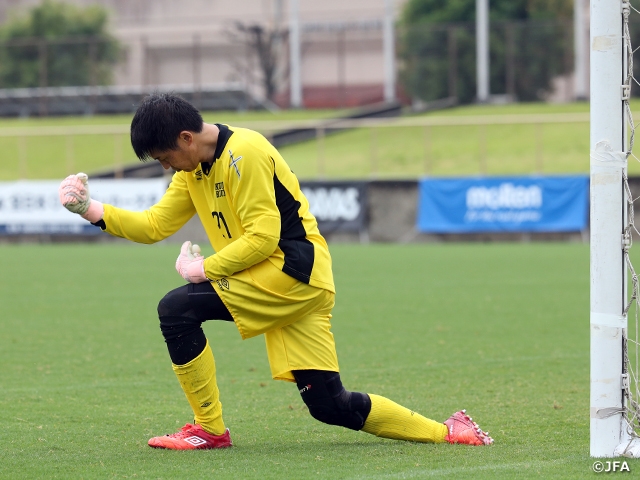 Coaches and Players' Comments
SHIMIZU Osamu, Coach (Fukuoka Tobiume Senior SC)
We took back a homework after failing to win the title last year. Everyone was eager to reclaim the title and with the help of additional players, we were able to win the title once again. The most difficult part about this tournament is that we have to fight through five matches in three days. If we give everything we've got in the first two days, we will be left with an empty tank in the third day. That is an aspect we were able to overcome from our past experiences. Fukuoka Tobiume has become an iconic team in the senior generations. That is why we must continue to strive for higher qualities regardless of our age.
OTSUKA Mitsutoshi (Fukuoka Tobiume Senior SC)
We worked hard to reclaim the title and all of our efforts were paid off today. All teams advancing to the final round are strong teams, and it is not an easy task to score against them. That is why we were prepared for the penalty kicks. It is my pleasure to play in this national tournament each year and face the top players of our generation. Advancing through the Kyushu qualifiers is one thing but advancing to the final round is a very difficult feat. Win or lose, I am having the time of my life through each match. We are fortunate to be playing under a wonderful environment and I am very thankful to be given this opportunity. I will continue to work hard to return to this field next year.
DOI Mikio (Kagawa FC50)
We entered the tournament with the intention to have fun while hoping to win at least one match. We were able to earn wins in close matches and started to get a hunch that we might be able to make a deep run, but I wasn't expecting us to go all the way to the final. In our final day, we had players who had to leave the tournament due to their work schedule and injuries, leaving us with a very few options. We were exhausted and couldn't run as much at the final. However, with the field condition wonderfully organised, we were able to keep our legs moving and enjoy playing football throughout the tournament, so we are very thankful to be given such opportunity. We will now return to our hometown and rest up so that we can once again start training to make another deep run.
HARA Yoji (Gifu Kawasaki FC)
We had our opportunities at the semi-final, but we couldn't convert them and lost to a very strong Kagawa side. We gave our best efforts, but the opponents had the upper hand. With everybody having a busy work schedule, it was difficult to hold training sessions with sufficient numbers of players, but we were able to work together as a team to strive for this tournament, so I am very satisfied with this experience. We really hope to win the title, so we will continue to work hard towards next year's tournament.

Semi-Final matches highlights
Final match highlights
JFA 18th O-50 Japan Football Tournament
Tournament Dates:
Sat. 29 June - Mon. 1 July 2019
Tournament Venue:
Ozu Town Sports Park (Forest of Sports, Ozu)