NEWS
JFA 18th O-50 Japan Football Tournament to kick-off on 29 June
26 June 2019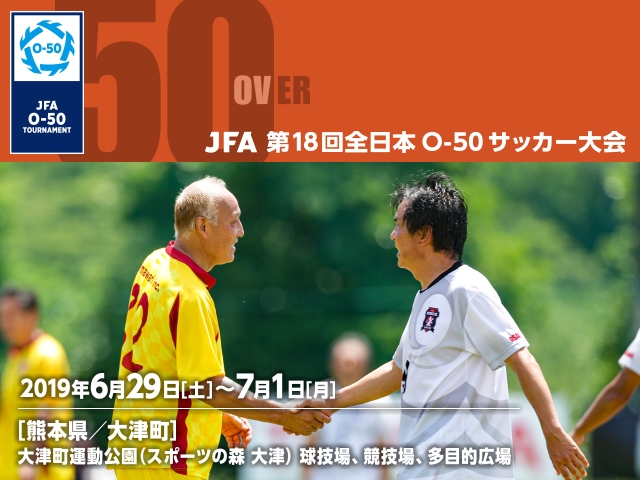 On Saturday 29 June, the JFA 18th O-50 Japan Football Tournament will take place. This year, the U-50 championship will take place at Ozu Town Sports Park (Forest of Sports, Ozu) at Kumamoto Prefecture.
The tournament will be played by 16 teams gathered from all over the nation. The teams will be divided into four groups to conduct a round robin format group stage, followed by the knockout stage competed by the four group leaders.
Players born before 1 April 1970 are eligible for this tournament. The national champions among the registered JFA "Senior" teams will be determined in the next three days.
Last year, the defending champions, Fukuoka Tobiume Senior SC fell short from capturing the title in back-to-back years, but another team from Kyushu, Nakatsu OB SC took the title. In the past two years, the tournament final has been fought between teams from Kanto and Kyushu. It will be interesting to see who will be crowned in this year's tournament.
Out of this year's participating teams, Fukuoka Tobiume Senior SC (Kyushu/Fukuoka) is the only team who has won the tournament in the past. Alfoot Azumino Senior (Hokushinetsu1/Nagano) is one of the tournament regulars, but only four teams have made consecutive appearances counting from last year. This trend shows that the competition at the senior generations have increased and intensified over the recent years.
One of the most iconic team of the senior generations, is the Yamanashi Masters/legend (Kanto1/Yamanashi). The team entered its 17th year, and advanced to the national tournament along with their U-40 team. In order to give their O-40 team momentum ahead of their tournament, the O-50 team will seek to make a deep run at this tournament. The team finishing as the runners-up in this year's JFA 19th O-60 Japan Football Tournament, was formed by the players of Toyopet Club, who won this O-50 tournament in 2013 and 2014, showing that success at this category will succeed to future accomplishments.
Newcomers like Docon Jack 50 (Hokkaido), who has just established their O-50 team two years ago, will also feature this year's championship. After being eliminated in their final group stage match in the past two appearances, Anciano Mie (Tokai1/Mie) will see if the "Third time's a charm" for them. Each team and player will be entering the tournament with their own goals to face the rivals coming from all around the nation.
Last year featured a close battle at the group stage, where two of the group leaders advanced through with a mere point lead. The competition will be heated in this year's tournament as well.
JFA 18th O-50 Japan Football Tournament
Tournament Dates:
Sat. 29 June - Mon. 1 July 2019
Tournament Venue:
Ozu Town Sports Park (Forest of Sports, Ozu)