NEWS
S-Licence Coaching Course 2019 Module 2/Intensive Course (3) Participant's Report Vol. 4
11 June 2019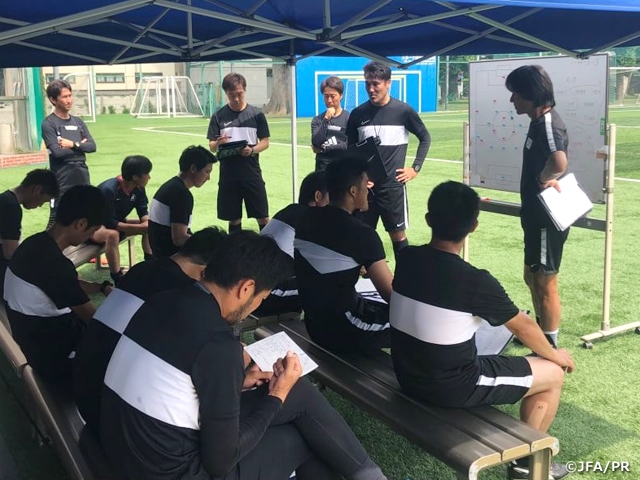 The S-Licence Coaching Course 2019 Module 2 started on Monday 3 June. Following the conclusion of Module 1, JFA instructors attended the participants' clubs to observe and discuss the daily coaching activities carried out by the participants during the intermission period. After a month, the participants were once again gathered to conduct the three-week course of Module 2 to go over topics including team management.
In our first week of Module 2, we will share the report from Mr. MIYAZAWA Yuki (FC Red Bull Salzburg U15).
Module 2 Intensive Course (3)
Duration: Mon. 3 – Thu. 6 June
Mon. 3 June
Afternoon: Brainstorming, Nutrition seminar, Physical conditioning
Tue. 4 June
Morning: Coaching session
Afternoon: Sports paramedic
Wed. 5 June
Morning: Coaching session
Afternoon: J. League club management and the role of club licensing system,
Professional coaching theory
Thu. 6 June
Morning: Coaching session
Afternoon: Professional coaching theory, Coaching session review
Comment
Mr. MIYAZAWA Yuki
The S-Licence Coaching Course 2019 started with its short programme held in Kashima Heights. We first gathered with a mixed feeling of anxiety and excitement, while leaving with a sense of achievement and relief when Module 1 concluded. The Module 2 Intensive Course part 3 started on Monday 3 June, and I, Miyazawa Yuki, will share the report on the course. My impression on the group has changed from "fellow participants" to "friends" through the 14-day course of Module 1, and we are now actively sharing our opinions and holding discussions during our review sessions and lecture courses.
The main topics of this intensive course featured, brainstorming (Mr. USAMI Makoto/Professor at Kyoto University), nutrition for football players (Ms. OMAE Kei/Meiji Co., Ltd. Dietician), physical conditioning and the four measures against Heat, Cold, Jetlag, and Altitude (Mr. YASUMATSU Mikinobu/JFA Physical fitness project). From the second day on, we started to take coaching sessions in the morning, followed by lectures in the afternoon, where we went through topics of sports paramedic, club management and club licensing system (Mr. AOKAGE Yoshinori/J. League). We were also given a lecture from the two JFA instructors, Mr. SUZUKI Jun and MR. OKUNO Ryosuke on professional coaching theory, where we discussed the topic of transitioning systems in football, and the pros and cons of each system. As mentioned earlier, the participants actively exchanged opinions throughout the sessions which allowed us to broaden our perspective on each topic. During the course, we devoted ourselves into football all day, as we spent our time in the evening watching the KIRIN CHALLENGE CUP match between Japan and Trinidad and Tobago, and the U-20 World Cup match between Japan and Korea Republic.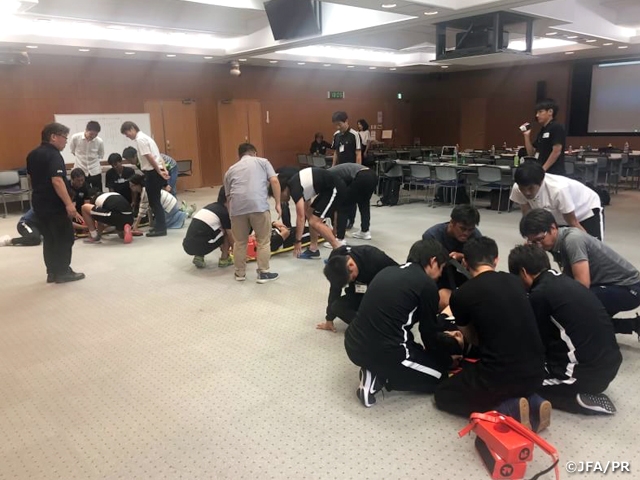 In our coaching session, we were given the topic to come up with tactics to counter against an opponent with a 4-3-3 formation. We took on the topic as a group, where we implemented all the things we learned through the lectures to accomplish our objective. We are thankful for the students of Edogawa University and the staffs of Mitsubishi Yowa for helping us conduct the coaching session.
The story of MATSUDA Naoki shared by our fellow participant, USUI Hirotaka from Matsumoto Yamaga has left a strong impression for me. It made me take the five-hour lecture on sports paramedic even more seriously, and prepare myself not only as a coach, but as a human being and as a father. The session has given me the courage to commit myself and the knowhow to respond quickly in case of an emergency. The sports community must unite as one to prevent another tragedy from happening. If the knowledge to use the AED spreads throughout the sports community, sports can finally adapt as part of our culture in this country.
Next time, we will be sharing a report from Mr. OTAGIRI Michiharu (Kataller Toyama U-18).