NEWS
JFA to support the "National Movement to Support Children's Future"
30 May 2019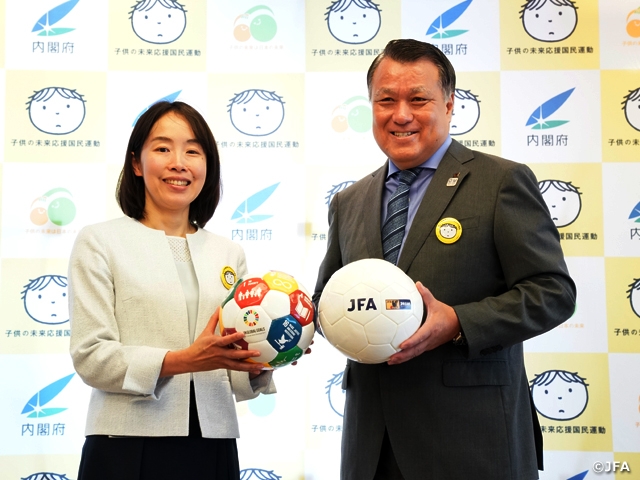 On Wednesday 29 May, the Japan Football Association (JFA) held a kick-off ceremony to announce their pledge to strengthen the efforts to support the "National Movement to Support Children's Future" through the sport of football.
Counsellor MAKINO Rika from the Cabinet Office, who is in charge of measurements taken on child poverty, and JFA President TASHIMA Kohzo attended the ceremony.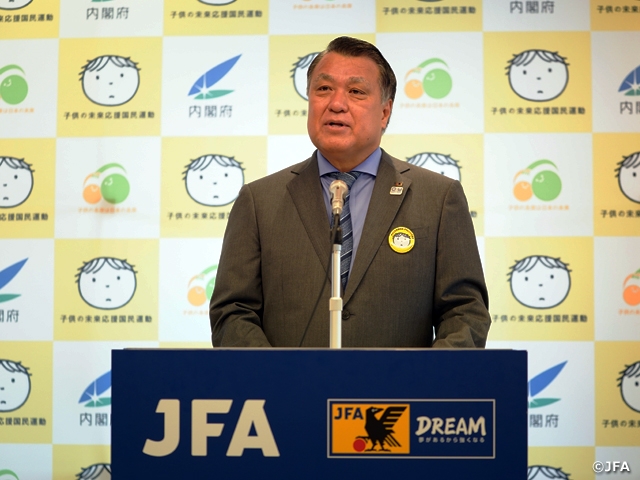 Attendees' Comments
MAKINO Rika, Counsellor of the Cabinet Office
Although Japan is thought to be a wealthy country, in reality, there are many children suffering from poverty. In a financial perspective, it is said that one out of seven people is in a state of poverty. There are many children who must give up education or cannot come by a meal without school meals. If we do not acknowledge this issue right now, the cycle of poverty may continue onto the generations to come. Children who cannot receive sufficient education may lose their opportunity to advance to higher education and lead another generation to poverty. With birth rates declining each year in Japan, this is an issue we cannot neglect.
Financial distress is not the only issue, but poverty can affect a child's development in many aspects, such as losing the motivation to learn and lack of self-esteem. Without the opportunity to experience social activities, it can diminish the future possibilities a child could have had otherwise. The government has taken various measures to address these issues, but we know that we cannot completely defeat poverty. One of the reasons is because child poverty is not always transparent. There are situations where a child cannot raise his/her voice or do not realise the issue him/herself. That is why it is important for the government and its people to come together as one to spread the message and support the children's future as a society.
While making our efforts to promote the "National Movement to Support Children's Future," the JFA has pledged their full support towards our project, and we are very grateful for their generosity. We are told that our posters will be distributed to the 47 Prefectural Football Associations and shown at the kids' programmes held by the JFA. The past activities carried out by the JFA has always contributed to support children's future, and we hope to deepen our relationship to inspire each other and improve ourselves to achieve our common goal.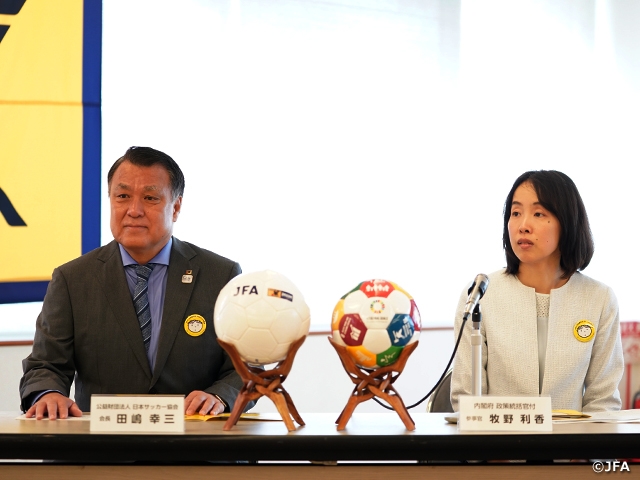 TASHIMA Kohzo, JFA President
At this time, we have decided to pledge our full support to the "National Movement to Support Children's Future," which is a collaborative project between public and private sectors. Despite being one of the economic giants of the world, it is said that one in seven people of Japan are in a state of poverty, while more than half of the fatherless families are suffering from poverty. We must not tolerate the fact that children are stripped away with their rights to receive sufficient education because of their family's financial status. We also believe that every child should be given the equal opportunity to play sports as well.
The JFA has collaborated with the 47 Prefectural Football Associations to conduct "Traveling Guidance" at local nurseries and kindergartens nationwide, to teach the joy of playing outside. We have also held "Festivals" where anyone can participate, while implementing a "Grassroots Promotion Partner System" to promote grassroots activities all around the nation. Carried out by the JFA Kokoro Project, we have held over 14,000 "Dream Class" sessions over the past 12 years, where we educate children not to be afraid of failure and to become a strong human being. With the support of many athletes, we have interacted with over 430,000 children through the Kokoro Project. Elsewhere, we have been supporting the project carried out by the Bunkyo-ward to promote children to have their meal at home, in efforts to contribute for the physical and mental health of the children.
This might be slightly off our topic, but in Japan, we have a tradition of club activities held at schools. Private club teams have their own merits, but for children who cannot afford to join private clubs, the clubs held at schools may become their only source to play their favourite sports. In recent years, the existence of club activities is being discussed in efforts to reform labour conditions for school teachers. In some cases, the club activities are becoming an extra burden for the teachers, while in other cases, there aren't enough teachers who have the sufficient experience to supervise the activities. With the perspective of the players, we are constantly seeking for ways to construct an equal, safe, and fun environment, where every child who loves to play football can take part in.
Children are treasures of the future. Through the sport of football, we will support the "National Movement to Support Children's Future" in order to allow our children to nurture a healthy body, rich humanity, and sufficient social skills, to strive for the future.