NEWS
Japan Futsal National Team wins second straight match against Thailand Futsal National Team
04 February 2019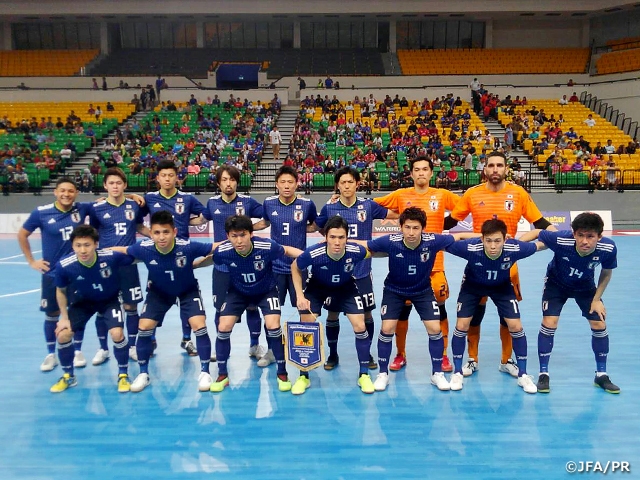 International Friendly Match
Japan Futsal National Team vs Thailand Futsal National Team
Sun. 3 February Kick-off 16:00 (Local time) Match Duration 40mins (20mins x2)
Bangkok Arena (Bangkok, Thailand)
Thailand Futsal National Team 0-3 (0-1, 0-2) Japan Futsal National Team
Scores
20' KATO Minami (Japan Futsal National Team)
31' MINAMOTO Akira (Japan Futsal National Team)
38' YOSHIKAWA Tomoki (Japan Futsal National Team)
Starting Line-up
GK: HIYAMA Shogo
FP: MINAMOTO Akira, YOSHIKAWA Tomoki, NIBUYA Kazuhiro, SHIMIZU Kazuya
Reserves
GK: PIRES Higor
FP: MORIOKA Kaoru, SHIRAKATA Hidekazu, TAMURA Ryutaro, HENMI Katsutoshi Rafael, TAKITA Manabu, ITO Keita, HASHIMOTO Masaya, HIRATA Neto Antonio Masanori, KATO Minami, MIYAZAKI Gaku
Match Report
On Sunday 3 February, the Japan Futsal National Team played their second match against the Thailand Futsal National Team at Bangkok Arena. Similar to their first encounter, the match between the two sides attracted over 3,000 spectators including many Japanese supporters who resides in Thailand.
Following their warmup session, Coach Bruno GARCIA gave a pep-talk to his squad prior to the match, "By giving our very best against teams coming after us, it will help us improve ourselves as a team. I want you to showcase that you are eager to win. I also want you to put on display what we have been working in our trainings and try to overwhelm the opponents in every situation. Let's win the match before heading back home."
The first half saw Thailand vigorously attacking the opposing end, testing the patience of the Japanese players. A close opportunity was created in the 15th minute, when a Thailand player penetrated the right side to face the Japanese goalkeeper one-on-one. HIYAMA Shogo, who started in goal this day, made the save with his left foot to keep the clean sheet intact. Four minutes later, the opening goal was scored by Japan, when HIRATA Neto Antonio Masanori picked out KATO Minami, who struck a shot that captured the net. With this goal, the Japan Futsal National Team managed to enter halftime with a 1-0 lead by halftime.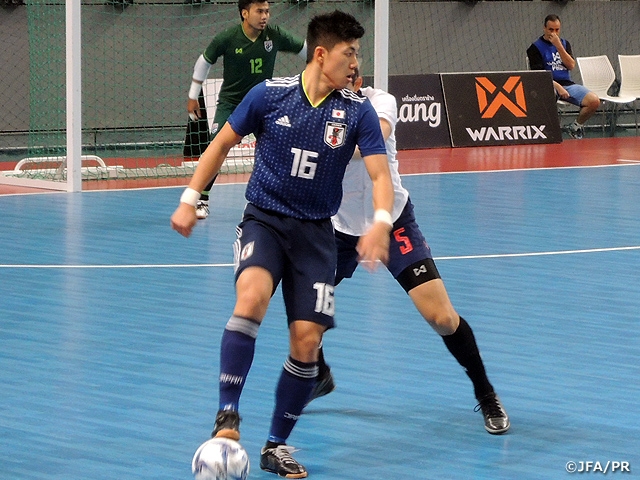 In efforts to extend their lead, Japan kept on the pressure in the second half. In the 29th minute, SHIMIZU Kazuya fired a shot from the right side, but his effort was denied by a great save made by the opposing goalkeeper. The second goal came just two minutes later, when MINAMOTO Akira received a heel pass from Kato, before striking a powerful shot to double Japan's lead. The home side initiated their powerplay in the final minutes of the match, forcing Japan to drop deep into their own territory. The Japanese players stayed composed as they actively communicated with each other. The patience shown by Japan lead to an intersection made by YOSHIKAWA Tomoki, who converted the third goal to give them a 3-0 win in their second match in Thailand.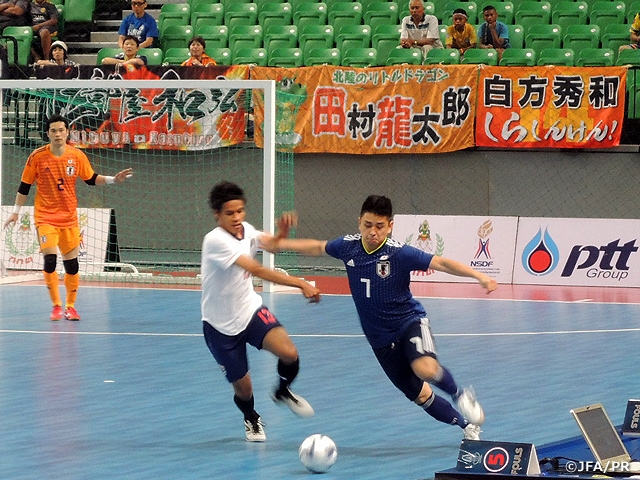 Coach and Players' Comments
Bruno GARCIA, Coach
Although our first match was not bad neither, today's match has really allowed us to mature as a team. Each and every player has understood and expressed our team concept, so I am very happy with this victory. This was our first overseas tour of 2019, and it turned out to be an even more satisfying tour than last year's Portugal tour where we tied against the Portugal Futsal National Team.
FP #5 MINAMOTO Akira (Tachikawa/Fuchu Athletic F.C.)
It was great that we managed to win consecutive matches against our Asian rival. In defence, we dropped our line a bit further compared to the first match, which allowed us to shut down the passing lane towards the opposing pivot. Our opponents did well to pass the ball around with all four players, but we managed to create a third-man coverage to deny them from entering the goal area, so that was great on our part. In offence, we combined well with each other when the ball was delivered to the pivot, but when we couldn't get the ball to our pivot, we struggled to construct an effective attack, so that's something we still have to improve on. Even so, we were able to score the third goal while keeping a clean sheet, so we should be proud of our overall performance today.
FP #6 YOSHIKAWA Tomoki (Nagoya Oceans)
I believe that we were able to showcase a better performance compared to our first match. However, I personally feel like we still need to improve on our offence. It would be better if we can control the match more efficiently and add more variations to our attacks. Despite seeing more room for improvements, we should be proud of the fact we won two consecutive away matches, as this has given us a great opportunity to prepare ourselves ahead of next year's AFC Futsal Championship. We will continue to work hard and strive for a higher level moving forward.
FP #7 HENMI Katsutoshi Rafael (SL Benfica)
First of all, I am glad that we managed to win both matches. Although they were difficult matches, it's important that we came out on top. After this tour, I will return to Portugal and continue to work hard so that I can get called up to this team again.
FP #10 NIBUYA Kazuhiro (Vasagey Oita)
I am very happy that we managed to win both matches during this Thailand tour. It's been a while since I was last called up to the national team, so I was very nervous. The joy I felt while playing with the team was something I cannot describe with words. This nerve-racking experience of playing in an international friendly match will help me grow as a futsal player. I will remember this feeling and implement it in my daily trainings so that I can strive for higher levels.
Schedule
Tue. 29 January
PM
Training
Wed. 30 January
AM/PM
Training
Thu. 31 January
AM/PM
Training
Fri. 1 February
AM
Training
2-1
International Friendly Match
vs Thailand Futsal National Team (Bangkok Arena)
Sat. 2 February
AM/PM
Training
Sun. 3 February
AM
Training
3-0
International Friendly Match
vs Thailand Futsal National Team (Bangkok Arena)
*Local Time
*The schedule is subject to change due to the team condition, the weather, etc.