NEWS
Fukui Maruoka Ruck wins 5th overall title at JFA 9th U-15 Japan Women's Futsal Championship
15 January 2019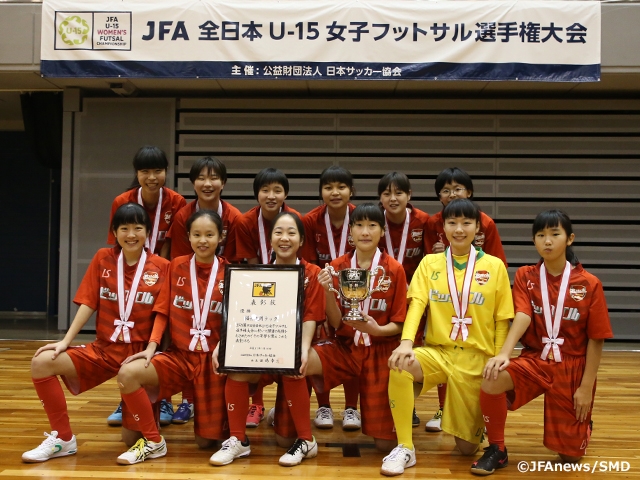 The JFA 9th U-15 Japan Women's Futsal Championship entered its final day on Monday 14 January, as the semi-finals and final contest of the tournament were held. In the final, Fukui Maruoka Ruck (Hokushinetsu/Fukui) defeated HKSC Lindoze Kirishima (Kyushu/Kagoshima) 8-4, winning their first championship in two years.
The semi-finals that kicked-off at 9:30 a.m. saw Seagull Hiroshima Ladies (Chugoku/Hiroshima) face Fukui Maruoka Ruck on pitch A, while Jumonji Junior High School (Kanto/Tokyo) took on HKSC Lindoze Kirishima on pitch C.
The match on pitch A saw a fierce seesaw game in the first half. After Seagull Hiroshima opened the scoring with MATSUKAWA Azumi's goal from a set piece in the second minute, Fukui Maruoka's KATO Honoka soon cancelled the deficit. The Fukui side edged ahead with MADOIWA Hina's goal in the eighth minute, but Seagull Hiroshima got back in front again with goals in the ninth and 12th minutes. Then, Fukui's YAMAZAKI Suzuna tallied two goals to give here side a 4-3 lead before entering half-time. Fukui Maruoka Ruck carried their momentum into the second half and scored additional goals to make it into their first final in two years.
The other semi-final match finished in a dramatic fashion. It was Jumonji Junior High who dominated the early stage of the match as they scored three consecutive goals in the sixth minute to gain a comfortable lead. However, Lindoze Kirishima gradually picked up their pace and started to create chances with their long balls. Although Jumonji Junior High managed to keep a 5-3 lead at halftime, Kirishima got back on level terms in the 21st minute, sending the match into extra-time. Despite retaking the lead in extra-time, Jumonji Junior High conceded an own goal induced by a long ball. With the match ending its regulation time with an even score, the outcome of the contest was left to penalty shootouts, where Lindoze Kirishima prevailed with a final score of 3-2 to advance into the final.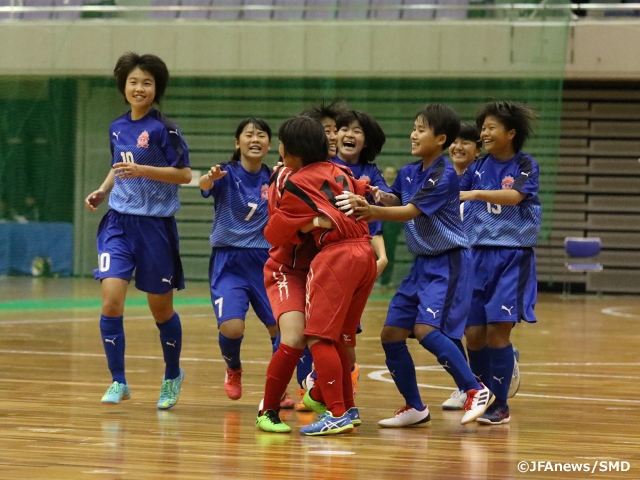 The final match started off with both teams attacking the goal with great intensity as the score-line was already at 2-2 after just first five minutes of play. Fukui Maruoka Ruck drew opponents' errors with their aggressive defence and capitalised on the opportunities to take control of the match. Kato's first-half hattrick helped the Fukui side enter half-time with a three-goal lead.
Lindoze Kirishima utilised many long balls to initiate their attack, but Fukui Maruoka Ruck showed great persistence to keep the Kagoshima side from scoring a goal. In the 16th minute, Fukui Maruoka Ruck extended their lead when KITADE Shion netted through a counterattack, followed by a 20th minute goal scored by Yamazaki to make it 5-0. Lindoze Kirishima made their efforts to come back as KUROKI Airi tallied her third goal of the match in the closing minutes, but it was all they could do. With a final score of 8-4, Fukui Maruoka Ruck clinched their fifth national championship, first in two years.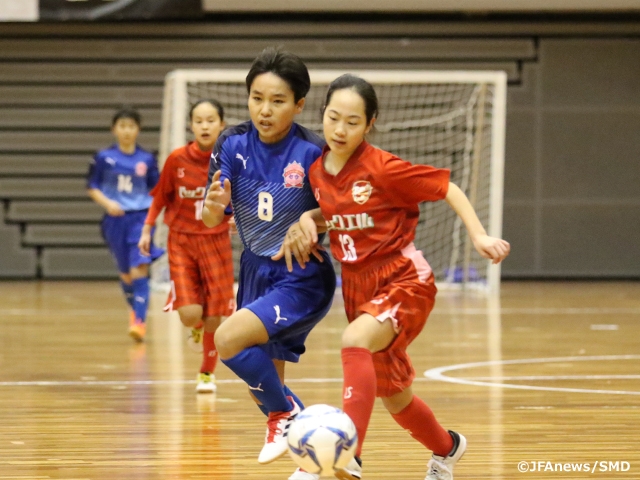 Coaches and Players' Comments
TANAKA Etsuhiro, Coach (Fukui Maruoka Ruck)
The players of our top team (in the women's F. League) often took their time to practice with our U-15 players. When the top team's young players had a trip to Thailand, KITAGAWA Kana and TAKAO Akari came out to watch our training session. Because of them, we were able to win this title. This team consists players from the local area, but they are constantly learning by watching the top players from our organisation. Our team was mainly formed by second grade players, so we still have another year to work with and I am looking forward for next year.
MADOIWA Hina (Fukui Maruoka Ruck)
It still feels unreal that we won the championship, but this was made possible by our team striving for the same goal, played with great aggression, and enjoyed playing futsal. We were not the biggest team, nor were we the most skilled, but we all fought with Coach Tanaka's words, "We can become a strong force, when everybody gives their best for the team." Including the final, I was able to enjoy myself throughout the tournament and I am just full of joy that I am forgetting how tired I was. This will be my last tournament at the junior high school category, so I hope the younger players will go out and defend our title next year. Once I advance to high school, I will quit playing futsal and concentrate on playing football.
HORINOUCHI Daisuke, Coach (HKSC Lindoze Kirishima)
We weren't expecting to make it this far in our first tournament appearance. By the time we made it to the semi-finals, our kids were already telling each other to enjoy the moment. I was only able to encourage my players when needed, but the players kept telling each other to keep playing and to enjoy the game. They have improved a lot during the match and showed great maturity. We started working on our futsal game during the prefectural qualifiers, and it has given us positive effects on our football game. We started showing quicker transitions and our first step got faster as well. There are many aspects that translated well into football. It was an honour to play against the top teams of both football and futsal, as we played against Jumonji Junior High and Fukui Maruoka Ruck. It gave us a great memory and experience.
TAKAHASHI Manae (Jumonji Junior High School)
We struggled to pick up our pace in the first match, but as we played more matches, we were able to find our rhythm. We managed to take control of the match in the semi-finals, and when we scored four goals at the beginning, we thought we were going to win, but that might have cost us the match. We have won matches in penalty shootouts at the Kanto qualifiers where our goalkeeper did a great job, so we were quite confident heading into the shootout. Although the result didn't turnout the way we wanted, and we couldn't meet our supporters' expectations, we still managed to give our best as a team in the third graders' final tournament. Although we wanted to win the title, it was still a great tournament.

JFA 9th U-15 Japan Women's Futsal Championship
Tournament Dates: Sun. 13 & Mon. 14 January 2019
Tournament Venue: Mie Prefectural Sun Arena