NEWS
Regional Representative puts up a great fight against a Nadeshiko Division 1 side at Empress's Cup JFA 40th Japan Women's Football Championship
02 December 2018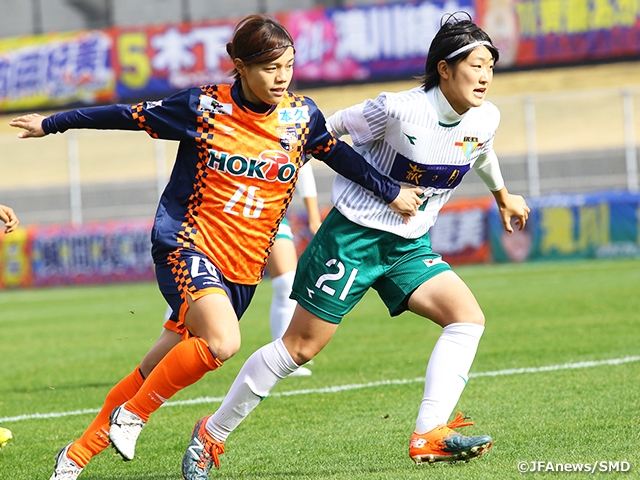 Pick-up Match 1
AC Nagano Parceiro Ladies (Nadeshiko Div.1/Nagano) 1-0 (1-0, 0-0) Tokiwagi Gakuen High School (Tohoku/Miyagi)
The first match held in Hiroshima Koiki Park Football Stadium No.1 saw Nadeshiko Division 1 side, AC Nagano Parceiro Ladies face this year's Inter High School Championships winner, Tokiwagi Gakuen High School. The two teams have faced each other in the third round of last year's Empress's Cup, where the Nagano side won with a score of 3-0.
AC Nagano started off the match by pressing hard in offence as TAKIKAWA Yume, who played for Tokiwagi in last year's match, pressured her former team from the front line. However, as Tokiwagi's IMAI Yuka mentioned that "We knew their characteristics," the high-school champions did well to block off the attacks initiated by AC Nagano.
The deadlock was broken in the 36th minute, when Takikawa redirected the long feed delivered by their goalkeeper IKEGAYA Natsumi to allow KANDA Wakaho to tap in the ball into the net. Nagano's Coach HONDA Midori reflected on the opening goal, "We have been training to make long runs. While we lacked creativity in front of the opposing goal, (Kanda) Wakaho made a great run to change the dynamics of the match."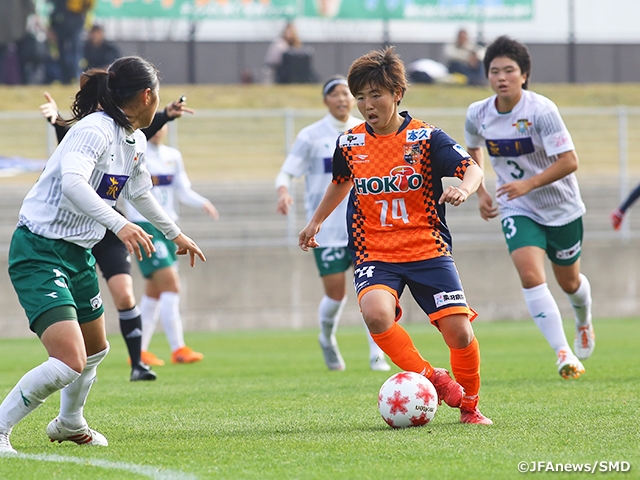 With a goal lead, AC Nagano brought in YOKOYAMA Kumi in the second half to apply more pressure upfront. Yokoyama created an opportunity at the beginning of the second half as she dribbled through the field before firing a powerful shot, but her effort failed to capture the target.
Despite their intention to rally back, Tokiwagi struggled to pick up their pace in offence as they were forced to retreat deep in their territory. In the 76th minute, NAKAMURA Emi forced a turnover deep in the opposing end, but her attempt at goal came short from finding the back of the net.
The two sides fought hard until the end, but the score-line remained the same as the final whistle blew, handing AC Nagano the ticket into the quarterfinals.
Pick-up Match 2
Teikyo Heisei University (Kanto/Chiba)0-1 (0-1, 0-0) JEF United Ichihara Chiba Ladies (Nadeshiko Div.1/Chiba)
The second match saw the two Chiba sides clash as Teikyo Heisei University and JEF United Ichihara Chiba Ladies squared off against each other.
It was JEF United who took the initiative of this match, as they created multiple opportunities within the first 10 minutes of the match to threaten the Teikyo Heisei goal.
With momentum on their side, JEF United captured the opening goal in the 37th minute, when UENO Saki struck a powerful left footed shot, as she later reflected, "It felt so good."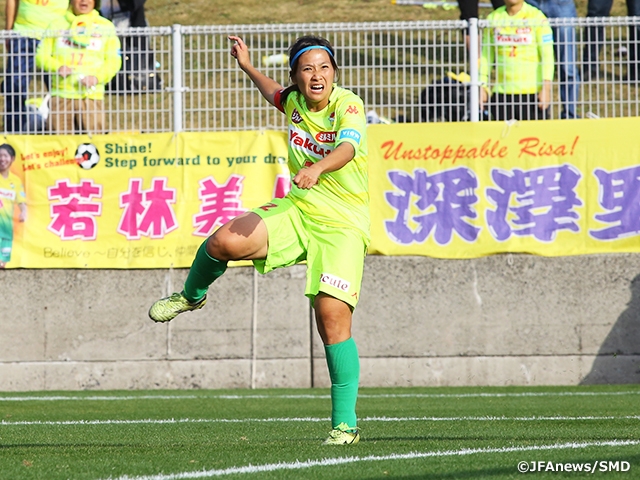 The JEF side rode the momentum throughout the first half as they recorded a total of 10 shots just within the half. However, they came short from further extending their lead, as the match entered halftime with a score of 1-0.
The Teikyo Heisei side who has captured a sensational come from behind victory in the second round, started to build their momentum in the second half. From their collective effort in defence, the university side created opportunities from their long-balls delivered in the flanks as IMADA Sara and OTAKE Mayu made runs to threaten the JEF United goal. In the 57th minute, Imada tried a lobbing shot at goal, while Otake had a golden opportunity in the 73rd, but they failed to capture the goal.
Despite their efforts, Teikyo Heisei came short from duplicating the heroics they created in the second round.
Coaches and Players' Comments
TAKIKAWA Yume (AC Nagano Parceiro Ladies)
I have swapped my position from last year and facing my former teammates and Coach Abe has given me an extra motivation to play well. Tokiwagi has become a much better team than I have imagined, and I personally might have gotten carried away a little, but I am glad our team managed to win. I played through the competition of Nadeshiko Division 1 this year, and I wanted to showcase my ability to create opportunities even under intense pressure, but today I wasn't able to play to my fullest. Each match will present us with a tough challenge, so we will reset our mind to play well in our next match.
ABE Yoshiharu, Coach (Tokiwagi Gakuen High School)
It took us too long to scout and understand how our opponents were going to play against us. We conceded the goal from a small mistake, but in football, that little flaw can cost the entire match. We need to be able to make the adjustments on the pitch even when we face unexpected situations, and that ability can only be nurtured by gaining experience. By playing against a team from the Nadeshiko League, the players were able to gain great confidence and I hope they will utilise this experience to become a better player in the future. I have a mixed feeling facing a former player of ours, as I am half happy when they perform well against us.
YANO Kyoko, Coach (Teikyo Heisei University)
Although we wanted to win the match today, I feel like we were able to put on display what we can do at this stage, so I am satisfied with our performance. Typically, a team with less physiques, power, and speed tends to slow down in the second half, but our team showcased the ability to accelerate in the second half to play our style of football. Our players did well to offset the strong points of the opponents in the first half while exploiting their weak points in the second half, and I really felt how the team has improved over the past year. I am glad we were able to play against a high-level team ahead of our intercollegiate competitions, and we will continue to prepare ourselves ahead of our next competition.
FUJII Nana, Coach (JEF United Ichihara Chiba Ladies)
We are not a team that can score many goals, so we have been training to convert the few opportunities we are given. However, we haven't been able to showcase that in this tournament. The win in our match today has given us the opportunity to prepare ahead of the next match, and I am looking forward to keep challenging ourselves. We faced a team that has came from behind in their previous match, so we wanted to play with more composure, but once we took the lead, we rushed our plays to score more goals and failed to manage the match effectively. We have entered this tournament with a goal to become the national champions, so we will continue to strive to heighten our overall strengths and showcase a more aggressive style of football.
Empress's Cup JFA 40th Japan Women's Football Championship
Tournament Dates:Sat. 3 November 2018 - Tue. 1 January 2019
【1st Round】Sat. 3 & Sun. 4 November 2018
【2nd Round】Sat. 24 & Sun. 25 November 2018
【3rd Round】Sat. 1 & Sun. 2 December 2018
【Quarterfinals】Sat. 22 December 2018
【Semi-Finals】Sat. 29 December 2018
【Final】Tue. 1 January 2019