NEWS
Inui's brace helps SAMURAI BLUE (Japan National Team) earn first victory under Coach Nishino with win over Paraguay 4-2
13 June 2018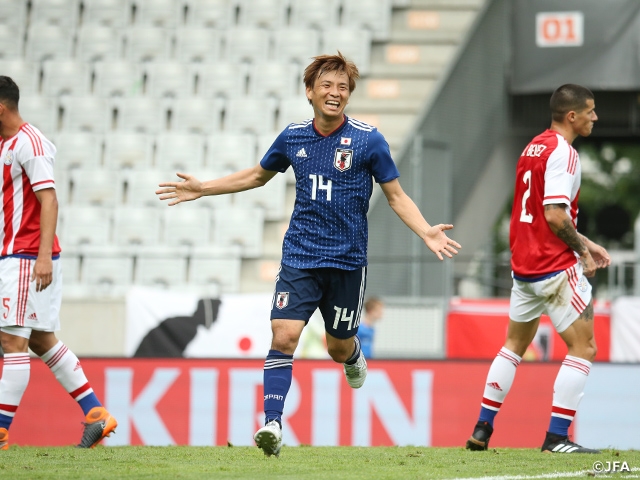 On Tuesday 12 June, SAMURAI BLUE (Japan National Team) faced the Paraguay National Team in an international friendly match at Innsbruck, Austria. INUI Takashi's brace helped the team win their final test match ahead of the 2018 FIFA World Cup Russia. The 4-2 victory also gave Coach NISHINO Akira his first win since taking over the helm.
The match kicked-off under cloudy weather at Tivoli Stadion, where the local Japanese children showed their support with hand-made blue balloons in hand, as they chanted "Nippon" repeatedly.
In order to determine the best possible selection for their World Cup opener against Colombia, Coach Nishino stated that he will "utilise every player on the roster" in their matches against Switzerland and Paraguay. The coach stayed true to his words and rotated 10 players from the starting line-up of the Switzerland match.
Starting in goal was HIGASHIGUCHI Masaaki (Gamba Osaka), the coach elected four defenders at back with ENDO Wataru (Urawa Red Diamonds) at right and SAKAI Gotoku (Hamburger SV), the only player to start in the two matches, on the left. The two players from Kashima Antlers completed the back line as UEDA Naomichi and SHOJI Gen where named as the centre halves. SHIBASAKI Gaku (Getafe C.F.) and YAMAGUCHI Hotaru (Cerezo Osaka) served as the defensive midfielders while INUI Takashi (Real Betis) and MUTO Yoshinori (1.FSV Mainz 05) were placed in the flanks. OKAZAKI Shinji (Leicester City Football Club) was named the lone striker with KAGAWA Shinji (Borussia Dortmund) placed just beneath him.
Japan started off the match with great intensity, while Paraguay countered by penetrating the flanks, and it was the Paraguayan side who scored the opening goal. In the 32nd minute, Japan failed to clear the ball off a throw-in, allowing Antonio Bareiro to head the ball, which led to Óscar Romero's left footed volley that captured the right-hand corner of the Japanese goal.
Moments later, Japan created a goal scoring opportunity as Kagawa delivered a pass to Inui, but the shot went well over the cross bar. In the 40th minute, Shibasaki came close to scoring the equaliser when he attempted a shot from a direct freekick, but his effort was denied by the crossbar. Despite coming close to scoring, Japan entered halftime being down by a goal.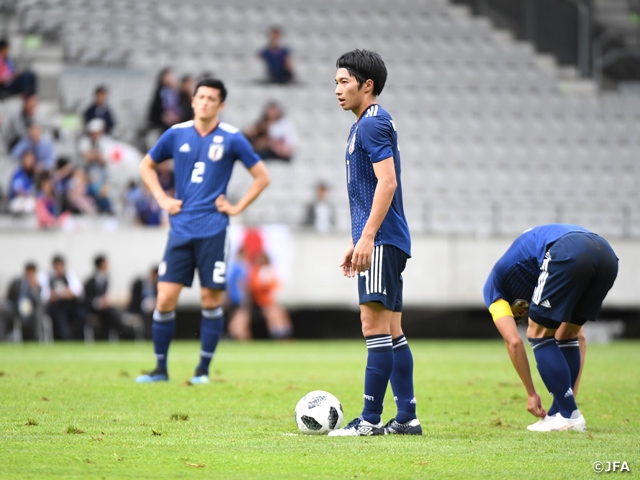 In efforts to rally back, Japan adjusted their positionings in the attacking end during halftime. The changes made by the Japanese side proved to be fruitful, as their long-awaited goal came early in the second half.
The equaliser came when Shoji carried up the ball in the centre before delivering a pass upfront to Kagawa, who laid the ball down to Inui. Cutting into the centre from the left side, Inui curled the ball into the far post, giving Coach Nishino his first goal since taking over the team.
Gaining momentum from the equaliser, Japan continued to threaten the opposing goal, as Kagawa and Inui combined well to create chances. In the 55th minute, Shibasaki took a shot off a cross delivered by Sakai Gotoku from the left flank. Japan inched closer to scoring another goal.
The go-ahead goal came in the 63rd minute, when Muto found Kagawa in the centre. Kagawa redirected the ball to Inui, who once again found the right-hand corner of the goal, this time his shot glanced off the goalkeeper's hand but still found the back of the net, giving Japan the one goal lead.
Coach Nishino made numbers of substitutions in the second half to change their tactical approach. NAKAMURA Kosuke (Kashiwa Reysol) started the second half in goal, while SAKAI Hiroki (Olympique de Marseille) was brought in as the right fullback. Following the go-ahead goal, OSAKO Yuya (Werder Bremen) came in for Muto, forming two forwards upfront with Okazaki.
Kagawa changed his position from the central to the right side as Osako came on, but when Okazaki subbed out in the 74th minute, returned to the central role as HARAGUCHI Genki (Fortuna Dusseldorf) came onto the pitch. The team was seen changing formations and testing players according to the flow of the game.
Japan's third goal came in the 77th minute, when Shibasaki's freekick from the right side induced an own goal.
In the 80th minute, Haraguchi gave Kagawa an opportunity to take a shot at an open goal, but his shot went off target, missing out on their opportunity to make the score 4-1.
In the closing minutes of the match, Richard Ortiz launched a mid-range shot to give his side their second goal, but just minutes later, Osako delivered a pass to Kagawa, who dribbled into the box, calmly slotting the ball into the goal to secure his side's victory. With this win, Coach Nishino earned his first win as the head coach of SAMURAI BLUE after three tries.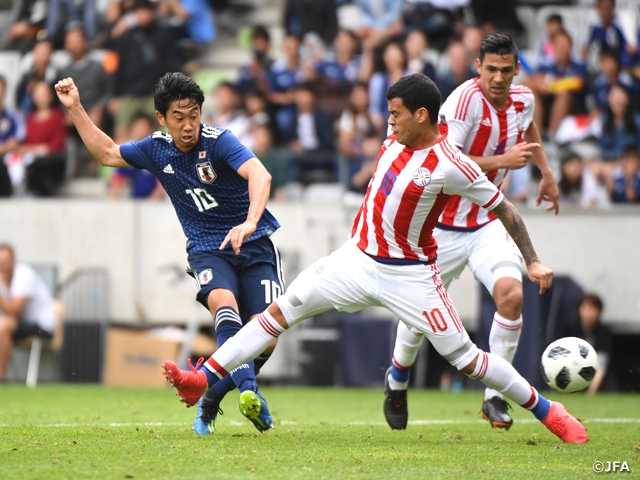 Japan will end their Austria camp on Wednesday 13 June, making their way to their camp-site at Kazan on Thursday 14, where they will be based during the World Cup.
Coaches' and Players' Comments
NISHINO Akira, Coach of SAMURAI BLUE (Japan National Team)
Today our focal point was set on how to penetrate the penalty box in our attacks, as we failed to convert our chances in our previous two matches. We managed to attack aggressively in the first half, but we couldn't quite finish with shots, so we made adjustments during halftime. We spoke about positioning Kagawa 10 meters closer to Okazaki, while making sure that the defensive midfielders will fill in for Kagawa's position. We also demanded more movements from Inui and Muto. Our adjustments seemed to be effective as we saw Kagawa getting more involved with the ball, while Inui was given more opportunities to attack and ultimately scoring two goals.
Although we were kept scoreless in our first two matches, we were able to make gradual adjustments. Today, we managed to make changes to our approach at goal, and successfully win the match by scoring goals. We have been able to keep a very positive mindset. The players have performed up to their full potential, so I am very satisfied with their performance. I am looking forward for our upcoming preparation phase. The team can improve gradually, while a player's performance can see a drastic change overnight. I hope today's victory can elevate us into a new level. Ahead of our match against Colombia, we may still be able to grow in a different angle, so we will strive for that growth.
FP #9 OKAZAKI Shinji (Leicester City Football Club)
The attacking players in today's line-up has been playing a similar role in each of their clubs, so I think we had no problem entering the match. With this win, the team gained a positive vibe as well as a hint to get better as a team. We've successfully constructed the base, so we now must completely analyse Colombia to understand them individually, before uniting as a team.
FP #10 KAGAWA Shinji (Borussia Dortmund)
There was great pressure ahead of this match, but more than anything, I pressured myself in this match. Although we may have gained confidence after this match, this is still just one match. We cannot say that all of our problems have been solved, and we must keep striving as a team to build up on what we have right now.
FP #14 INUI Takashi (Real Betis)
With the completion of today's match, our next step is the World Cup. Our team has gained a positive atmosphere, but we now must reset our minds and focus on how we approach the Cup. It helped that everyone gave all they've got and ran through the entire match. The players on the pitch today reconfirmed and showed what they must do. More than anything, I think we managed to display what we must do as a team.
Gustavo MORINIGO, Coach of Paraguay National Team
As a team that is taking its first step, we wanted to start off with a victory. We performed well in the first half, but conceded the equaliser from our own mistakes, and failed to convert the chances we were given. Preparation and experience made the difference today. Japan is a great team with great structure, but they made numbers of mistakes today, which we failed to take advantage of. The World Cup is a tough tournament, but we hope the very best for Japan.

Highlights of the Paraguay Match
Interview after the Paraguay Match (Okazaki, Muto, Inui, Kagawa)
Press conference after the Paraguay Match featuring Coach Nishino
Schedule
Sun. 3 June
PM
Training
Mon. 4 June
PM
Training
Tue. 5 June
PM
Training
Wed. 6 June
PM
Training
Thu. 7 June
PM
Official Training
Fri. 8 June
0-2
International Friendly Match
vs Switzerland (Stadium Cornaredo)
Sat. 9 June
PM
Training
Sun. 10 June
PM
Training
Mon. 11 June
PM
Official Training
Tue. 12 June
4-2
International Friendly Match
vs Paraguay (Tivoli Stadion)
Wed. 13 June
AM
Training
Thu. 14 June
PM
Training
Fri. 15 June
PM
Training
Sat. 16 June
PM
Training
Sun. 17 June
AM
Training
Mon. 18 June
PM
Official Conference・Official Training
2018 FIFA World Cup Russia
Tue. 19 June
15:00
1st Match vs Colombia (Mordovia Arena)
Wed. 20 June
PM
Training
Thu. 21 June
PM
Training
Fri. 22 June
AM
Training
Sat. 23 June
PM
Official Conference・Official Training
Sun. 24 June
20:00
2nd Match vs Senegal (Ekaterinburg Arena)
Mon. 25 June
PM
Training
Tue. 26 June
AM
Training
Wed. 27 June
PM
Official Conference・Official Training
Thu. 28 June
17:00
3rd Match vs Poland (Volgograd Arena)
*Local Time
*The schedule is subject to change due to the team condition, the weather, etc.
2018 FIFA World Cup Russia
Tournament Dates: 14 June - 15 July 2018

Group stage
1st Match Tue. 19 June Kickoff at 15:00 vs Colombia National Team (Mordovia Arena)
(21:00 Japan time)
2nd Match Sun. 24 June Kickoff at 20:00 vs Senegal National Team (Ekaterinburg Arena)
(Mon. 25 June, 0:00 Japan time)
3rd Match Thu. 28 June Kickoff at 17:00 vs Poland National Team (Volgograd Arena)
(23:00 Japan time)