NEWS
Coach Nishino, SAMRUAI BLUE to display "a worthy match" against Ghana in KIRIN CHALLENGE CUP 2018
30 May 2018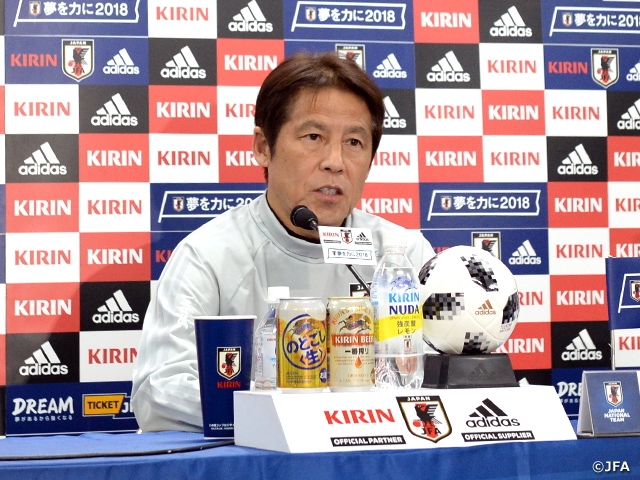 On Tuesday 29 May, Coach NISHINO Akira of SAMURAI BLUE (Japan National Team) held an official press conference ahead of the KIRIN CHALLENGE CUP 2018 match against Ghana National Team. With this being the last match hosted in Japan before the 2018 FIFA World Cup Russia, the coach spoke of his aspiration to "display a national team worthy match and create an atmosphere that showcases our determination heading into the World Cup."
In the World Cup starting on Thursday 14 June, Japan will face Colombia, Senegal, and Poland in the group stage. As Coach Nishino mentioned, "we must be able to respond flexibly to any given situations," the team has been working on an option to play with three defenders in the back line. The coach has shown his intention to test the new system they have been working on since the training camp started on Monday 21 May.
With limited time to work on the team since being named as the new head coach in April, Coach Nishino spoke of the expectations he has towards the players, "I have selected players based on their versatility. This is not the time to experiment. We must complete what we are working on and display that tomorrow."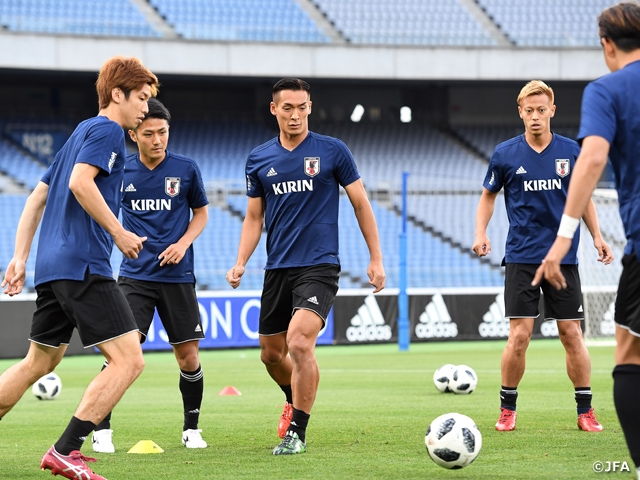 He continued to share his thoughts as, "I want the players to be able to adjust the system based on the opponent and the game flow. It's a new concept for us, but primarily, system is something that changes during the match, and I want the players to share that perspective."
The day after the match, on Thursday 31 May, the final 23-man roster for the World Cup will be announced. Describing the difficulties he is facing upon making the selection, "I wouldn't say it's painful, but it is still a tough decision nonetheless." With players being away from the competition and players returning from injuries, the coach did reveal that there were "things I'd like to check" during the match against Ghana.
After competing in the same group with Egypt, Ghana National Team failed to make its fourth consecutive World Cup appearance. Former national team member, James APPIAH took the helm during the World Cup qualifiers, and currently preparing his side ahead of the Africa Cup of Nations qualifiers starting in September. The team arriving in Japan does not consist with big-names, while two players has been called up for the first time, but most of the members currently play for clubs in Europe.
On this day, both teams held an official training session at the match venue, Nissan Stadium. All 26 players of SAMURAI BLUE were seen starting the session with a light jog. The training session was closed to the public after the first 15 minutes, as the team went through tactics and shooting drills.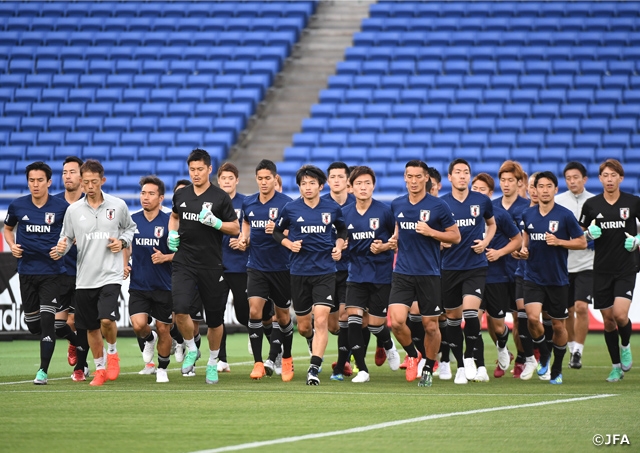 Coach Nishino enthusiastically concluded, "we want to show our fighting spirits and create an atmosphere that showcases our determination heading into the World Cup."
The match will employ the VAR (Video Assistant Referee) system.
KIRIN CHALLENGE CUP 2018 match against Ghana National Team is scheduled on Wednesday 30 May with a kick-off time of 19:25 at Nissan Stadium.
Coaches' and Players' Comments
NISHINO Akira, Coach of SAMURAI BLUE (Japan National Team)
The players joined the training camp one by one, and as each day progressed, the national team formed its shape. We will play a crucial match tomorrow. The team is still work in progress, but the World Cup will not wait for us. We will like to display a national team worthy match tomorrow. The team will try new things, and I am looking forward to seeing how it will turn out. I believe in my players' potential and if I can allow them to play to their full potential, we can still evolve as a team. In order to do so, I must guide them to link up with each other, provide them with a mutual understanding, and unite them as one. After all players has arrived at the training camp, I have seen the team grow dramatically over the past few days. The fact that we are surrounded in a positive atmosphere is a sign that we are progressing forward as a team. The players are showing great improvements in their form, making it difficult to make the final selection for the World Cup. I wouldn't say it's painful, but it is still a tough decision nonetheless. I told my players to just focus on tomorrow's match. I am not sure if the three-man defensive line will function tomorrow, but we want to show our fighting spirits and create an atmosphere that showcases our determination heading into the World Cup.
DF #22 YOSHIDA Maya(Southampton FC)
The decision to play three defenders in the back line is something the coach has decided to give us a better chance to win the match. I know that there are pros and cons in playing three or four defenders, but I will do my best to make it work and earn good results.
MF #8 HARAGUCHI Genki(Fortuna Düsseldorf)
We are all competing for a spot into the final roster, and if I don't perform well tomorrow, I may be out of the selection. I feel like I play better under such pressure, so I will do my best to fulfill the expectations. The new formation allows me to display my strength, and I think it is an ideal position for me. Along with my duty as the second attacker, I will heighten the quality in both positions to win out of this competition.
MF #10 KAGAWA Shinji(Borussia Dortmund)
Despite this match serving a role in the final roster selection, I feel like the players, including myself, are focused on playing their best both as an individual and as a team. We have managed to prepare well, so regardless of the circumstance, we will like to win this match. By trying new things as a team, we shall find our strength, and through this match we must acknowledge what that is.
MF #26 MISAO Kento(Kashima Antlers)
We have a good understanding on how to position ourselves in defence, so we must not over think, and perform to our fullest. If there are issues in this match, we just need to improve in our next match. The power and speed displayed by foreign players are something Japanese players do not have. I will like to counter them with a tactical approach and force turnovers.
James APPIAH, Coach of Ghana National Team
We will showcase an entertaining match tomorrow. The match will serve as a try-out session for the Africa Cup of Nations in September. Our squad consists two players who has been called up for the first time, but most of the players play for clubs in Europe, so the level is quite high. We will do our best to give Japan a good preparation match ahead of the World Cup.

Interview of YOSHIDA Maya (Southampton FC/England)

Interview of KAGAWA Shinji (Borussia Dortmund/Germany)

Interview of OKAZAKI Shinji (Leicester City Football Club/England)

Wed. 30 May 2018 Kick-off 19:25
Nissan Stadium, Kanagawa
SAMURAI BLUE (Japan National Team) vs Ghana National Team
Match Info