NEWS
Nadeshiko Japan earns spot in semi-finals and World Cup after drawing with Australia 1-1 in AFC Women's Asian Cup Jordan 2018
14 April 2018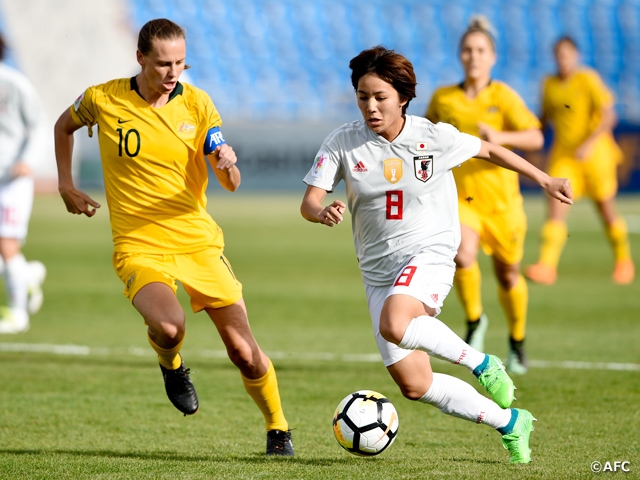 On Friday 13 April, Nadeshiko Japan (Japan Women's National Team) squared off against the tournament favourites, Australia Women's National Team in the third match of the AFC Women's Asian Cup. With both teams registering a win and a draw after two matches, a spot in the semi-finals as well as the FIFA Women's World Cup was at stake, making this a must win match for both teams. The match opened with the Australian side utilising their speed to attack, while Japan fought hard to defend.
Australia penetrated the Japanese vital area from side-attacks and counter-attacks. With KUMAGAI Saki and ICHISE Nana in the centre, SHIMIZU Risa on the right, and SAMESHIMA Aya at left back defended well using their body. The Japanese defence line kept their cool, as they applied pressure accordingly, utilising multiple numbers at times, while responding well in one-on-one situations as well. With the defenders playing solid, the forwards SUGASAWA Yuika and IWABUCHI Mana showed no hesitation pressing up front.
Japan's first chance came in the 35th minute when NAKAJIMA Emi delivered the ball towards Shimizu who was running up the line. Shimizu crossed the ball directly, and the ball was deflected by an Australian defender, giving Japan their first corner kick of the match, but this corner kick would also be denied. During additional time of the first half, Japan would give up consecutive corner kicks, but kept a clean sheet for the half, just as they have planned.
Japan, who was keen on attacking back, gradually started to possess the ball. In the 63rd minute, the team was granted with their long-awaited moment. HASEGAWA Yui ran up the field, receiving the ball from Iwabuchi before cutting back a cross towards the centre. SAKAGUCHI Mizuho came running in, firing a shot with her left foot, giving Japan the opening goal.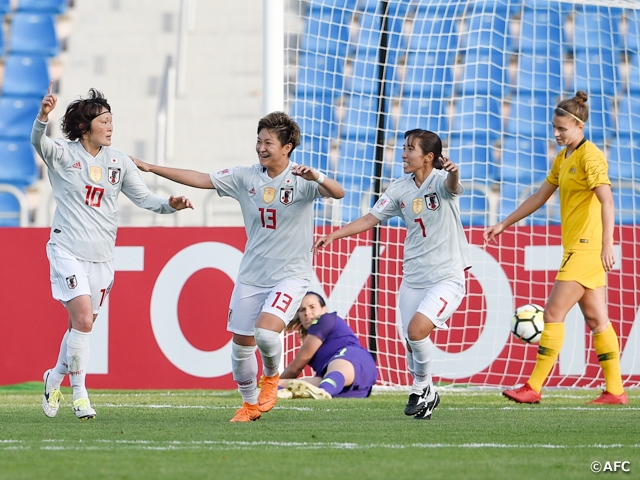 With their advancement to the semi-finals as well as their ticket to the World Cup on the line, Australia came back attacking fiercely, but Japan applied pressure collectively to deny any shooting opportunities. However, in the 86th minute, goalkeeper YAMASHITA Ayaka made an attempt to catch a cross delivered from the left side of the penalty area, but fumbled the ball, allowing Australia to equalise the match. With this goal, Australia was in position to top the group, while Japan was also in a spot to secure their way into the next stage. Both teams would go onto take a conservative approach until the final whistle, ending the match at 1-1.
In the other group match, Korea Republic won their match against Vietnam 4-0, but their match would have no influence as Australia stayed in first place while Japan secured second place. Japan clinched a spot in the semi-finals as well as the World Cup. Tuesday 17 April will see the semi-final match between Japan and China PR, who topped Group A.
Coaches' and Players' Comments
TAKAKURA Asako, Coach of Nadeshiko Japan (Japan Women's National Team)
We all knew that it was going to be a tough match today. We managed to keep a clean sheet in the first half as we planned, and we were able to score a goal as we gained our rhythm in the second half. I am very proud of my players for fighting hard and earning a spot into the FIFA Women's World Cup. After the match was levelled, we showcased a very passive performance and I feel bad for taking such approach. However, it is within the rules and we did we had to do. We still have two more matches to prepare for, so we will get the best preparation as possible ahead of our next match.
DF #2UTSUGI Rumi(Seattle Reign FC)
Since I was given a role in the centre, I thought defending with one or two layers would better suit the Japanese style. Everyone performed well and I believe we achieved many things. We managed to get close to the Australian goal with our counter-attacks and wide side-changes. The fact that we managed to initiate major threats up front with few players gives us great confidence.
MF #10SAKAGUCHI Mizuho(Nippon TV Beleza)
I am happy with the result, as an 1-1 tie gives us a spot into the semi-finals, but personally made mistakes in crucial moments, so I feel the need to improve myself. When I scored the goal, there was just a very narrow gap, but I was able to send the ball exactly where I wanted to. Hasegawa is my teammate back at my club, so I kept running believing she would deliver the ball to me.
MF #14HASEGAWA Yui(Nippon TV Beleza)
When we scored the goal, I received a really good pass from Iwabuchi, and I saw Sakaguchi without a marker, so I just focused not to get under the ball too much to pass the ball to her. Now that we have secured our spot into the World Cup, we have overcame one of our biggest challenges. All we need to do now is to win games and win the championship. I'd like to play as hard as possible.
FW #8IWABUCHI Mana (INAC Kobe Leonessa)
We managed to move the ball around once our opponents got tired, but in order for us to become a better team, we must be able to do so from the beginning of the match. Although we earned a spot into the World Cup, we are here to win the Asian Cup title. We haven't beaten Korea Republic nor Australia in our group league. We must be able to beat every team from now on to win the title, so we will fight with a strong spirit as a team.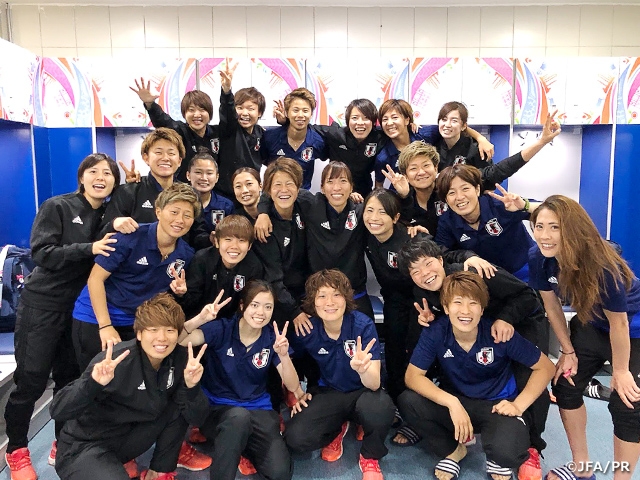 Schedule
AFC Women's Asian Cup Jordan 2018
Fri. 6 April
TBC
Training
Sat. 7 April
4-0
Group League 1st Match vs Vietnam
(King Abdullah Ⅱ Stadium)
Sun. 8 April
TBC
Training
Mon. 9 April
TBC
Training
Tue. 10 April
0-0
Group League 2nd Match vs Korea Republic
(Amman International Stadium)
Wed. 11 April
TBC
Training
Thu. 12 April
TBC
Training
Fri. 13 April
1-1
Group League 3rd Match vs Australia
(Amman International Stadium)
Sat. 14 April
TBC
Training
Sun. 15 April
TBC
Training
Mon. 16 April
TBC
Training
Tue. 17 April
20:00
Semi-Final vs China PR
(King Abdullah Ⅱ Stadium)
Wed. 18 April
TBC
Training
Thu. 19 April
TBC
Training
Fri. 20 April
20:00
Final(Amman International Stadium)
*Local Time
*The schedule is subject to change due to the team condition, the weather, etc.
AFC Women's Asian Cup Jordan 2018
Tournament Period: Fri. 6 April - Fri. 20 April 2018
Semi-final
Wed. 18 April 2018 kick-off at 2:00 (Japan time)
Nadeshiko Japan vs China PR Women's National Team
[TV Broadcasting]tv-asahi Group/NHK-BS1
For more information