NEWS
Nadeshiko Japan's match against Korea Republic ends in a scoreless draw at AFC Women's Asian Cup Jordan 2018
11 April 2018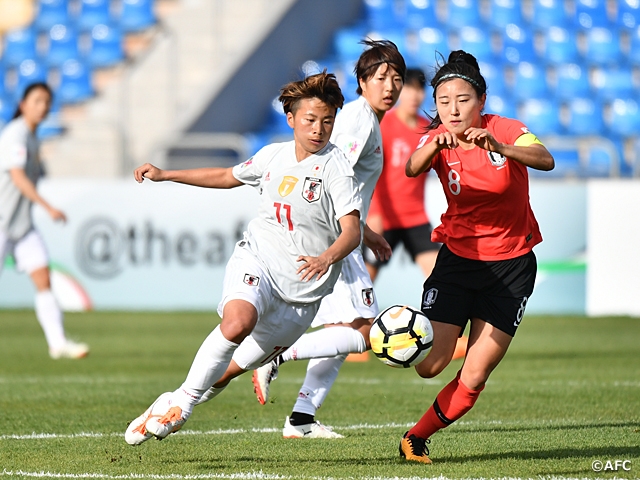 In their second match of the AFC Women's Asian Cup, Nadeshiko Japan (Japan Women's National Team) faced their archrival Korea Republic. The match kicked off under chilly weather, with temperature dropping below 16 degrees Celsius.
With just a win away from qualifying for the FIFA Women's World Cup, Japan came out with a strong intention, but the Korean side did not allow them to get by easily. Both teams showcased great defence to deny any chance moving forward, as the first shot of the match was taken by Korea in the 12th minute, which the Japanese defender, ICHISE Nana successfully blocked.
Nadeshiko Japan anticipated to exploit the space behind the opposing defence while keeping possession with their passes, but the Korean defenders showcased a solid performance to deny any threats to their goal. Korea would eventually gain their rhythm to take the initiative, but Japanese defenders KUMAGAI Saki and Ichise kept playing aggressively, giving no critical chances away. Despite being held down for a stint, the Japanese side showcased a collective defence from top to bottom, ending the half at 0-0.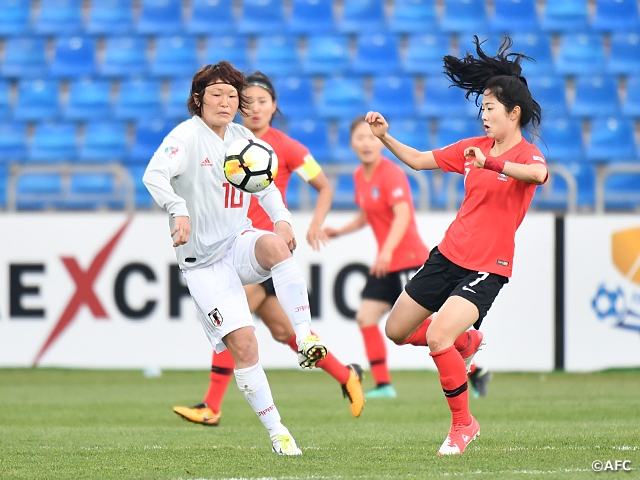 Coach TAKAKURA Asako made a move during halftime, as she introduced the inform striker SUGASAWA Yuika to take the spot of TANAKA Mina. Sugasawa's substitution almost showed immediate dividends as she came close to scoring in the 62nd minute when she struck a header off a corner kick delivered by KAWASUMI Nahomi. Her timing was right on the spot, but her shot drifted just wide of the goal.
In the 73rd minute, HASEGAWA Yui fired a shot after chasing a through ball delivered by IWABUCHI Mana, but her effort was blocked by the opposing defender. As time was ticking down, Japan gained momentum and seemingly took the initiative, but could not find a way to break the deadlock.
Japan's final chance came during additional time, when Iwabuchi received the ball in the right flank. She showed a great individual effort by dribbling passed the opposing defender before taking a powerful shot, but her attempt was blocked by a superb save displayed by the goalkeeper. With both teams showcasing an enormous effort throughout the 90 minutes, the match ended in a scoreless draw.
With this result, Group B is now in a close contest. Nadeshiko Japan will earn a spot into the semi-final with a win in the final match of the group league. Their advancement out of the group league will also grant them a spot into the FIFA Women's World Cup. With all that being said, their eyes are now locked onto winning the match when they face Australia on Friday 13 April.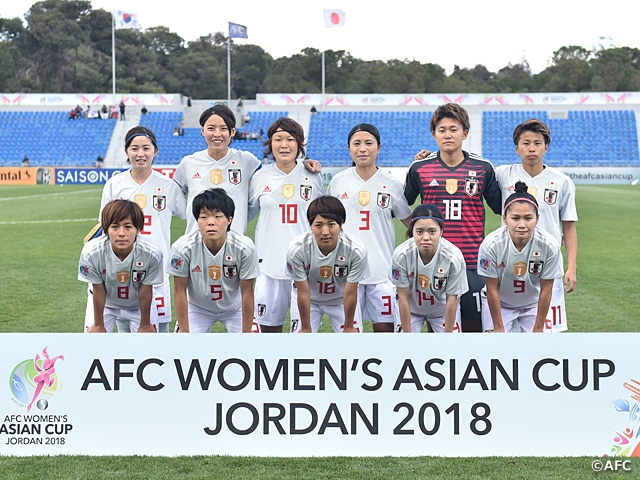 Coaches' and Players' Comments
TAKAKURA Asako, Coach of Nadeshiko Japan (Japan Women's National Team)
Today we wanted to move the ball around a little more to approach the opposing goal, but we could not find our rhythm and played like we were scared in the first half. We felt like the second half was going to be the decider, as our opponents seemed to run out of gas, but the Korean side showed great heart at the very end to deny our chances. We know that our next opponent is a very strong team, but we are not scared of any opponents. Because we also know that if we can play our very best, we can win against them.
DF #3 SAMESHIMA Aya (INAC Kobe Leonessa)
The fact that we didn't concede a goal in the first half was a step forward for us, as we have given up goals in similar situations in previous matches. We are in a must win situation now, so for our next match we will have to press forward. There will be stretches where we will be held back, but we will for sure have our time to possess the ball, so we'll make the most out of those opportunities.
DF #4 KUMAGAI Saki (Olympique Lyonnais/France)
It's a good thing that we kept a clean sheet, but we were really looking for a win today so the result was unfortunate. Our next opponent, Australia consists with speed and power that cannot be compared with the previous two teams we have played so far. We cannot win if we played scared, so we will talk it out as a team and prepare well ahead of the match.
MF #14 HASEGAWA Yui (Nippon TV Beleza)
It was a regretful match, because it was a match we should have won. Even with our opponents running out of gas in the second half, we could not create opportunities to take shots, and I felt like we lacked variations and creativity in our offence. I have Watched Nadeshiko Japan win the World Cup, and dreamed of playing in the World Cup, so I will utilise that motivation to play from my heart in our next match.
FW #13 SUGASAWA Yuika (Urawa Red Diamonds Ladies)
We couldn't seem to settle the ball up front today, so when I was given the opportunity, I focused on settling the ball. It was unfortunate that we finished in a scoreless draw despite creating many chances, but we'll just have to play as a team and win our next match. We will do our best to win through the group league and earn our spot into the World Cup.
Schedule
AFC Women's Asian Cup Jordan 2018
Fri. 6 April
TBC
Training
Sat. 7 April
4-0
Group League 1st Match vs Vietnam
(King Abdullah Ⅱ Stadium)
Sun. 8 April
TBC
Training
Mon. 9 April
TBC
Training
Tue. 10 April
0-0
Group League 2nd Match vs Korea Republic
(Amman International Stadium)
Wed. 11 April
TBC
Training
Thu. 12 April
TBC
Training
Fri. 13 April
16:45
Group League 3rd Match vs Australia
(Amman International Stadium)
Sat. 14 April
TBC
Training
Sun. 15 April
TBC
Training
Mon. 16 April
TBC
Training
Tue. 17 April
TBC
Semi-Final(King Abdullah Ⅱ Stadium)
Wed. 18 April
TBC
Training
Thu. 19 April
TBC
Training
Fri. 20 April
20:00
Final(Amman International Stadium)
*Local Time
*The schedule is subject to change due to the team condition, the weather, etc.
AFC Women's Asian Cup Jordan 2018
Tournament Period: Fri. 6 April - Fri. 20 April 2018
Group League 3rd Match
Fri. 13 April 2018 kick-off at 22:45 (Japan time)
Nadeshiko Japan vs Australia Women's National Team
[TV Broadcasting]tv-asahi Group/NHK-BS1
For more information