NEWS
Nadeshiko Japan hold official training prior to AFC Women's Asian Cup 2018 match against Korea Republic
10 April 2018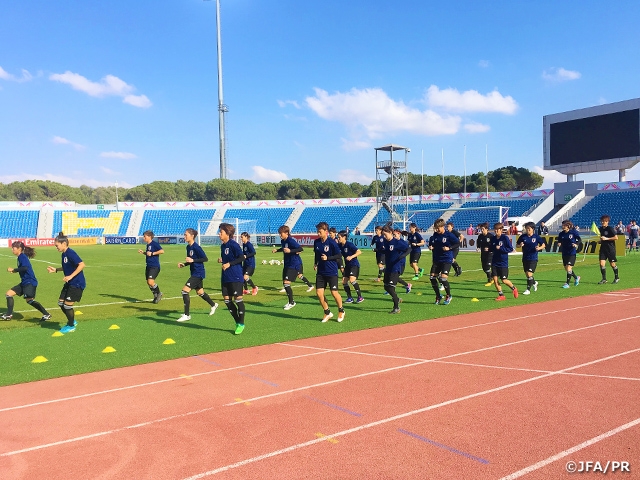 On Monday 9 April, Nadeshiko Japan (Japan Women's National Team) held their official training ahead of their second group league match of the AFC Women's Asian Cup Jordan 2018 against Korea Republic. The training took place at Amman International Stadium, where the match will also be hosted.
An official press conference was held before the training session where Coach TAKAKURA Asako expressed her aspiration for the match. "Korea Republic is a great friend and a rival for us. We are delighted to face them in such competition where the qualification for the World Cup is at stake. There're no doubts that this will be a very difficult match for us, but we will do our best to showcase our style of football." Korea Republic's Coach YOON, who also joined the press conference named IWABUCHI Mana as the key player that they must be aware of.
The official training at Amman International Stadium was closed to the public except for the initial 15 minutes. For a total of an hour, the team went over drills to polish up on their finishing from crosses and mid-range shots. Even under the tense atmosphere, the players looked cheerful off the pitch showcasing their anticipation to play against Korea Republic.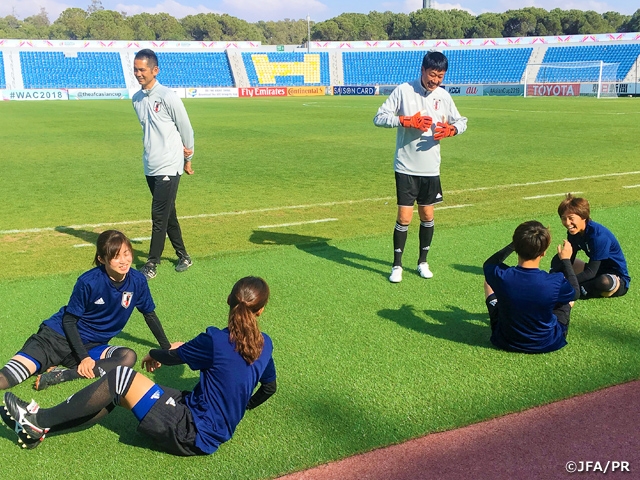 The second group league match against Korea Republic will kick-off at 16:45 (22:45 Japan time) on Tuesday 10 April. If Japan wins this match, they can qualify for the FIFA Women's World Cup France 2019.
Players' Comments
GK #1 IKEDA Sakiko (Urawa Red Diamonds Ladies)
I was watching the match against Vietnam from the bench thinking of what to say to the defenders if I was on the pitch. With our team controlling the ball in the attacking third for a long time, I was sketching out how to deal with counter attacks and to manage risks. This tournament presents us with a tough schedule, as we will play many games within two or three days rest. A collective team effort is required, and all of us must do what we can in order for the team to do well.
MF #7 NAKAJIMA Emi (INAC Kobe Leonessa)
We must be careful against Korea Republic's #10 JI Soyun, as she can single handedly change the course of the match. (After playing with her as a teammate at INAC) She reminded me how talented she is, but if we can play with all of our abilities, we should be able to win, so we will give all we've got to earn ourselves a spot in the World Cup.
MF #10 SAKAGUCHI Mizuho (Nippon TV Beleza)
After the match against Korea Republic tomorrow, we will face Australia, then the semi-final and the final will follow. But for now, in a positive sense, I would only like to focus on tomorrow's match and give all I've got. Korea Republic has many talented players and they also play very well as a team, so it is very difficult to find weakness against them. Both teams will carry out their tactics, but in matches like this, I think the mental aspects plays a great role. I will like to insist on winning tomorrow.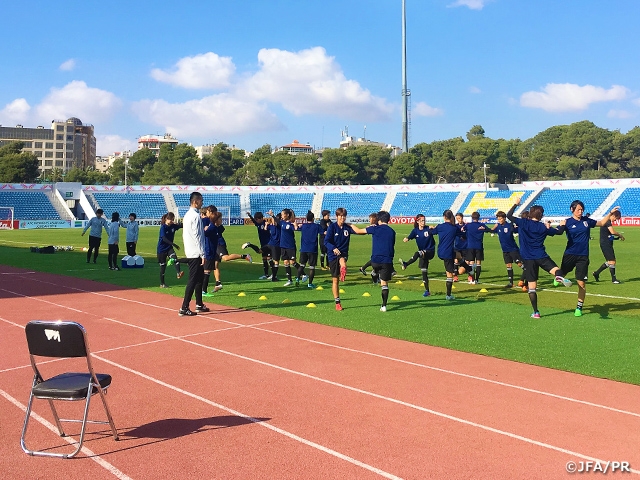 Schedule
AFC Women's Asian Cup Jordan 2018
Fri. 6 April
TBC
Training
Sat. 7 April
4-0
Group League 1st Match vs Vietnam
(King Abdullah Ⅱ Stadium)
Sun. 8 April
TBC
Training
Mon. 9 April
TBC
Training
Tue. 10 April
16:45
Group League 2nd Match vs Korea Republic
(Amman International Stadium)
Wed. 11 April
TBC
Training
Thu. 12 April
TBC
Training
Fri. 13 April
16:45
Group League 3rd Match vs Australia
(Amman International Stadium)
Sat. 14 April
TBC
Training
Sun. 15 April
TBC
Training
Mon. 16 April
TBC
Training
Tue. 17 April
TBC
Semi-Final(King Abdullah Ⅱ Stadium)
Wed. 18 April
TBC
Training
Thu. 19 April
TBC
Training
Fri. 20 April
20:00
Final(Amman International Stadium)
*Local Time
*The schedule is subject to change due to the team condition, the weather, etc.
AFC Women's Asian Cup Jordan 2018
Tournament Period: Fri. 6 April - Fri. 20 April 2018
Group League 2nd Match
Tue. 10 April 2018 kick-off at 22:45 (Japan time)
Nadeshiko Japan vs Korea Republic Women's National Team
[TV Broadcasting]tv-asahi Group/NHK-BS1
For more information