NEWS
AFC Futsal GK Coaching Course Level 1 held in Ibaraki for 2nd time in Japan
03 April 2018
The Japan Football Association (JFA) held the AFC Futsal GK Coaching Certificate Course Level 1 for five days from Monday 26 to Friday 30 March at Kuji Sunpia Hitachi Sports Centre in Hitachi, Ibaraki Prefecture.
The objective of this course is to instruct fundamental coaching skills and knowledge of goalkeeping and to nurture personnel who can promote the concepts. A new rule was set last year requiring goalkeeper coaches participating in AFC-hosted tournaments to be certified. Since the new rule was enforced, the JFA has held its first course last July, making this the second course held in Japan.
AFC Futsal Goalkeeper Instructor YAMADA Marcos Yuji (Fuchu Athletic F.C.) was invited to teach the 13 participants who attended the course from all over the country. Wide range of participants were seen as F. League and J. League club coaches were present among Class 4 category coaches, and those who are not specifically a goalkeeper's coach were in the mix as well.
The lecture featured coaching methods on goalkeeping, physical and mental preparation, planning and regulations. During the practical training session, the participants took part in a role-playing demonstration where they took turns acting as players and coaches to learn fundamental training skills. In addition, plenty of time was spared for discussions where the participants actively exchanged opinions, providing a productive learning experience for everybody who was involved.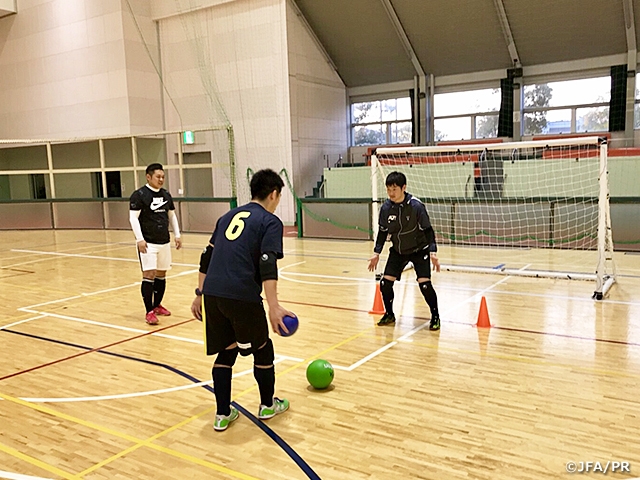 Instructor's Comment
YAMADA Marcos Yuji
With so many coaches attending from all over Japan, it gave us a great opportunity to share our passion and enthusiasm towards goalkeeping in futsal. As the JFA Futsal Technical Director, KONISHI Teppei said, "the future of futsal goalkeeping in Japanese is bright," this course presents a great opportunity to broaden and establish the fundamentals of coaching goalkeepers. It also served a vital role in establishing the license system of futsal goalkeeper coaches. I would like to thank all of the participants and everybody who supported this course.
Participant's Comments
Futsal coach
The course gave me an opportunity to learn about the goalkeeper position in futsal all over again. It helped me re-organise the roles of the goalkeeper in a bigger picture of futsal and the necessary steps to develop goalkeepers. I will continue to strive to develop goalkeepers who can represent the country in the future.
Futsal coach
Through this course I was able to organise the fundamentals and integrate it with the next step. Instructor Marcos was very passionate and showcased his enthusiasm to develop goalkeeper coaches. His instructions were easy to understand because he broke it down into details.