NEWS
Nadeshiko Japan showcases their versatility by scoring seven goals to beat Ghana – MS&AD Cup 2018
02 April 2018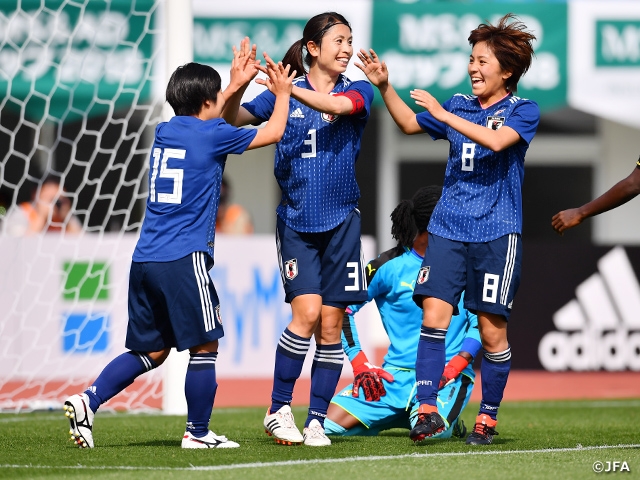 On Sunday 1 April, Nadeshiko Japan (Japan Women's National Team) squared off against Ghana Women's National Team in the MS&AD Cup 2018 at Transcosmos Stadium Nagasaki.
Although the Japanese side struggled to pick up their pace in the early minutes of the match, forward TANAKA Mina struck the opener in the 14th minute after chasing a through ball delivered by MASUYA Rika. Just three minutes later, Masuya once again created a goal scoring opportunity with her through ball, which this time Tanaka elected to pass the ball to her fellow forward IWABUCHI Mana, but her attempt was denied by the opposing defender.
After they missed out on their opportunity to extend their lead, they encounter a threat in their own side. In the 24th minute, the Japanese defence failed to clear a ball in front of their own goal, Ghana's Jane AYIEYAM got to the end of this loose ball and struck a header. Her shot was initially denied by the post but she converted the deflection to score the equaliser.
However, Nadeshiko Japan would quickly regain their lead. In the 29th minute, Tanaka fired a left footed shot following a corner kick, which was deflected by the goalkeeper, but Iwabuchi was there to follow up to give her side the go-ahead goal. Japan would go onto increase their pressure as they scored their third goal in the 43rd minute, when NAKAJIMA Emi made a great cut back off a long feed from SAMESHIMA Aya, allowing Masuya to find the net with her right foot. The match would enter halftime with a score of 3-1.
The host team would remain dominant in the second half, as Nakajima launched a powerful shot in the 48th minute after receiving a pass from SUMIDA Rin to score their fourth goal.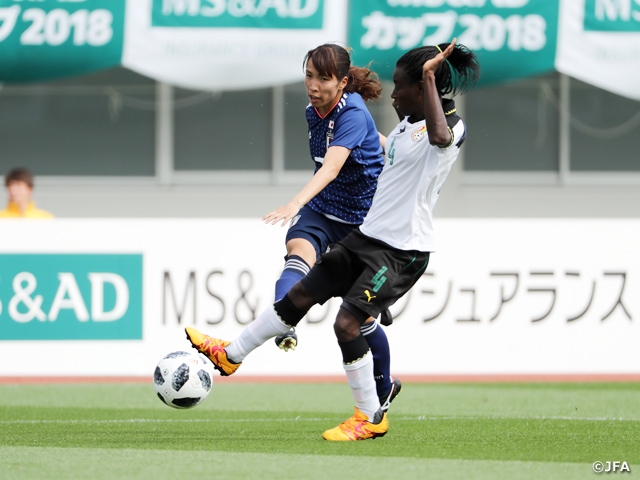 Japan would gain further momentum when KAWASUMI Nahomi was introduced to the match in the 59th minute. Making her first national team appearance in nearly two years, Kawasumi encouraged her team by shouting out that they are just getting started. She would go onto impact the match immediately, as she created a chance in the 61st minute when she delivered a pass to Masuya.
Nadeshiko Japan's substitutes were involved in their goals, as TAKAGI Hikari marked her first national team goal in the 74th minute, followed by a goal in the 79th minute by SUGASAWA Yuika with an assist from SHIMIZU Risa. The two veterans capped off the goal-rush when Sameshima scored off a cross delivered by Kawasumi in the 83rd minute.
The seven goals scored by Nadeshiko Japan was the most goals they have scored since Coach TAKAKURA Asako took the helm. They will now head into the AFC Women's Asian Cup on a high note, as their fist match is scheduled on Saturday 7 April, facing Vietnam Women's National Team.
Coaches' and Players' Comments
TAKAKURA Asako, Coach of Nadeshiko Japan (Japan Women's National Team)
The 7-1 score is a very positive result for us, but we did struggle to pick up our pace early in the first half. The players kept their level of concentration high to score the goals, so that was another positive aspect we can take back. We focused on playing defence as a team by collectively applying pressure to force turnovers, but we struggled to adjust to Ghana's unique speed and tempo, and there were scenes where we allowed them to break through, so that must be fixed. Overall it was a match full of positives, but we must fix what we lacked today. Although we have very limited time, we will do what we can ahead of our match against Vietnam.
DF #3 SAMESHIMA Aya (INAC Kobe Leonessa)
The score does not simply reflect our performance. We must realise that if we play like we did in the first half, stronger teams will punish us. Early in the match, it was evident that we could possess the ball by passing the ball around, so I told the players around me that we should pass the ball around. However, we couldn't share that mutual understanding as a team. As a result, although we were able to keep possession of the ball, we couldn't find our rhythm during the match. But the fact that seven different players were able to score is a great thing. We focused on utilising the space in the flank once the player positioned in the centre made the run up front. Those plays were evident throughout the match, so that's another thing we can take back as a positive.
MF #19 MASUYA Rika (INAC Kobe Leonessa)
I personally struggled to find my rhythm early in the match, but I got used to it as the match progressed. When we scored the opener, I kept my eyes on Tanaka while I was dribbling the ball, and I saw that I was able to draw the defenders towards me, so I chose to pass the ball. I am glad I was able to get involved in our goals today. I still feel like we need to improve on our transitions. We also need to make more runs and reduce our mistakes. Those are something we can still work on ahead of the Asian Cup, so we hope to improve our game and display our full abilities at our next match.
FW #11 TANAKA Mina (Nippon TV Beleza)
The scene where I scored the goal was my first chance of the match, so I am glad I was able to convert it. Throughout the match I felt like I could have gotten into the space behind the defenders more, but my timing with the players behind me were a little off. We must improve on our coordination and I have to be able to draw more passes towards myself. Even when I did receive the ball behind our opponent's defenders, we had to be more creative by involving the third player. There were plenty of positives and negatives during this match, so we'll stay positive and prepare ahead of the Asian Cup.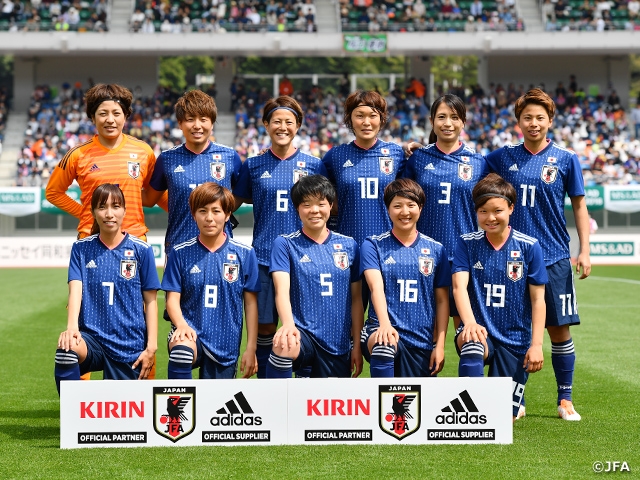 Schedule
Mon. 26 March
16:00
Training (Nagasaki Municipal General Recreation Park) *Open to the public
Tue. 27 March
AM/PM
Training *Closed-door
Wed. 28 March
AM/PM
Training *Closed-door
Thu. 29 March
AM/PM
Training *Closed-door
Fri. 30 March
AM/PM
Training *Closed-door
Sat. 31 March
TBC
PM
Official Press Conference
Official Training
Sun. 1 April
7-1
MS&AD Cup 2018
vs Ghana(Transcosmos Stadium Nagasaki)
Mon. 2 April
AM
Training
Tue. 3 April
TBC
Training
Wed. 4 April
TBC
Training
Thu. 5 April
TBC
Training
AFC Women's Asian Cup Jordan 2018
Fri. 6 April
TBC
Training
Sat. 7 April
16:45
Group League 1st Match vs Vietnam
(King Abdullah Ⅱ Stadium)
Sun. 8 April
TBC
Training
Mon. 9 April
TBC
Training
Tue. 10 April
16:45
Group League 2nd Match vs Korea Republic
(Amman International Stadium)
Wed. 11 April
TBC
Training
Thu. 12 April
TBC
Training
Fri. 13 April
16:45
Group League 3rd Match vs Australia
(Amman International Stadium)
Sat. 14 April
TBC
Training
Sun. 15 April
TBC
Training
Mon. 16 April
TBC
Training
Tue. 17 April
TBC
Semi-Final(King Abdullah Ⅱ Stadium)
Wed. 18 April
TBC
Training
Thu. 19 April
TBC
Training
Fri. 20 April
20:00
Final(Amman International Stadium)
*Local Time
*The schedule is subject to change due to the team condition, the weather, etc.
MS&AD Cup 2018
Sun. 1 April 2018 kick-off 13:30
Nadeshiko Japan (Japan Women's National Team) vs. Ghana Women's National Team
Nagasaki/Transcosmos Stadium Nagasaki
For more information
AFC Women's Asian Cup Jordan 2018
Fri. 6 April - Fri. 20 April 2018
For more information