NEWS
Beleza beat Nojima and become crowned champions for twelfth time in 39th Empress's Cup All Japan Women's Football Tournament
25 December 2017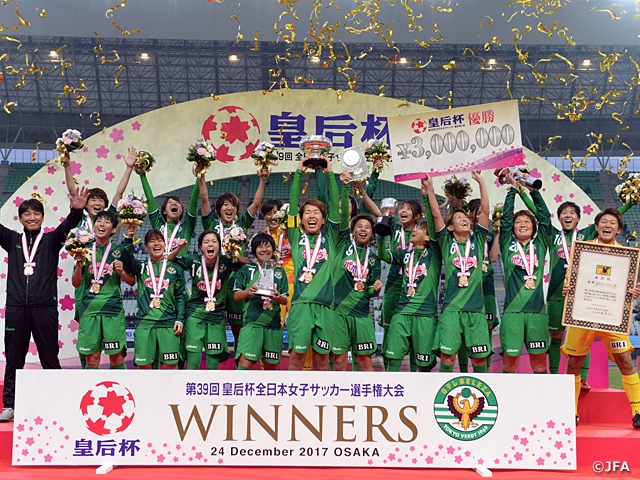 The final of the 39th Empress's Cup All Japan Women's Football Tournament was held on Sunday 24 December at YANMAR STADIUM NAGAI in Osaka and NIPPON TV BELEZA beat NOJIMA STELLA KANAGAWA SAGAMIHARA 3-0 to win their 12th championship and their first title in three years.
Nippon TV Beleza, who edged URAWA RED DIAMONDS LADIES 2-1 in the semi-finals on Thursday 21, made one change in their line-ups and started UETSUJI Yumi. TANAKA Mina, the top scorer of the Plenus Nadeshiko League for two straight years, was placed upfront, while captain IWASHIMIZU Azusa and SHIMIZU Risa paired up as two centre halves. The Most Valuable Player of Nadeshiko League for three consecutive seasons, SAKAGUCHI Mizuho, was positioned at defensive midfielder.
After defeating JEF UNITED ICHIHARA CHIBA LADIES 1-0 in extra time in the semi-finals, Nojima Stella started the same players from the previous match with TAKAGI Hikari taking an anchor position and TANAKA Yoko playing in front of her. MINAMINO Arisa, who netted a decisive goal in the semi-final match and led her team to their first-ever final, was deployed as a sole striker.
It was cloudy at Yanmar Stadium Nagai but provided relatively comfortable playing conditions with temperature at 14.6 degrees Celsius. The game was held on Christmas Eve and gifts were thrown to the stands from the players to entertain the crowd before the match. Additionally, ball persons along the touchline also boosted the holiday atmosphere by putting on a Santa Claus hat.
Beleza, the Nadeshiko League champions for three straight seasons, took the early initiative. In the 6th minute, Tanaka Mina latched onto Iwashimizu's long feed and dinked it over the opposing goalkeeper to give her side the opening goal. She later said, 'After finding the space behind the surrounding defenders, I simply focused on kicking it accurately.' In the 24th minute, Sakaguchi doubled the lead when she chipped in Iwashimizu's another superb assist into the net.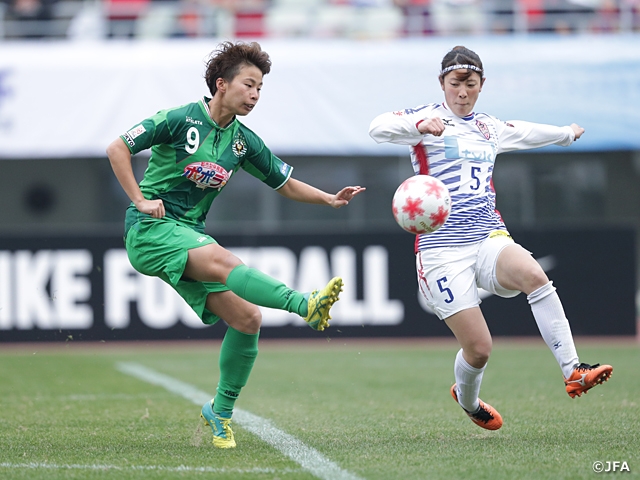 Nojima, on the other hand, could not send effective balls to their forward players after they reclaimed possession, and end the first half with only a single attempt at goal. In contrast, Beleza made three shots before halftime, but displayed their clinical finishing as they converted two of those scoring chances into goals.
In the second half, Nojima came back and attacked as they showed their determination in winning the first-ever cup title. In the 59th minute, KUNITAKE Aimi headed Tanaka Yoko's right corner, but her shot went just wide of the left post. Another scoring chance came on 66 minutes, when YOSHIMI Natsuki collected a deflection from Tanaka's left corner and launched a shot, but this time Beleza goalkeeper YAMASHITA Ayaka denied it with a brilliant save to keep them off the scoreboard.
Despite spending the majority of their efforts in defending, Beleza came through and added another goal in the 74th minute. NAKASATO Yu took advantage of a passing error from their opponents to send a ball directly to the front of the goal, where Tanaka Mina tapped it into the lower-right corner of the net to give her side a three-goal cushion.
Nojima brought on SHONO Kanako, who helped her team win with an assist of the decisive goal in the semi-final, to invigorate the team's attacks. Tanaka Yoko orchestrated a pair of scoring chances in the last 10 minutes of play, but her shot on 83rd minute was superbly saved by Beleza's goalkeeper Yamashita and her cross just before the end of regulation time was firmly secured once again by the opposing keeper.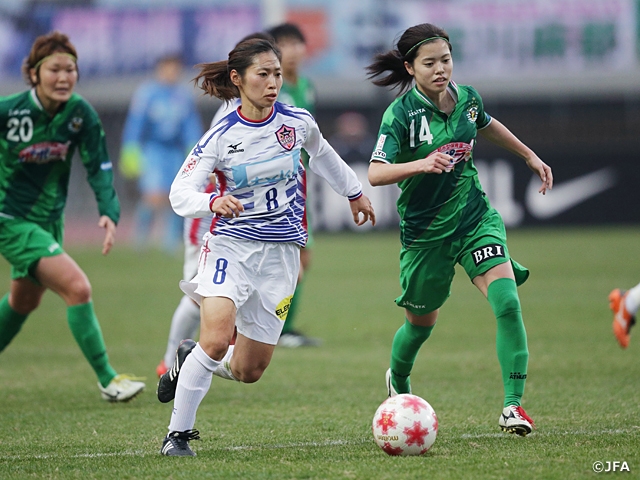 Beleza with the fewest conceded goals during the regular season had showcased their solid and excellent defence and did not allow Nojima to score before the final whistle. The match ended with Beleza securing a 3-0 comprehensive victory over Nojima.
With this result, Beleza clinched their second crown this year along with the League title after reaching the summit of the 477 participating teams across the nation including the regional qualifiers.
Match Report (Japanese version only)
Coaches' and Players' Comments
MORI Eiji, Coach (NIPPON TV BELEZA)
In the first half, we successfully exploited the space behind the opposing defenders and did well to finish it with a 2-0 lead. In the second half, our opponents put stronger pressure on the ball and we couldn't perform as we wished, but still managed to score another goal. Nojima's defenders usually make fierce challenges near their penalty area and we were looking to capitalise on the free-kick chances there. I decided to start Uestuji as she was scoring with high percentage near the box during practice. A scorer of two goals, Tanaka Mina made significant improvement in her physical strength this season as she can now fire a strong shot without losing her body balance.
DF #22 IWASHIMIZU Azusa (NIPPON TV BELEZA)
I am simply happy. This is the last competition of this season and we wanted to win it and end the season with smiles. In the Nadeshiko League Cup Division 1, we lost in the semi-finals. Since then, we were determined to win all other competitions this year and fought hard in the remaining matches of the Nadeshiko league and the Empress's Cup. We had players, who were not in top form, and were forced to play under difficult circumstances, but the team including myself could keep their focus and defended well until the end of the game. I must also say that we were fortunate to have such reliable teammates. Beleza's last win in the Empress's Cup was before our former star player KOBAYASHI Yayoi retired and I believe that our strong determination for winning this title delivered this result.
KANNO Masaaki, Coach (NOJIMA STELLA KANAGAWA SAGAMIHARA)
Beleza really deserved to win this competition and I would like to congratulate them as well. We wanted to start off the match by having an image of play as we did in the second half, but might have given them too much credit both offensively and defensively. We might not be one of the top teams in the league, but I must add that we competed really well in the second half and also had shown our potential for the next season. Furthermore, I acknowledge that our opponents were by far the better side, but we are making gradual but steady progress as a team as well. I could only show my appreciation by saying 'thank you" to all the players who are retiring at the end of this year. We started from scratch when we established the team in 2012 and I would like to say that all of our 40 players, including those who joined this season, have raised this team to where we are right now.
MF #19 TAKAGI Hikari (NOJIMA STELLA KANAGAWA SAGAMIHARA)
We certainly must show respect to our opponents, but were still aiming to play aggressively from the start of the match. However, in the first half, we were simply responding to their attacks and often lost possession as well as conceding goals after they exploited the momentary gap in our defence. Additionally, we allowed them to move the ball freely in the first half and made the necessary adjustments in the second to put stronger pressure on Beleza's Sakaguchi and Nakasato by placing Tanaka Yoko in a more forward position. Reflecting back on this season, we were drawn into having many tough league matches, but once the team were united, I felt that we could deliver positive results as we did in the Empress's Cup. We will not be satisfied with this result, and continue to work hard and strengthen the team for the next season.

Tournament Period:28 October 2017(Sat.)~24 December 2017(Sun.)
First Round Sat. 28 and Sun 29. October
Second Round Fri.3, Sat. 4 and Sun. 5 November
Third Round Sat. 11 and Sun. 12 November
Quarter-finals Sat. 18 and Sun. 19 November
Semi-finals Thu. 21 December
Final Sun. 24 December