NEWS
SAMURAI BLUE draw with Haiti with Kagawa's late goal in KIRIN CHALLENGE CUP 2017
11 October 2017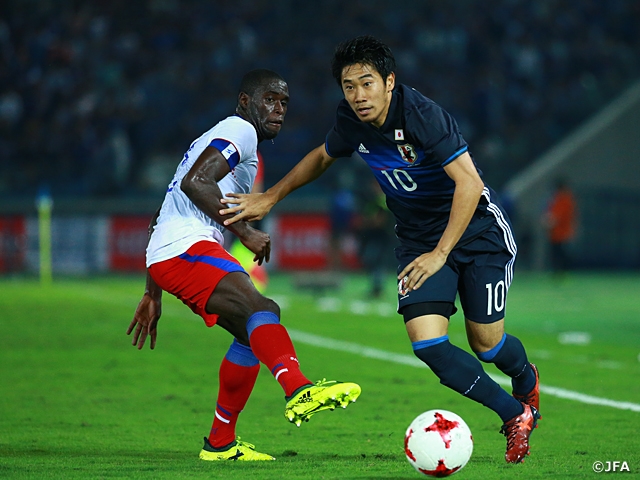 SAMURAI BLUE (Japan National Team) faced Haiti National Team on Tuesday 10 October in the second match of the KIRIN CHALLENGE CUP 2017 as KAGAWA Shinji (Borussia Dortmund) helped his team pick up a 3-3 draw with his added-time goal.
Further improving the team and trying to find the right mix of players for the World Cup finals coming up in eight month, Japan replaced nine players in the starting line-ups from the New Zealand match four days ago, while defenders NAGATOMO Yuto (FC Internazionale Milano) and MAKINO Tomoaki (Urawa Red Diamonds) continued to be on the starting squad.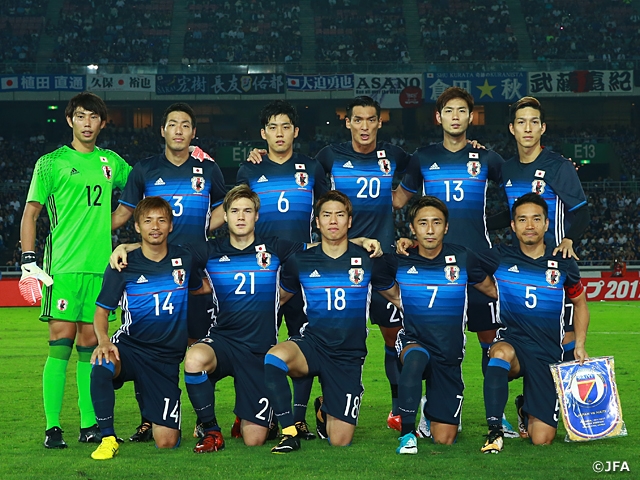 Goalkeeper HIGASHIGUCHI Masaaki (Gamba Osaka) was named in the starting XI for the first time since the last March's World Cup Final Qualifiers against Afghanistan. Midfielder KOBAYASHI Yuki (SC Heerenveen) and forward SUGIMOTO Kenyu (Cerezo Osaka) made their first career start for a SAMURAI BLUE match. Midfielder KURATA Shu (Gamba Osaka), who scored his first international goal as a substitute in the previous match, also came in as a starter for the first time in two years and two months.
Japan struck first in the 7th minute with Kurata scoring for his side in back-to-back games. When the Gamba Osaka midfielder headed in Nagatomo's cut-back from the left flank, his shot went above the leaping Haitian goalkeeper.
In the 17th minute, Kurata fired a shot after receiving the ball from Sugimoto. His shot was blocked by the opposing goalkeeper, but Sugimoto put the deflection home with his left foot for his first international goal on his third appearance to make the scoreline 2-0.
Haiti were staying back to cope with Japan's fast-tempo attacks but closed the gap to one goal in the 28th minute. Forward Duckens NAZON stole the ball in the midfield and surged up the pitch to send it to the right flank. Forward Wilde-Donald GUERRIER collected the pass and cut in to cross it to the centre, where midfielder Kevin Pierre LAFRANCE slid between Japanese central defenders Makino and SHOJI Gen (Kashima Antlers) to roll it into the net with his right foot.
Haiti picked up their momentum with this goal and came out strongly to rob the ball, and found their attacking flair by capitalising on their speed and lithe moves.
Japan coach Vahid HALILHODZIC subbed in international debutant defender KURUMAYA Shintaro (Kawasaki Frontale) for Nagatomo and HARAGUCHI Genki (Hertha BSC Berlin) for ASANO Takuma (VfB Stuttgart) from the start of the second half, but Japan had another defensive lapse in front of goal in the 53rd minute.
Initiating their attack from a free kick on the right side, Nazon fired in a right-footed equaliser off defender Carlens Jean Fedlaire Ruby ARCUS's cross from the right.
While Japan immediately brought on one substitute after another including midfielder IDEGUCHI Yosuke (Gamba Osaka), Kagawa and forward OSAKO Yuya (1.FC Koeln), Haiti came close to Japan's goal again when Lafrance took the ball up on 58 minutes. Then, in the 78th minute, Nazon struck a shot over Japanese goalkeeper Higashiguchi to put his team ahead.
With forward MUTO Yoshinori (1.FSV Mainz 05) coming on for midfielder INUI Takashi (SD Eibar) in the 80th minute, Japan threatened the Haiti goal with shots by Haraguchi, Ideguchi and Kagawa.
When Kurumaya ran up and delivered a cross after receiving Haraguchi's pass in added time of the second half, Sakai picked up the loose ball to the opposite side and took a left-footed shot. Kagawa, running in front of goal, flicked it with his right foot and found the back of the net just before the match ended with a 3-3 draw.
Japan will fly to Europe in November to play an international firendly matches against Brazil and Belgium.
Coach's and Players' Comments
Vahid HALILHODZIC, Coach of SAMURAI BLUE (Japan National Team)
It ended up being a very difficult match to analyse. I have never had a bad match like this since my appointment, and it was one of the worst matches in my career as well. There were many things that I couldn't simply accept. After we got ahead 2-0, I don't know what happened to our players. After we scored the goal, everything stopped. In the first 20 minutes of the match, we had so many chances that we could have scored four or five goals. Maybe our players believed that we were technically better than them or maybe they just lost the spirit. If we had scored the third goal then, it might have turned out differently. After we allowed the first goal, the whole team collapsed. I am disappointed with how fragile and weak some of our players were. There were some who didn't try their best as well as those who didn't run back for defence as well. But everything is on me who chose them. We simply cannot afford to select players who aren't good enough to play. We have to answer many questions after this result. In these friendly matches, we discussed the mental side of our performances for the World Cup, but then this had happened. Our next opponents are two of the world's elites, totally different from the ones this time. If we keep playing like this, the result will be horrible. We are not ready at all for the World Cup.
GK #12 HIGASHIGUCHI Masaaki (Gamba Osaka)
I realised that I would have a very difficult time in the World Cup unless I got better in handling tough shots. I need to make improvements in my daily training in the areas such as jumping and step work.
DF #24 KURUMAYA Shintaro (Kawasaki Frontale)
I was trying to get myself ready mentally in the first half, but at the beginning I was a little nervous. (Regarding the goal late in the match) The opponents didn't follow me very well, so I was thinking that I would be able to break through if I created 2-on-1 situation. In the end, I had no other option but to attack, so I tried to maintain a high position.
MF #7 KURATA Shu (Gamba Osaka)
It's important to win as a team, and I couldn't achieve that as one of the starting players. So that means I failed to showcase myself. It was good that my shot went in, but this match finished like this because I didn't really go at them when we had chances for the third and fourth goal.
MF #8 HARAGUCHI Genki (Hertha BSC Berlin)
Our defence didn't work, and we couldn't show our strength at all. In the first half, I almost felt that the opponents were sleeping and our passes went through one after another, which was good for us then. But honestly, we didn't share where to put pressure and get the ball. We wanted to go up and hit on the counter, but guys in the back didn't follow us. I believe we didn't share our game plan of how we attack and how we defend.
MF #10 KAGAWA Shinji (Borussia Dortmund)
We had enough players in our attacks, but our collectivity and communication among us weren't there. Speaking of the goal I scored, it was just the result of us working together. I saw in today's game that we lacked control for the entire 90 minutes with so many line-up changes. I think that we will get beaten if we don't take advantage of this lesson.
MF #17 KOBAYASHI Yuki (SC Heerenveen)
In the second half, after I injured my back and had to get off the pitch, we started to lose focus and let the opponents defeat us. I felt responsible there. I entered the pitch relaxed, but I didn't know listening to the national anthem would tense me up like this. When we allowed the first goal, I didn't have to go for the ball, but went for it and got beaten. It was a reckless move where my nerves showed there.
Marc COLLAT, Coach of Haiti National Team
Our players are feeling disappointed because we couldn't win. But I am satisfied. In the first 20 minutes when we were playing like just being their guests, we conceded two goals. But after we made the necessary adjustments in midfield where we allowed Japan to play freely, it resulted in our second and third goals. Our ball possession was worse than theirs, but we were more clinical in our finishes. My players worked tremendously hard as well.
Schedule
Sun. 1 October
PM
Training
Mon. 2 October
PM
Training
Tue. 3 October
PM
Training
Wed. 4 October
PM
Training
Thu. 5 October
17:00
17:30
Official Conference (Toyota Stadium)
Official Training (Toyota Stadium)
Fri. 6 October
2-1
KIRIN CHALLENGE CUP 2017
vs New Zealand (Toyota Stadium)
Sat. 7 October
AM
Training
Sun. 8 October
PM
Training
Mon. 9 October
17:00
17:30
Official Conference (Nissan Stadium)
Official Training (Nissan Stadium)
Tue. 10 October
3-3
KIRIN CHALLENGE CUP 2017
vs Haiti (Nissan Stadium)
* The schedule is subject to change due to the team condition, the weather, etc.

Tue. 10 October 2017 19:30 kick off
SAMURAI BLUE vs Haiti National Team
Kanagawa/Nissan Stadium