NEWS
Nadeshiko Japan seal comprehensive 3-0 win over Costa Rica – KIRIN CHALLENGE CUP 2017 - Kumamoto Earthquake Charity Match 'Ganbarubai Kumamoto'
10 April 2017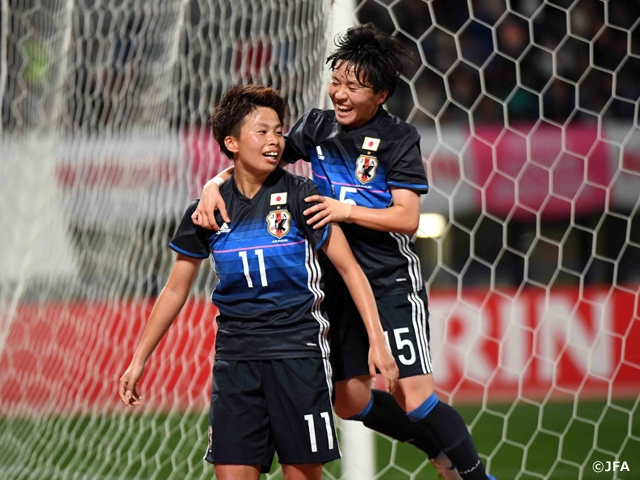 On Sunday 9 April, Nadeshiko Japan (Japan Women's National Team) in the KIRIN CHALLENGE CUP 2017 - Kumamoto Earthquake Charity Match 'Ganbarubai Kumamoto' faced Costa Rica and sealed a comprehensive 3-0 victory. Nadeshiko Coach TAKAKURA Asako managing her first international match in Japan enjoyed a crowd of 8824 spectators cheering for her side.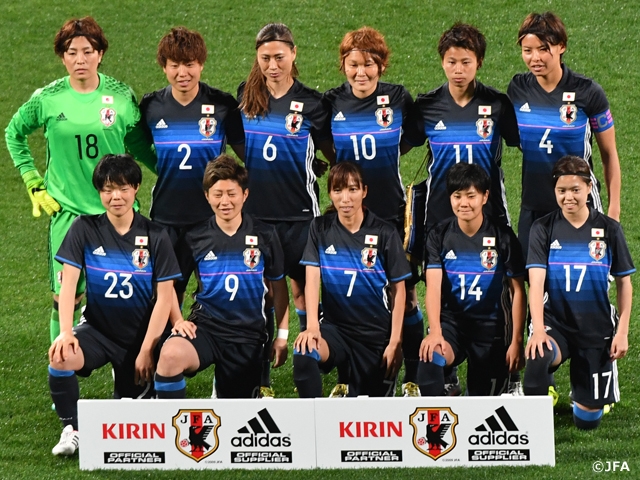 The Japanese squad entered the match with goalkeeper IKEDA, centres halves KUMAGAI and ICHISE, making her debut in the first International A Match, fullbacks UTSUGI on the left and TAKAGI on the right, midfielders with varying individual characteristics HASEGAWA, NAKASATO, SAKAGUCHI, and NAKAJIMA from left to right, and powerful forwards YOKOYAMA and TANAKA.
Nadeshiko Japan quickly analyzed Costa Rica in the beginning of the match and took the early initiative as they threatened the opponents by attacking their goal. In the 4th minute, midfielder NAKAJIMA Emi surged up the pitch after an exchange with forward TANAKA Mina and took the first shot for the Japanese side. Then two minutes later, forward YOKOYAMA Kumi fired a right-footer at goal from range, and subsequently SAKAGUCHI Mizuho came close to open the scoring off a free kick. As Takakura's women gradually gained momentum, it was Yokohama who gave Japan the lead. Defender TAKAGI Hikari cut inside and squared a short pass to Yokohama, who dodged an opposing defender and struck with pace a brilliant left-footer curling above and beyond the reach of goalkeeper to the top right corner to give her the side the first goal of the match. While Nadeshiko created few more chances in the first half, they were unable to capitalise on them before halftime.
In the second half, midfielder SUMIDA Rin and forward MOMIKI Yuka came off the bench and replaced Nakasato and Nakajima. As Momiki later commented, 'I was looking to string passes in midfield giving the chance for the fullbacks to overlap,' she positioned herself superbly to bring the Japanese side an attacking flair as she controlled the midfield from fine exchanges of passes with her teammates and gave Hasegawa the chance to attack from the right flank. However, unable to stretch the lead, coach Takakura send in the top scorer of the FIFA U-20 Women's World Cup last year, UENO Mami, after 69 minutes. Then five minutes later, Hasegawa found Ueno who surged up the right flank and delivered a fine low cross towards near post, where onrushing striker Tanaka slotted calmly into the net to give Nadeshiko a two-goal lead. The game decider came in the 82nd minute, as Momiki reacted to Hasegawa's early cross and scored their third.
Japan created few more goal-scoring opportunities before regulation time. While Nadeshiko debutant OYA Ayumi threatened the opponents' goal by advancing the ball and creating chances to score, Sumida fired a shot from range, but unfortunately hit the crossbar. Despite failing to capitalise on those chances, Japan have demonstrated their solid defence which they have been their primary focus in training in recent weeks and gave Costa Rica only three attempts at goal. None of those shots found the net, and the Japanese squad sealed a comprehensive 3-0 victory over the Central American side. For Nadeshiko, this Kumamoto Earthquake Charity Match was their first official match held in Japan this year, and saw over 8000 spectators come to cheer for their team.
Coach's and Players' Comments
TAKAKURA Asako, Coach
I'm grateful that many people came to watch an Earthquake Charity Match in Kumamoto. I believe my players were a bit tense in the first half and weren't able to string passes effectively. Everything changed after the opener scored by Yokoyama, allowing my team to relax and perform much better. I made some change to my team in the second half, and I saw better ball movements along with players finding open spaces to receive the ball. This was more the style of play I expected from my players. I give them credit for winning convincingly. However, we still do not possess the ability to change the flow of the game when the opponents have the initiative nor fully understand which plays can have a significant impact in the match. I think experience will be the key, and we will looking to work on those aspects as we play more international matches in the future.

DF #4 KUMAGAI Saki (Olympique Lyonnais/France)
We should have scored more goals. We let our fears take over the game and we couldn't play to our strength in the first half. During halftime, we encouraged each other and decided to go all out in the second to showcase our brand of football. We have many areas where we still need to improve, but I am pleased we won here in Kumamoto today. One of the strengths of our team is the ability to challenge things without fear. Thus, we would like to continue our efforts with this challenging spirit while each one of us demonstrates her individual characteristics and finds her own way of contributing to the team.

FW #9 YOKOYAMA Kumi (AC NAGANO PARCEIRO LADIES)
We really had to win this game. I could have had a greater impact on the game, if I had played more aggressively. Since my job is to score goals, I need to be able to do so more consistently. One goal wasn't enough. I will seek for more goals in future matches.
FW #11 TANAKA Mina (NIPPON TV BELEZA)
Looking back at the goal, I was in perfect position where only a slightly touch was needed to score. I was determined even desperate to find the net today. I have to thank Ueno who provided me with a superb cross. I was under some pressure, as I wasn't able to perform well in the Algarve Cup. I have confidence in finding space behind the opposing defenders or initiating attacks, but I still have plenty of room for improvement. I will work hard to become an indispensible player for Nadeshiko Japan.

MF #17 HASEGAWA Yui (NIPPON TV BELEZA)
When assisting Momiki's goal, I send in a cross further towards the goal than the previous ones and in fact this worked well. I had few chances to deliver the final pass both in the first and second halves, but unable to do so. However, those failed attempts allowed me to find the right spot for this decisive pass. In the previous matches, I wasn't able to make the necessary adjustments during the game, but only after the match. Being able to make such adjustment during today's match was a significant improvement on my part of the game.
JFA-TV
KIRIN CHALLENGE CUP 2017 vs Costa Rica Women's National Team Highlights
Schedule
Fri. 7 April
PM
Training (Kumamoto Sogo Athletic Park Auxiliary Field)
Sat. 8 April
15:15
16:30
Official Conference (Kumamoto Prefecture Athletics Stadium)
Official Training (Kumamoto Prefecture Athletics Stadium)
*Closed doors except for first 15 minutes
Sun. 9 April
3-0
KIRIN CHALLENGE CUP 2017
vs Nadeshiko Japan (Japan Women's National Team)
(Kumamoto Prefecture Athletics Stadium)
Mon. 10 April
TBC
TBC
Tue. 11 April
PM
Training *Closed-door
*Schedule is subject to change due to team condition, weather, or any other unforseeable circumstances