NEWS
Kashima Antlers Coach Ishii and Shoji speak at presser for SURUGA bank Championship 2016 IBARAKI
29 July 2016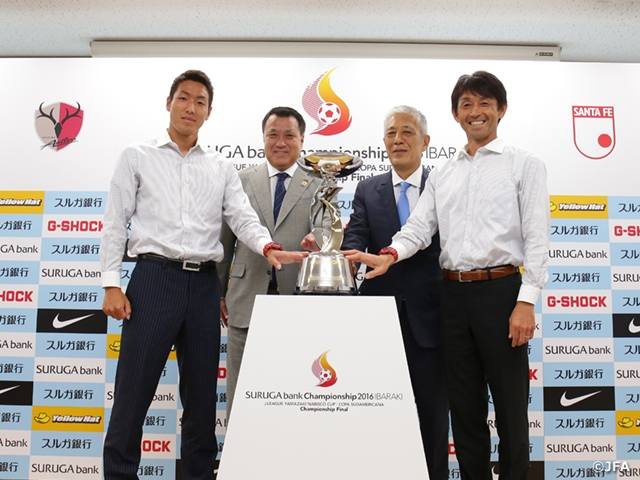 With an eye to the SURUGA bank Championship 2016 IBARAKI to be played on Wednesday 10 August between Kashima Antlers and Independiente Santa Fe, a press conference was held on Thursday 28 July at JFA House.
The attendees were Japan Football Association president TASHIMA Kohzo and SURUGA bank Ltd., the event's presenting sponsor, president and CEO OKANO Mitsuyoshi as well as coach ISHII Masatada and SHOJI Gen from Kashima Antlers.
Coach Ishii of Kashima Antlers, who are making the third appearance, the most by any past participants, expresses his enthusiasm, "it's how well Antlers representing Japan can play against one of the best clubs in Columbia which has a long history. We want to get prepared not to miss this opportunity for the third title." Shoji strongly added his willingness to play hard, saying "this tournament is a match we play not just as Antlers players but also as Japan's representatives. We want to prove that Japanese clubs are very strong."
The contest between Kashima Antlers, the winner of 2015 J.League YAMAZAKI NABISCO CUP, and Independiente Santa Fe (Columbia), the COPA SUDAMERICANA 2015 champion, is scheduled to kick off at 19:00 on Wednesday 10 August at Ibaraki Kashima Soccer Stadium.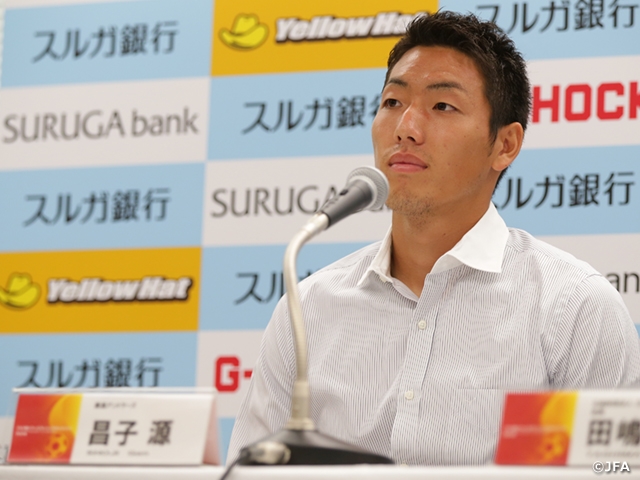 Comments
ISHII Masatada, Coach (Kashima Antlers)
Last year, we won the J.League YAMAZAKI NABISCO CUP and I have been waiting for this match. My impression on South American teams is that they utilise all of 90 minutes and play very smart. So as we play, we need to see how they play and cope with it composedly. It's how well Antlers representing Japan can play against them. We want to get prepared not to miss this opportunity for the third title."
SHOJI Gen (Kashima Antlers)
Personally it is my first time to play against a South American team. I am looking forward to it. South American players seem to play with a lot of physical strength, while equipped with quickness. I want to outsmart them, forcing them to deal with my strength, and get the most out of it. I want to get out there with strong motivation to convey a message that they can't beat me in my zone. In the 2012 and 2013 SURUGA bank Championships, I did not get to play. I was watching those matches in the stands and I was really jealous. My strongest feeling now is eagerness to play, and I want to bring it all out to this championship.
TASHIMA Kohzo (The President of the Japan Football Association)
Independiente Santa Fe play this year as the winners of Copa Sudamericana. I suppose it is Kashima Antlers out of all the J.League clubs that know the difficulty of winning this match the most. Zico's spirit has been well understood by Antlers players. Every year I am impressed with the true enthusiasm that South American teams show. I hope Kashima show their true ability as the Japanese representative and win the championship.
OKANO Mitsuyoshi, president and CEO, SURUGA bank Ltd.
Our mission is "to put customers on track to make their dreams a reality". With the concept of "I DREAM", we support "all the dreams evolving around football" through sponsoring various football events. The SURUGA bank Championship, holding its ninth tournament this year, is a valuable opportunity where world-class football is on display. It started in 2008 and Japanese teams have enjoyed a favourable record of five wins and three losses. I would like the players and coaching staff to represent J.League and win this international title with strong passion.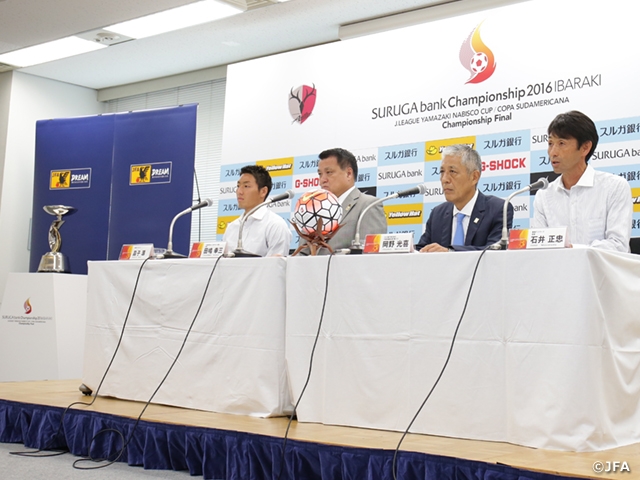 JFA-TV (Japanese version only)
SURUGA bank Championship 2016 IBARAKI
J.LEAGUE YAMAZAKI NABISCO CUP / COPA SUDAMERICANA Championship Final
Kashima Antlers (Japan/Winner of 2015 J.LEAGUE YAMAZAKI NABISCO CUP)
vs Independiente Santa Fe (Colombia / Winner of COPA SUDAMERICANA 2015)
Wed. 10 August 2016 kick off 19:00/open 16:00 (subject to change)
Ibaraki/Kashima Soccer Stadium