NEWS
U-16 Japan National Team won the 1st match of the International Dream Cup 2016
23 June 2016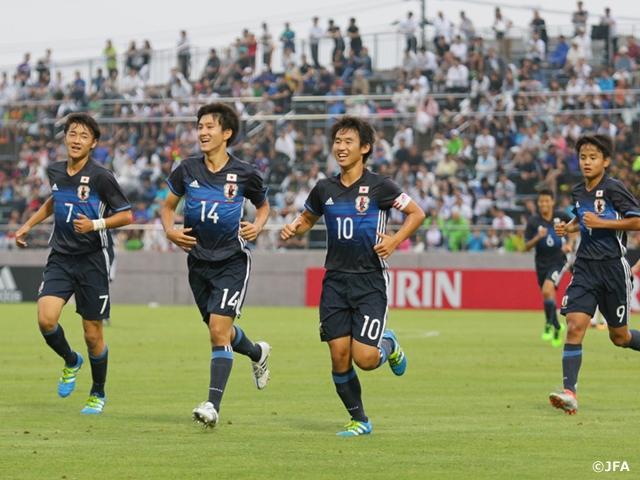 International Dream Cup 2016 Match 1st vs U-16 Hungary National Team
2016-6-22 (Wed.) - 18:00 Playing Time: 90min. (45min.×2)
Tottori / Tottori Bird Stadium
U-16 Japan National Team 4-1 (3-1, 1-0) U-16 Hungary National Team
Scores
12' TANAHASHI Akito (U-16 Japan National Team)
19' NAKAMURA Keito (U-16 Japan National Team)
23' KOZUKI Soichiro (U-16 Japan National Team)
29' Goal against (U-16 Hungary National Team)
90+3' TANAHASHI Akito (U-16 Japan National Team)
Line-ups
GK: AOKI Kokoro
DF: KIKUCHI Kenta, KEMMOTSU Takumu, SUGAWARA Yukinari, KATSURA Rikuto
MF: KOZUKI Soichiro, FUKUOKA Shimpei, KIDA Hinata, KUBO Takefusa
FW: TANAHASHI Akito, NAKAMURA Keito
Substitutes
GK: TANI Kosei
DF: KUWAHARA Kaito, NISHIO Ryuya
MF: HIRAKAWA Rei, NARUSE Shumpei, MATSUMOTO Nagi
FW: MIYASHIRO Taisei
HT FUKUOKA Shimpei → HIRAKAWA Rei
60' NAKAMURA Keito → MIYASHIRO Taisei
68' KIDA Hinata → MATSUMOTO Nagi
68' KATSURA Rikuto → NISHIO Ryuya
68' KUBO Takefusa → NARUSE Shumpei
85' KOZUKI Soichiro → KUWAHARA Kaito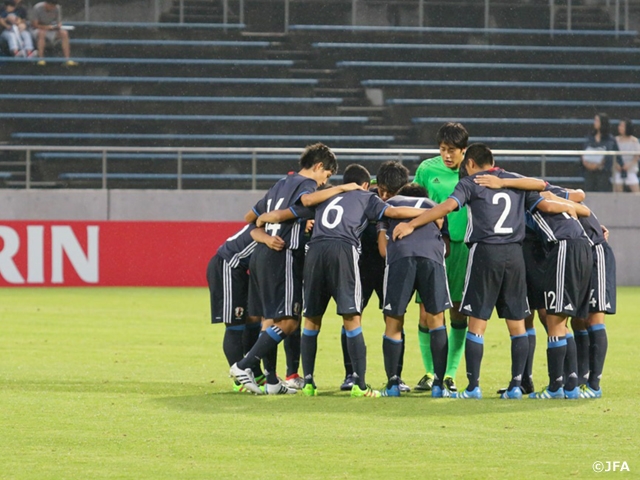 Match Report
"00 JAPAN", the U-16 Japan National Team had their first match of the U-16 International Dream Cup 2016 against the U-16 Hungary National Team and they won 4-1.
The Hungary National Team has played well in the current EURO and its U-16 National Team has also become one of the strong teams in this age category. The country has recently tried to strengthen the younger national team. For "00 JAPAN", Hungary is one of the best teams to play to check their level.
The match kicked off in the tremendous atmosphere with 2,000 fans.
Japan was calm from the beginning and they responded well to Hungary's aggressive play. With quick pass work and offence which aimed at the space behind the opponent defenders, Japan could score the opening goal in the 12th minute; they moved the ball well in the front line and forward NAKAMURA Keito passed it to the other forward TANAHASHI Akito, he immediately smashed it with his left foot, the ball successfully found the right corner of the net.
In the 19th minute, Nakamura stole the ball from Hungary and took it to the front line, he then trapped one defender and smashed a strong shot with his right foot. Japan got the second goal. Their third goal was made in the 23rd minute; defender KATSURA Rikuto crossed from the right wing and midfielder KOZUKI Soichiro finished it with a header. Japan took control.
However, in the 29th minute, Japan conceded a penalty after competing strongly in front of their goal, and Hungary got a goal back. Japan switched their mind to go forward to get their fourth goal. Tanahashi and Nakamura made shots but both of them didn't find the net and the first half ended 3-1.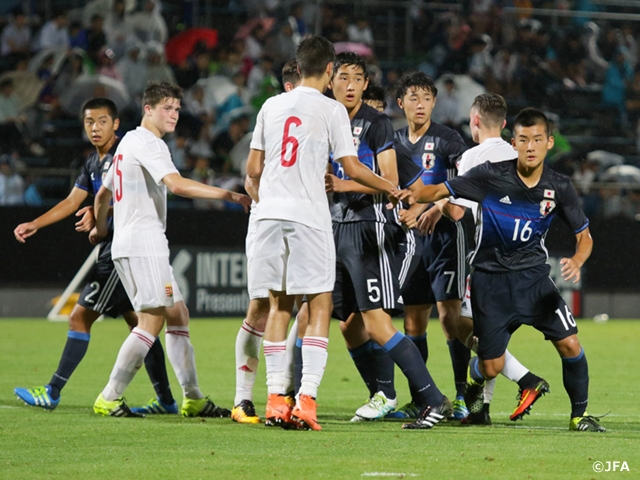 In the 2nd half, Japan wanted to keep their positive mood and tried to attack the Hungary's goal from the beginning. However, they couldn't finish with goal and time passed by. Japan's defenders kept working well and they never gave Hungary chances. Defender SUGAWARA Yukinari and KEMMOTSU Takumu defended well using their bodies against the Hungarian players who are basically stronger in fitness.
In the 87th minute, midfielder HIRAKAWA Rei and forward MIYASHIRO Taisei moved the ball to the front and defender KIKUCHI Kenta got the chance to face only the goalkeeper, but his shot didn't find the net. Japan kept attacking for another goal, and in the 3rd minute of additional time, Hirakawa broke through with dribbling and the ball went to midfielder NARUSE Shumpei, his shot hit the post but Tanahashi pushed this back to the net., Japan's fourth goal. The match ended 4-1. Japan finished the important first match with a victory.
* "00 JAPAN" is the nickname of the U-16 Japan National Team that consists of members who were born after 2000.
Players' Comments
GK #1 AOKI Kokoro (JFA Academy Fukushima U18)
It was good that we could win this important first match today. As a team, we could make a good combination in both offence and defence and as a whole we played calmly. I didn't have many chances to play today, but I could keep a good level of concentration throughout the match. Regarding the goal we conceded from the penalty, we will make sure about coaching and good positioning at corner kicks. Our issue is to move the ball around carefully especially when opponent players have control, so we want to improve this. Our team mood has been very good and we want to get the second victory in the next match against Mali.
MF #8 NARUSE Shumpei (Nagoya Grampus U18)
I was called up suddenly as an additional player and I am proud to be a part of the U-16 Japan National Team in this opportunity. Today, I came on as a substitute and I think I could play aggressively in both offence and defence. However, my shooting accuracy and lack of clear idea about what to do in front of the goal are my issues, so I want to improve myself to go forward towards the goal more for the next match. I think we have to switch offence to defence, and defence to offence much quicker against Mali, so we want to communicate more actively to show good combination play in both offence and defence. We definitely want to get the victory again.
FW #13 NAKAMURA Keito (Mitsubishi Yowa SC Youth)
It was good that we could score after the series of plays such as pressuring them from the front line and stealing the ball. Most of all, I am happy that we as a team could win today. Our mood was good and serious from a warming-up session earlier today, this is the victory that we got as a team. Personally, I felt I have to do more to start moving to receive the ball right away when any of my teammates steal it. We will keep working well tomorrow to beat Mali in the next match.
JFA-TV (Japanese version only)
M1 U-16 Mali National Team vs U-16 Mexico National Team
M2 U-16 Japan National Team vs U-16 Hungary National Team
Schedule
U-16 International Dream Cup 2016 JAPAN Presented by JFA
Wed. 22 June
4-1
vs U-16 Hungary (Tottori Bird Stadium)
Thu. 23 June
AM
Training
Fri. 24 June
18:00
vs U-16 Mali (Tottori Bird Stadium)
Sat. 25 June
AM
Training
Sun. 26 June
14:30
vs U-16 Mexico (Tottori Bird Stadium)
*The schedule is subject to change due to the team condition, the weather, etc.