NEWS
Junior high school girls football festival ends three-day programme
06 November 2014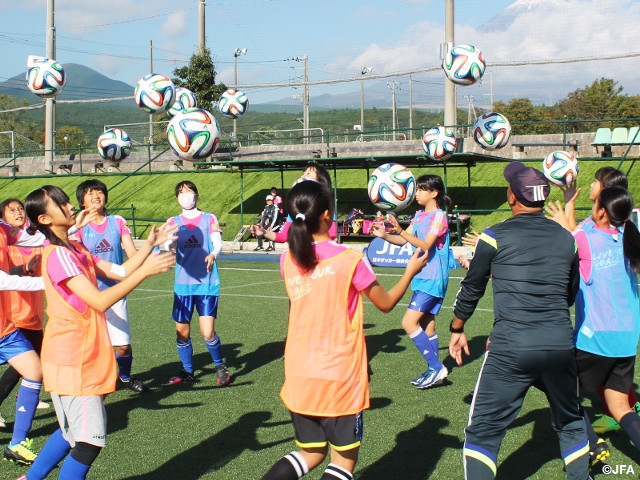 Under the clear sky and with Mt. Fuji in sight, "The Festival" was held as the last session of the three-day programme. The grassroots festival system recommended by the FIFA was integrated into the program, allowing all participants to interact with many people and enjoy their time regardless of their age and football experience.
Teachers and coaches from participating schools gave instructions to players and lived up the festival. They started with the preparation and simulation in the early morning, and then welcomed the players with high fives at the entrance of the pitch. The players enjoyed their various types of training and games with peers who they got to know during the three days. There were full of smiles and cheers on the pitch.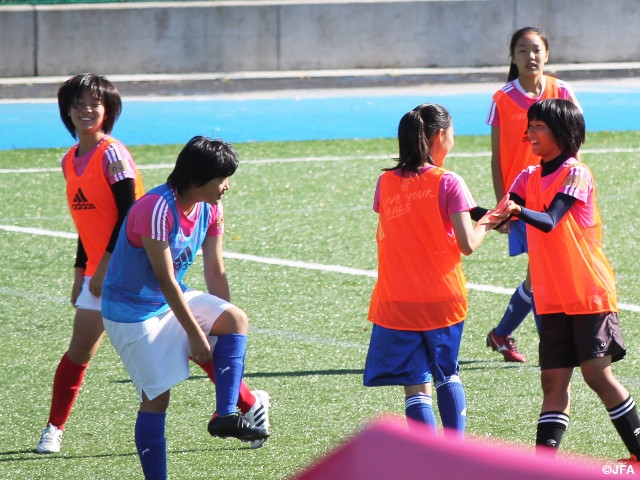 Comments
Joint Team of Junior High Schools from Miyako District in Iwate
TATEZAKI Riho(Miyako City Taro-Daiichi Junior High School)
What I felt in this festival was high level players came here.
So I felt like working hard in my daily practices to make more and more skill improvement. It was quite fun to talk to and play with players from other prefectures. I found that it's important to have my own objective when coach Sasaki Norio gave a talk to us, so I want to create my objective little by little because I don't have any of it right now.
It was very enjoyable three days.
Joint Team of Junior High School Football Clubs from Funabashi
YASUNAGA Akane(Miyama Junior High School)
The three days turned out to be special. I could make friends across the country through football. I saw a lot of peers who play football in a men's team just like me.
If I continue to play my favourite football, I believe great meetings will be waiting for me again. I will take advantage of this experience and make further efforts. Thank you so much.
Women's Football Club of Chantan Junior High School
YONAHA Toko
I could get to know other teams' players and make a lot of friends in this festival. In the training, I learned various things like how to pass, how to control the ball and how to open spaces, so I want to make use of what I learned here in the following practices and games. And I will look back my weaknesses and stuff I need to improve and want to practice them. I will keep challenging without "being afraid of failure." I had lots of fun during the three days.