NEWS
Japan squad return to Itu, prepare for next match
16 June 2014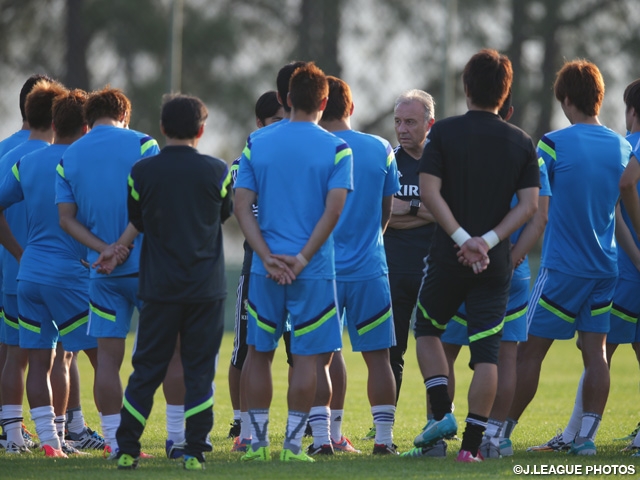 One day after their first match in the 2014 FIFA World Cup against Cote d'Ivoire, the Japan national team returned from Recife, the match site, to Itu, Sao Paulo, and held a practice session on the 15th June.
Inn a cooler weather that felt like an autumn, the members who were in action in the match on the previous day worked on their recoveries, such as running and training, while the rest went through their own training using ball for about an hour and a half. Japan is set to take on Greece in their second Group C match on the 19th. They will tune up for it at their Itu base until the 17th.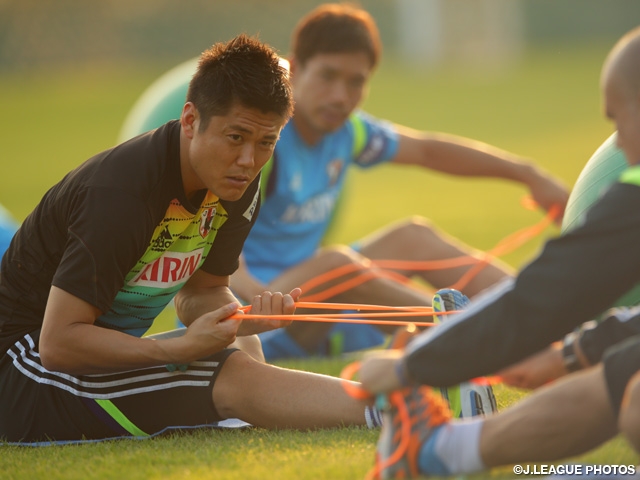 Comments
DF MORISHIGE Masato(F.C.TOKYO)
Ideally we would want to press from the front, get the ball and attack on short counters. But we could have our press properly and stepped back, and it ended up isolating Osako and Honda. We should have entrapped the opponents better, but couldn't correct on that during the match. We knew we were too passive in the first half, but we had no options to preserve the lead we had at the end of it. We chose to play hard from the front, which we've done, and it just didn't work out well for us. Personally, I need to have more courage and put on challenge, and if I can do that, I think I can contribute to victories for our team.
DF NAGATOMO Yuto(F.C.INTERNAZIONALE MILANO/Italy)
I think that our opponents came in yesterday's game having analysed us very well. I'd almost never seen their side-backs take their positions that high. And we had to defend with fewer guys on the sides all the time, so it put us in difficult situations. Kagawa was working hard defensively as well, but our strength is in how much we can increase the minutes for our offence with Shinji, and we don't really have a difficult game like this. (On the percentage to qualify through the group stage getting lower when one drops their first game) It doesn't concern me at all. Rather, I would have more energy coming out of my body to want to upset that data. I have a strong will to want to upset it now.
FW KAGAWA Shinji(Manchester United/England)
I struggled sleeping last night. Frankly speaking, I had a feeling that we couldn't put up our own football, and I couldn't do anything personally either. I only thought of nothing but frustrations. Our opponents were tougher than we thought and they didn't have a lot of room for us to take advantage of. But on top of that, we just cost us with our own mistakes, and we were too strained although we believed that we could do what we want to and there are some weaknesses we can capitalize on. But we couldn't make trys. There was certainly the atmosphere of the World Cup, but it's my ability that I have for now, with that included. Yet we can't be done as it is. We've worked so hard for this tournament in the last four years. We are still in the group stage, and it's not over yet. We believe that we can do it.
GK KAWASHIMA Eiji(Standard Liège/Belgium)
As we scored first, somehow we had the feeling that we had to defend. But it would have been a totally different story had we retained the sole lead in the end. Also, since it was a difficult first game for us, we felt like we were compelled to show what we have in better ways. While Cote d'Ivoire had individual skills, they came against us collectively. We can't necessarily do everything in the way we want it to be, so we have to stick to a result when we have to. We couldn't control ourselves. (For the next game) the most important thing is to have a sense of urgency. We should be able to control the game if we create good rhythm on our offence, not just on our defence. We have to watch the entire situation.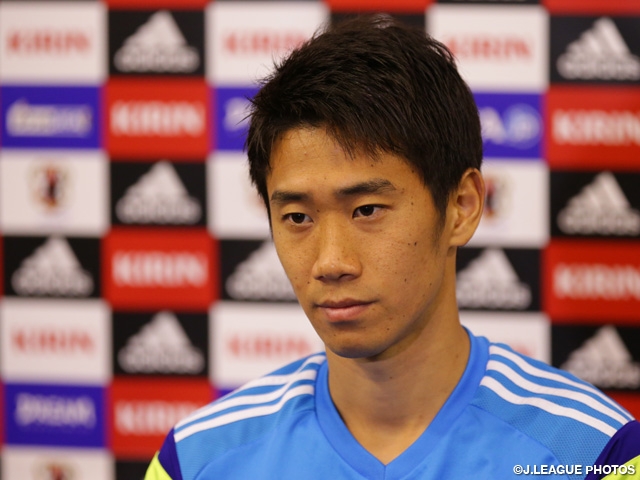 JFA-TV
DF MORISHIGE Masato

GK GONDA Shuichi

FW KAGAWA Shinji
Schedule
Wed, 21 May ~ Sun, 25 May
-
Training Camp
Sun, 25 May
18:30
"Dream for Our power 2014" send off party
(Tokyo/Yoyogi National Stadium Yoyogi Gymnasiums 1)
Tue, 27 May
1-0
Kirin Challeng Cup2014
vs Cyprus National Team
(SAITAMA Stadium2〇〇2)
Thu, 29 May ~ Fri, 6 June
-
Training Camp
(Unaited States)
Mon, 2 June
International Friendly Match
3-1
vs Costa Rica NationalTeam
(United States/Tampa)
Fri, 6 June
4-3
vs Zambia NationalTeam
(United States/Tampa)
LIVE
Hong Kong : 6/7 07:30~
i-CABLE Sports
Super Soccer Channel 61
Thailand : 6/7 06:30~
True Sport 1
True Sport HD 2
Sat, 14 June
2014 FIFA World Cup Brasil
1-2
2014 FIFA World Cup Brazil
vs CÔTE D'IVOIRE National Team
(Arena Pernambuco)
[LIVE]
NHK G Sun,15 June9:00~(12:00)
[VIDEO]
NHK BS-1 Sun, 15 June 19:00~20:54
NHK BS-1 Fri, 20 June 4:00~5:55
NHK BS-1 Sat, 28 June 17:00~18:55
Thu, 19 June
19:00(JST)
  Fri,20 June   7:00
2014 FIFA World Cup Brazil
vs Greece National Team
(Estadio das Dunas)
[LIVE]
NHK BS-1 Fri,20 June 6:00~9:10
NTV Fri,20 June 5:50~9:15
[VIDEO]
NHK BS-1 Fri, 20 June 20:00~21:55
NHK BS-1 Sat, 28 June 19:00~20:55
Tue, 24 June
16:00(JST)
Wed,25 June  5:00
2014 FIFA World Cup Brazil
vs Colombia National Team
(Arena Pantanal)
[LIVE]
Asahi National Broadcasting Wed,25 June 4:40~7:20
[VIDEO]
NHK G  Wed,25 June 9:05~11:00
NHK BS-1 Wed,25 June 20:00~21:55
NHK BS-1 Sat, 28 June 21:00~22:55
※Broadcast time is Japan time.