NEWS
Japan Under-21 squad fall to South Korea, fail to retain Asiad title
29 September 2014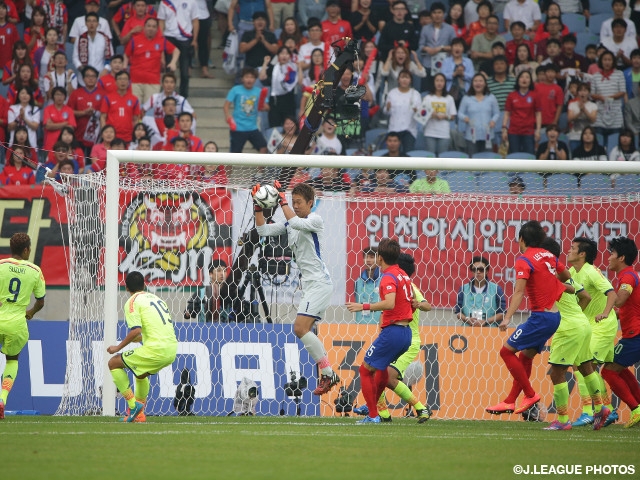 17th Asian Games Incheon 2014 - Knockout Stage Quarter Final
Sunday 28 September  Kick Off at 17:00  90minutes
Munhak Stadium(Incheon, Korea)
U-21 Japan National Team 0 - 1(1st 0-0、2nd 0-1) U-23 Korea Republic National Team
Scores
88min Goal Against(U-23 Korea Republic National Team)
Starters
GK:NIEKAWA Ayumi
DF:MUROYA Sei, IWANAMI Takuya, UEDA Naomichi, AKINO Hiroki
MF:ENDO Wataru、OHSHIMA Ryota、NOTSUDA Gakuto、NAKAJIMA Shoya、YAJIMA Shinya
FW:SUZUKI Musashi
Substitutes
GK:POPP William
DF:YAMANAKA Ryosuke
MF:HARAKAWA Riki、KANAMORI Takeshi、KIDA Takuya、YOSHINO Kyohei、NOZAWA Hideyuki
FW:ARANO Takuma
64min NOTSUDA Gakuto → ARANO Takuma
79min YAJIMA Shinya → HARAKAWA Riki
90+2min SUZUKI Musashi → KANAMORI Takeshi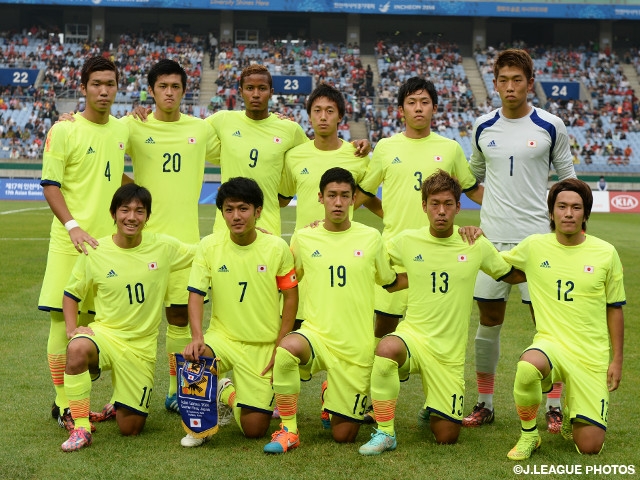 Match Report
Japan took on their archival South Korea in the quarterfinal round with a final four ticket at stake in the men's football of the Asian Games. Against South Korea, who stuck to kicking long balls to both sides of the pitch from early on, Japan were forced to take care of it, playing in their own territory and giving the momentum to the opposing side.
Japan attempted to push back, but allowed South Korea to take most of the second balls and had to play defensively for much of the first half.
But South Korea had problems in their shot accuracy and the game entered halftime with a 0-0 score.
Into the second half, however, Japan remained in their own territory being pushed by their opponents even harder than in the first half.
But Japan's centre-backs, IWANAMI and UEDA, kept denying shots after shots from South Korea, and had the biggest scoring chance in the contest on 77th minute, when YAJIMA Shinya directly fired a pass from the right side, but it was fortunately saved by the South Korea goalkeeper. The score remained to be scoreless as the game proceeded towards the final minutes.
Everyone thought that it would enter extra minutes, OSHIMA Ryotaro took an opposing player down in the penalty area to give a penalty kick.
Jang Hyun Soo made the PK for South Korea and Japan got behind in the final moment.
Japan tried to rally back in the limited time with a power play sending tall defender Ueda up front, but South Korea escaped it and eliminated Japan's consecutive championships with a 1-0 win at the final eight round.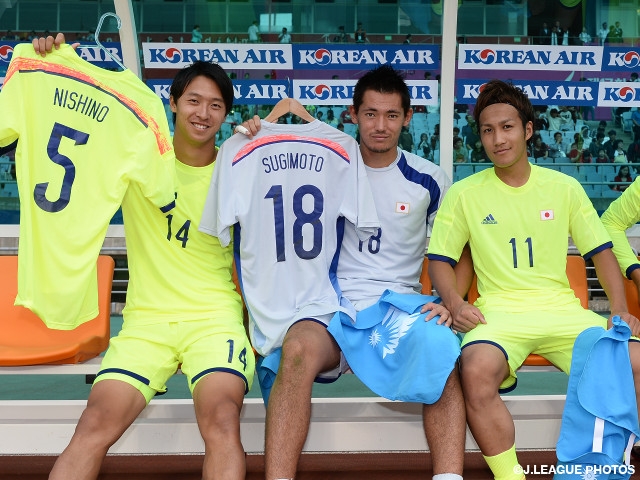 Comments
TEGURAMORI Makoto, Head Coach
As we'd take on South Korea in today's quarterfinals, we wanted to play in this atmosphere and experience it, and wanted to be the winning side in the end.
I believe that it will be our experience to have played a game like this, but we will have to move on with the disappointment from it.
Our players played patiently until the end in spite of this atmosphere.
We endured against South Korea's attacks well, and you have to understand that you can't do everything you want to do in this atmosphere.
In that situation, I think that we were able to show our own attacks when we had the ball in our fashion, and if we can take advantage of those, we will be able to be a lot stronger.
OHSHIMA Ryota(Kawasaki Frontale)
(On giving the penalty kick) I thought it would harass him if I took the inside position, but he went the opposite way. As a result, I gave up the PK and feel responsible for it.
We wanted to relay the ball in the second half, but we allowed our opponents to possess the ball longer and we just had to be patient. Our coach made some actions, but we weren't able to change the bad rhythm by ourselves, and had fewer chances to push them back in the latter half. I have to admit that were behind in terms of the force.
IWANAMI Takuya(Vissel Kobe)
South Kore was stronger in taking the ball and had better vigor in their defensive side of ball. We made some chances, so we wanted to take advantage of them, but their centre-backs played better. We need more volumes of training in order to defeat them. I had the best 90 minutes compared with my past performance. It's certainly frustrating to have lose, but I take it positively to play against South Korea. I got to find my own issues through the Iraq and South Korea games, but it grew me. I allowed those opponents to take advantage of my poor line controls while they found ways to get in, so I want to work harder with these experience in mind. I hope to connect these experience for the Olympics and A team activities.
ENDO Wataru(Shonan Bellmare)
I thought that we would be able to hold them if our defensive line focused on defending cross balls. But offensively, we weren't good enough in terms of using more men. We were gradually able to play to how we wanted to play, while we were getting on the same page better. As a defensive midfielder, I have some things that I have to reflect on because I feel like I could have gone more offensively, but still I was able to grow even in this short period of time. We are still expected to take on tougher teams like South Korea and other Asian countries, and we have to raise our level in things like getting the ball at a higher percentage.
SUZUKI Musashi(Albirex Niigata)
We had some occasions that we were connecting passes in the first half, and I was thinking we should have some chances if we kept it up. Our team was defending well and I thought if we kept the 0-0 score, the opponents would suffer eventually. As Arano came in, I had a good distance with him, and it gave us some momentum to go forward. Based on this experience, I want to have better communication so I can draw more passed from my teammates.
As for today, we got behind in terms of the momentum. I want to practice everyday so we are not going to lose. I felt it was important to have strong mind-set when we have our backs against the wall.
U-21 Japan National Team Match Schedule
| | | | |
| --- | --- | --- | --- |
| Sun. 9/14 | vs Kuwait | 4-1 | Incheon Football Stadium |
| Wed. 9/17 | vs Iraq | 1-3 | Goyang Stadium |
| Sun. 9/21 | vs Nepal | 4-0 | Goyang Stadium |
| Thu. 9/25 | vs Palestine | 4-0 | Hwaseong Sports Complex Main Stadium |
| Sun. 9/28 | Quarterfinal | 0-1 | Munhak Stadium |
17th Asian Games (2014/Incheon)Groups
| | |
| --- | --- |
| A Group | Korea Republic、Malaysia、Soudi Arabia、Laos |
| B Group | Uzbekistan、HonKong、Bangladesh、Afghanistan |
| C Group | Oman、Palestine、 Singapore、Tajikistan |
| D Group | Japan、Kuwait、Iraq、Nepal |
| E Group | Thailand、Maldives、Timor-Leste 、Indonesia |
| F Group | Korea DPR、China PR、Pakistan |
| G Group | UAE、India、Jordan |
| H Group | Iran、Vietnam、Kyrgyz Republic |