NEWS
Japan get ready for South Korea game
28 September 2014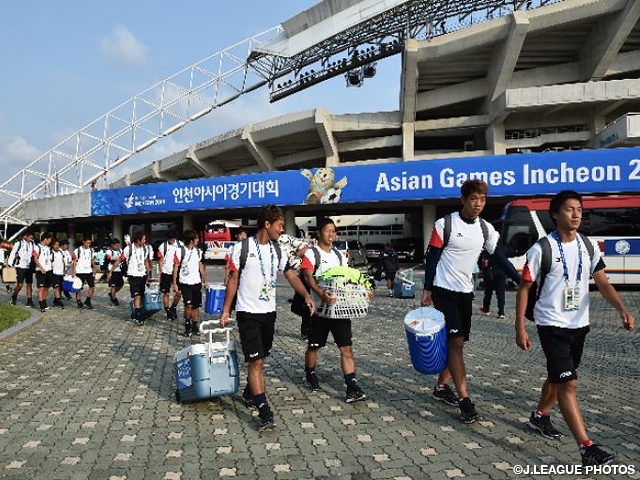 The Japan national under-21 squad had their final tune-up practice on Saturday for the following day's game against South Korea in Ansan.
It will be the fifth match in two weeks for Japan since their first contest on the 14th, plus it was one day before another, and Japan went through a light practice. The practice menus were the same ones as they did before their game against Palestine in the round of 16; After warm-ups, they played a nine-on-nines with the goalkeepers in and then confirmed their set-plays. After their wrapped up the team practice with penalty kick practice, SUZUKI Musashi and NAKAJIMA Shoya remained on the field and worked on their shooting with instructions of head coach Teguramori. Japan hopes to be the winners in the game with their goals against South Korea, who came up to the stage allowing no goals in their previous four matches.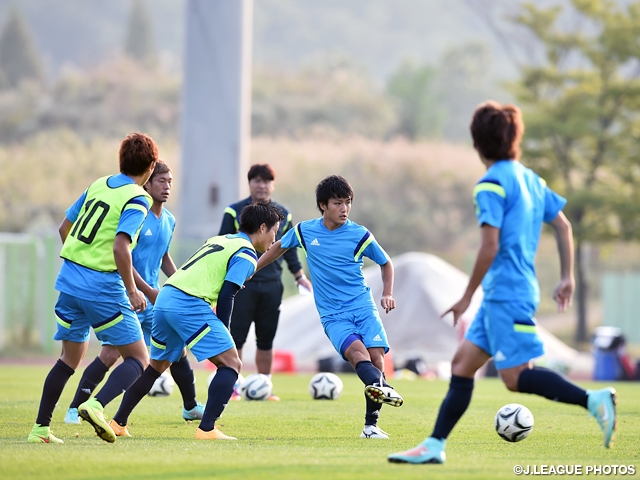 The South Korea under-23 team came in the Asian Games, capitalizing on the over-age spots with Park Joo Ho, a former J. Leager who currently plays in the Budesliga of Germany, goalkeeper Kim Seung Gyu and tall forward Kim Shin Wook, players of Ulsan Hyundai FC who faced Kawasaki Frontale in this year's ACL. They also have other outstanding J. League-related members, such as a ex-Niigata Albirex player and current Hoffenheim defender Kim Jin Su and Sagan Tosu's Kim Min Hyeok.
As a South Korea asked at the morning's news conference, Japan and South Korea will have faced for their seventh time in the Asian Games, and the latter side have gone 5-1. Since the tournament was meant for under-23 teams, the two played once in 1998 and it will be the first time since then.
The sole Japan victory came in 1982, when the current JFA secretary general HARA Hiromi and former Japan national team head coach OKADA Takeshi scored to help Japan beat South Korea 2-1 in the 1982 edition). Thus if Japan come on top, it will be the first win in 32 years.
For South Korea, not only because Japan will come against them with a strong rivalry mind-set, but because they are the host nation, winning the whole thing is the minimum goal for the host nation and a tough battle will be expected in this game.
The game between the Japan under-21 and South Korea under-23 will kick off at 5 p.m. at Incheon Munhak Stadium on Sunday.
The game will be aired on NHK BS1 from 4:50 p.m.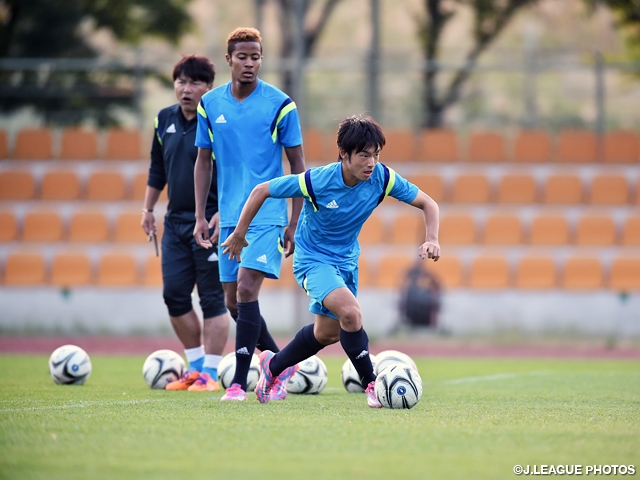 Comments
NIEKAWA Ayumi(Jubilo Iwata)
We are facing the opponents who are said to be our archrivals, so we will be particular about posting a win and will do our best to achieve it.
(On that the team have not allowed any goals this tournament) I believe that our front guys provide us some goals, so we want to firmly defend well and finish the game giving up any goals.
OHSHIMA Ryota(Kawasaki Frontale)
(On what kind of things he will be aware being the captain) In order to win, we want to play hard when we need to do making sure we are on the same page all the time, and we want to communicate with each other.
(On that many South Korean fans are expected to show up for the game) We are looking forward to it. Surrounded by so many supporters, we want to play better and it will be the best if we come out on top.
(On the Japan-South Korea rivalry) I don't have particular feelings toward it. Yet as far as the Japan-South Korea matchup, I have an impression that both teams have played really whole-heartedly.
NAKAJIMA Shoya(F.C.Tokyo)
(On the South Korean game) It's fortunate for us to be able to play in front of big crowds and it's a really strong opponent, so I am looking forward to it.
(On what kind of plays he wants to show) I haven't decided. I think it will be important to decide on it, attacking with my dribbles and using my teammates. (South Korea) have not allowed any goals yet, so we want to absolutely score some goals.
(On Japan's offence) In terms of what my teammates are positioning and stuff like that, I've gotten to understand. In fact I now have the knack to understand it even if I'm not really watching them, and I think it's a real good thing.
(On whether he is aware of the Japan-South Korea rivalry) As for me, I will face them for the fist time, so I am not aware of it too much. But if they come against us putting a lot of energy mentally, we have to go up against them with the same level of energy or even bigger mind-set than theirs. That said, maybe my feelings will change.
It is the biggest rival among our nearby countries, so we can't afford to lose.
U-21 Japan National Team Match Schedule
| | | | |
| --- | --- | --- | --- |
| Sun. 9/14 | vs Kuwait | 4-1 | Incheon Football Stadium |
| Wed. 9/17 | vs Iraq | 1-3 | Goyang Stadium |
| Sun. 9/21 | vs Nepal | 4-0 | Goyang Stadium |
| Thu. 9/25 | vs Palestine | 4-0 | Hwaseong Sports Complex Main Stadium/  |
| Sun. 9/28 | Quarterfinal | 17:00 | Munhak Stadium/Goyang Stadium |
| Thu. 9/30 | Semifinal | 17:00/20:00 | Incheon Football Stadium/Munhak Stadium |
| Thu. 10/2 | Final | 20:00 | Munhak Stadium |
17th Asian Games (2014/Incheon)Groups
| | |
| --- | --- |
| A Group | Korea Republic、Malaysia、Soudi Arabia、Laos |
| B Group | Uzbekistan、HonKong、Bangladesh、Afghanistan |
| C Group | Oman、Palestine、 Singapore、Tajikistan |
| D Group | Japan、Kuwait、Iraq、Nepal |
| E Group | Thailand、Maldives、Timor-Leste 、Indonesia |
| F Group | Korea DPR、China PR、Pakistan |
| G Group | UAE、India、Jordan |
| H Group | Iran、Vietnam、Kyrgyzstan |