NEWS
U-20 Japan Women's National Team lose semi-final to France in extra time
30 November 2016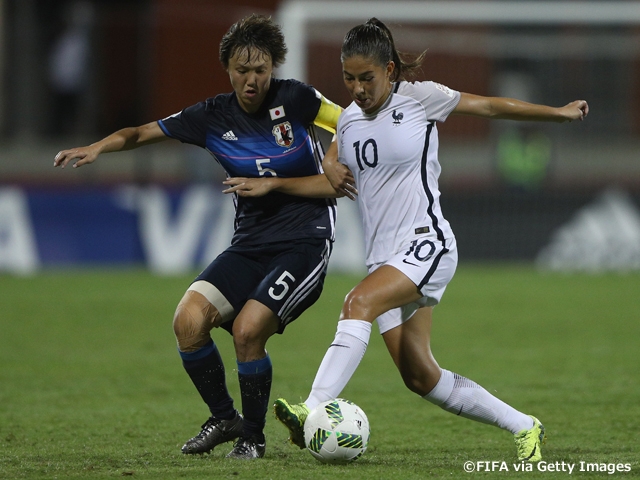 The U-20 Japan Women's National Team lost the semi-final of the FIFA U-20 Women's World Cup Papua New Guinea 2016 to France 2-1 in extra time.
The semi-final was between France, who were one of the fastest teams in the tournament, and Japan, who used passing combinations to attack. The Japanese squad started the game with midfielder MIURA Narumi on the right and forward UENO Mami up front, who had left the pitch due to injury in the quarter-final.
In the 3rd minute, midfielder GARBINO of France fired a strong shot. However, soon after Japan struck back. Midfielder MIYAGAWA Asato at right wing overlapped to send the ball to the centre splitting two opposing defenders. Then, forward MOMIKI Yuka who received the ball moved towards the goal and took a shot. Furthermore, Japan displayed their attacking strength, including forward SUGITA Hina's shot from range in the 15th minute. Despite the numerous scoring chances in the first quarter of the game, the Japanese squad were not able to capitalise on any of them.
After 29 minutes, Japan suffered a set back. Midfielder Miyagawa picked up an injury in a clash and had to leave the pitch. However, defender MORIYA Miyabi performed brilliantly, coming off the bench and replacing the injured teammate. Thereafter, the game stayed in the balance, eliminating each other's strengths, until the end of regulation. The match went into extra time.
After 99 minutes, forward MATEO of France reacted to a cross from right side to strike an opener. France scored another, while coach TAKAKURA Asako was on her way to send on midfielder MATSUBARA Shiho. The opponents surged up the left flank this time, and midfielder GATHRAT found a loose ball cleared by the Japanese defender and fired a shot into the back of the net, extending their lead to 2-0.
Japan struggled, but never gave up. In the 108th minute, after switching halves, forward MOMIKI was taken down by the opponent inside the box and earned a penalty kick. She scored from the spot to close the gap to one goal. Japan were eager to score the equaliser. Although forward KAWANO Juri came off the bench in the 112th minute, Japan could not break through the French defence, who stayed focused until the final whistle. Japan lost to France 2-1 after the 120-minute match.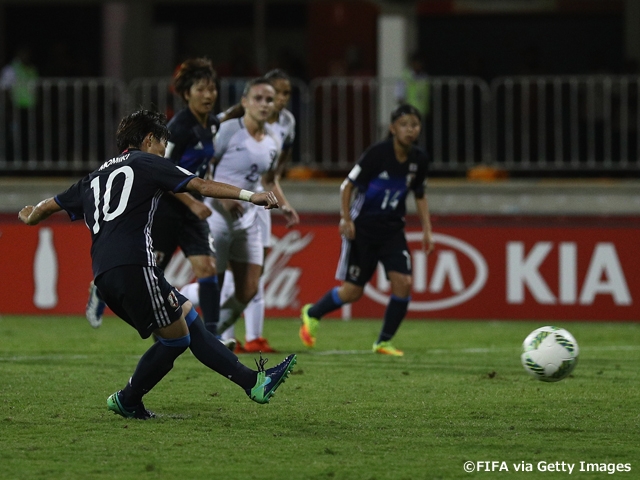 Although Japan could not advance to the final, their World Cup is still not over. Japan will play the third-place match against U-20 America at 16:00 (15:00 Japan Time) on Saturday 3 December.
Coach's and Players' Comments
TAKAKURA Asako, Coach
Although the result was extremely frustrating, France were strong and excellent, and I believe we played a great match. We continued to show the Japanese playing style and we had stretched where we played at our pace. In terms of the two goals scored by the French squad, our system didn't function well, and we conceded them from our weakness—reacting to crosses. Having said that, by improving techniques, tactics and judgement, we'll become even more competitive. Our World Cup is not over yet, and we will play the third-place playoff. So we'll win the next game before going home.
DF #5 NORIMATSU Ruka (Urawa Red Diamonds Ladies)
After playing patiently, I think we took the initiative in the second half. However, we struggled to break into the key offensive areas or create chances from well-coordinated passing plays. It was frustrating that we conceded goals from crosses in the end, which we were cautious about. Since our aim was to become the top team in the world, I am gutted. However, many people have been supporting us, and we'd like to win the last game to finish the tournament with a smile.
MF #8 HASEGAWA Yui (NIPPON TV BELEZA)
If we cannot score after finding our rhythm, we tend to suffer this kind of tough game. Personally, although I did create few goal-scoring opportunities, I should have taken more shots. We failed to achieve our aim, becoming the top team of the world. Having said that, bringing a medal back home means a lot to us. So, we would like to refresh ourselves and play as a united team to finish in third place.
MF #7 SUGITA Hina (INAC KOBE LEONESSA)
We controlled the game well and showcased the Japanese playing style in the first half. However, after the middle of the second half, we struggled to speed up and move forward. We simply wasted our time in stringing passes. Despite the fact we kept possession and attacked, we couldn't move the ball forward, which was one of the reasons why we couldn't win. We can't change the result. However, I'd like to point out that we performed better than the game against Brazil in many aspects. So I'd like to stay positive and prepare for the next match.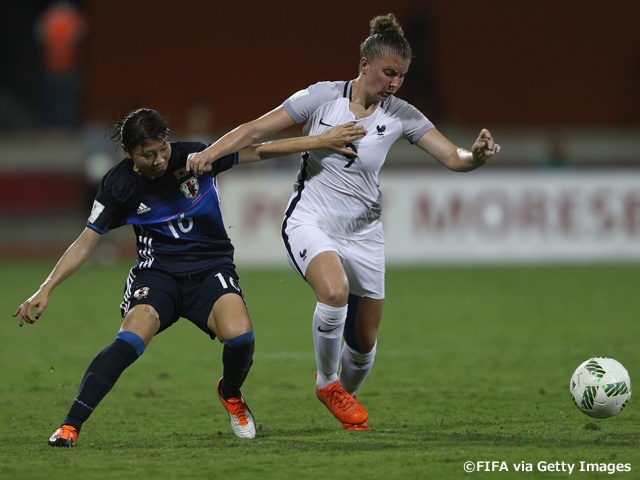 Schedule
FIFA U-20 Women's World Cup Papua New Guinea 2016
Sun. 13 November
6-0
vs Nigeria (Bava Park)
Mon. 14 November
AM/PM
Training
Tue. 15 November
AM/PM
Training
Wed. 16 November
0-1
vs Spain (Bava Park)
Thu. 17 November
AM/PM
Training
Fri. 18 November
AM/PM
Training
Sat. 19 November
AM/PM
Training
Sun. 20 November
5-0
vs Canada (National Football Stadium)
Mon. 21 November
AM/PM
Training
Tue. 22 November
AM/PM
Training
Wed. 23 November
AM/PM
Training
Thu. 24 November
3-1
Quarterfinal
vs Brazil (National Football Stadium)
Fri. 25 November
AM/PM
Training
Sat. 26 November
AM/PM
Training
Sun. 27 November
AM/PM
Training
Mon. 28 November
AM/PM
Training
Tue. 29 November
1-2
Semifinal vs France (Sir John Guise Stadium)
Wed. 30 November
AM/PM
Training
Thu. 1 December
AM/PM
Training
Fri. 2 December
AM/PM
Training
Sat. 3 December
16:00
3rd place play-off vs United States (National Football Stadium)
*Local Time
*The schedule is subject to change due to the team condition, the weather, etc.