NEWS
U-16 Japan squad finish in 7th with win over Peru in COPA UC 2016
19 December 2016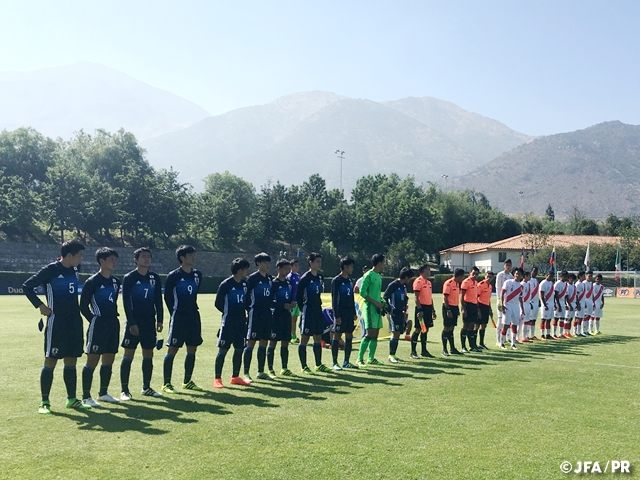 COPA UC 2016 U-16 Japan National Team vs U-16 Peru National Team
2016-12-19 (Sun.) Kick-off 10:30 (Local Time) Playing Time 70min. (35min.×2)
Estadio San Carlos de Apoquindo (Santiago, Chile)
U-16 Japan National Team 3-0 (1-0, 2-0) U-16 Peru National Team
Scores
13' HIRAKAWA Rei (U-16 Japan National Team)
65' FUKUOKA Shimpei (U-16 Japan National Team)
70+1' SEKO Ayumu (PK) (U-16 Japan National Team)
Starting Line-ups
GK: TANI Kosei
DF: SEKO Ayumu, SUGAWARA Yukinari, KOBAYASHI Yuki, KIDA Hinata
MF: HIRAKAWA Rei, FUKUOKA Shimpei, HIGASHI Shunki, IGAWA Sora
FW: YAMADA Hiroto, HARA Mikoto
Reserves
GK: OUCHI Issei
DF: MATSUI Renji, YAMAGUCHI Kazuki
MF: KATSURA Rikuto, KOZUKI Soichiro, TSUBAKI Naoki
FW: NAKAMURA Keito
Substitutions
HT HARA Mikoto → NAKAMURA Keito
55' HIGASHI Shunki → TSUBAKI Naoki
68' YAMADA Hiroto → KATSURA Rikuto
Match Report
After facing Peru in the final match of the group league, "00 Japan" picked up a 3-0 win over the same team in the seventh place match in the "COPA UC 2016" on Sunday 18 December.
It was Japan's fifth match for five consecutive days after the tournament began. The tough competitions was about to come to an end on the day. Despite players' fatigue hitting a peak, the must-win match started off at 10:30 with the temperature of 34 degrees. Peru, who lost to Japan two days before, played intense defence from the front and went on aggressive offence. Japan were not able to pick up their pace early on, failing to send the ball upfield. In the 7th minute, Japan allowed an opponent striker a turn and blast. But defenders SEKO Ayumu and KOBAYASHI Yuki kept the opponents' offence quiet after that, and their efforts paid off as the Japan side gradually started controlling the flow of the game.
In the 13th minute, defender SUGAWARA Yukinari went up on the right flank and cut in with dribbling before threading an incisive pass to left midfielder HIRAKAWA Rei, who brilliantly netted the opening goal at the end. Japan started picking up their offensive rhythm and came close to goal one after another. In the 28th minute, midfielder FUKUOKA Shimpei fired a shot after a pass exchange with forward YAMADA Hiroto, but his shot was parried by the goalkeeper. The score remained at 1-0 until the first half finished without any additional goal.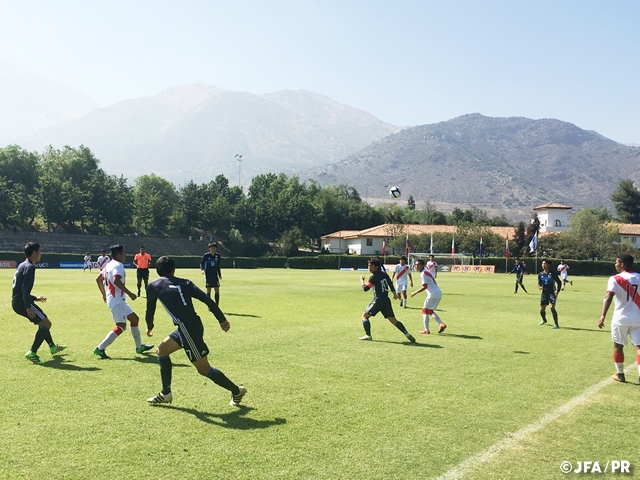 Japan shut down opponents' attacks with solid defence in the second half, but the Peru side went on an offensive surge after the 55-minute mark against Japan apparently getting tired and making mistakes. Then a tough stretch started for Japan. The opponents had unchallenged situations, firing shots and earning fouls caused by Japan's increasing howlers. Even so, the Japanese players committed themselves to keep Peru from scoring. Midfielder TSUBAKI Naoki, who came off the bench in the 65th minute, sent a cross from the left flank. Hirakawa headed it back inside before Fukuoka met it well with his header to give his side a long-awaited additional goal. One minute into the added time, defender Seko earned a penalty kick after an aerial battle for a corner kick ball. He put it home from the spot for the team's third goal. With Japan keeping their concentration until the end, the match finished at 3-0.
Japan finished in seventh place, which is not satisfactory. But their Chile trip turned out to be a valuable experience ahead of the FIFA World Cup India 2017 to be held in October of next year as they played the five consecutive matches, took a long trip, got accustomed to the time difference and hot temperature and, above all, played intense matches against South American powerhouses. 00 Japan will certainly take advantage of the experience. The young squad will contend for the FIFA U-17 World Cup India 2017 next year as Japan National U-17 Team.
* "00 JAPAN" is the nickname of the U-16 Japan National Team that consists of members who were born after 2000.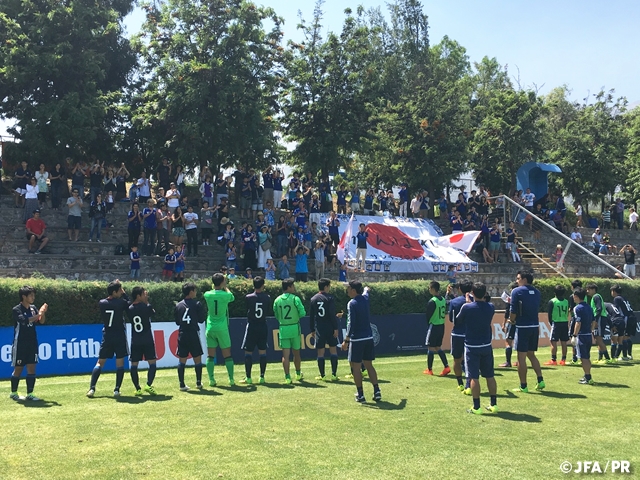 Coach's and Players' Comments
MORIYAMA Yoshiro, Coach
This is the first trip after we grabbed the FIFA U-17 World cup India 2017 spot. This time, we came here to break something that we had matured and to test six players who were called for the first time for an overseas trip. We wanted to try out various players' combinations and systems with a theme of how we can get through against top South American teams. In the end, the lack of my determination as a coach resulted in playing the low-ranking league.
Other countries played their best players in all their matches with strong desire and desperation to win. On the other hand, Japan reshuffled the squad and changed the system in every match, ending up in third place after a drawing (cointoss) on the same point with one win, one draw and one loss, which put us in a consolation final. We played our game, capitalising on skills and agility. We actually netted brilliant goals but scored nine goals and conceded five goals in five matches at the end. One win, two draws and one loss. One of them is a loss in penalty shootouts. And we settled for seventh place. If we would have scored one more goal or would have not given up one less goal, I would be able to let this team experience at a higher level in the semi-finals. That's disappointing and I feel sorry about that. We watched the final together today and recalled the disappointment that we couldn't step on that pitch.
The time difference is 12 hours, and the temperatures are over 30 degrees every day. The Japanese players played with intensity without holding back against South American players who are much bigger than them. But they struggled with opponents' ability to keep the ball and intense challenges on the ball. And South American players' tenacity on the ball and attitude to pursue a win taught us Japanese the fact that the Japanese players are still not good enough. Japan are now at a level where they can play equally against any country, but not good enough to dominate, either. The champions Mexico are not showy compared to Japanese, but each player has got skills and understands tactics. Their play has a purpose, and they don't easily make an error of judgement on both offence and defence without any howlers. They've got abilities to attack and play well in a match. We plan to go abroad next year. I want to improve the team and players more.
DF #5 SEKO Ayumu(Cerezo Osaka U-18)
It's good to win with a clean sheet today, but looking back the tournament, the seventh place is not the result we can be satisfied with. We got to know how important one single goal is in the group league and learned tenacity from the opponents. Tenacity is important in getting good results in the FIFA U-17 World Cup India 2017 next year, and we need to improve it as a team and as an individual. Not to waste this experience in Chile, I will work hard on daily training. And hopefully, we can get back at Mexico U-16s and other South American teams in the finals.
MF #10 FUKUOKA Shimpei(Kyoto Sanga F.C. U-18)
Today, we all battled well on the ball without baking down, and it's great to get a 3-0 win in the last match this year. We've got a lot of tough matches as well as a 26-hour travel, the time difference and five matches in a row. It turned out to be a great experience to play against opponents who've got tenacity on the ball in defence and for a victory. I need to be a tougher player who can battle more and want to take advantage of this experience in Japan. One single mistake and loss on the ball lead to giving up a goal in a match against teams like champions Mexico U-16s. I will train that in our daily training. As a team also, we lost concentration in the second half and gave away unnecessary penalties. Those are something we need to improve. I learned how important one single goal is. I won't forget that and work hard with my team with an eye for the FIFA U-17 World Cup India 2017.
Schedule
COPA UC 2016
Wed. 14 December
1-1
vs U-17 UNIVERSIDAD CATOLICA
(Estadio San Carlos de Apoquindo)
Thu. 15 December
0-2
vs U-16 Mexico
(Estadio San Carlos de Apoquindo)
Fri. 16 December
4-1
vs U-16 Peru
(Estadio San Carlos de Apoquindo)
Sat. 17 December
1-1
(PK3-4)
Consolation Final vs U-16 Chile
(Estadio San Carlos de Apoquindo)
Mon. 19 December
3-0
Seventh-placed Match vs U-16 Peru
(Estadio San Carlos de Apoquindo)
*The schedule is subject to change due to the team condition, the weather, etc.
COPA UC 2016
A Group: U-16 Chile, U-16 Colombia, U-16 Paraguay, U-17 CLUB CHIVAS (Mexico)
B Group: U-16 Japan, U-16 Peru, U-16 Mexico, U-17 UNIVERSIDAD CATOLICA (Chile)