NEWS
U-16 Japan National squad beat Riseisha High School at Osaka training camp
03 November 2016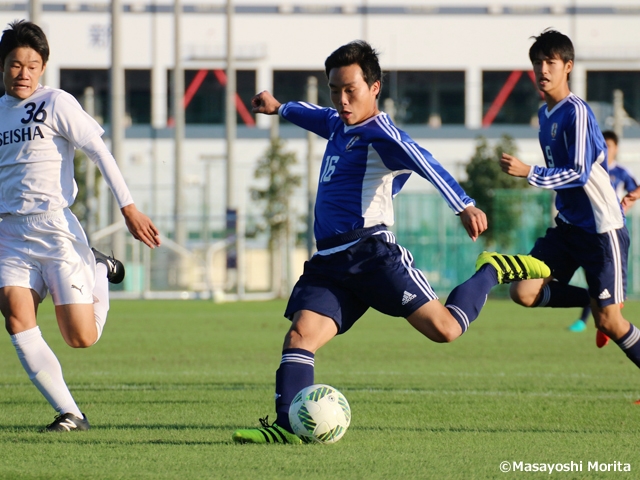 U-16 Japan National Team short-listed squad vs Riseisha High School
2016-11-2(Wed.) 15:00 Playing Time 80min.(40min.✕2)
J-GREEN Sakai(Osaka City, Osaka Prefecture)
U-16 Japan National Team short-listed squad 6-1(0-0, 6-1)Riseisha High School
Scores
42' goal against(Riseisha High School)
43' GUNJI Atsuya(U-16 Japan National Team short-listed squad)
45' GUNJI Atsuya(U-16 Japan National Team short-listed squad)
57' HOMMA Shion(U-16 Japan National Team short-listed squad)
62' SUZU Naoki(U-16 Japan National Team short-listed squad)
63' GUNJI Atsuya(U-16 Japan National Team short-listed squad)
80+3' GUNJI Atsuya(U-16 Japan National Team short-listed squad)
First Half Line-ups
GK:MATSUDA Ryo
DF:OKAI Toshinori, MATSUI Renji, SEKIGAWA Ikuma, OKOSHI Hiroto
MF:TSUBAKI Naoki, MATSUMOTO Hiroya, OKUNO Kohei, TSUNO Ayase
FW:SAKAKIBARA Keigo, MORI Kaito
Second Half Line-ups
GK:ITO Genta
DF:YAMASHITA Ryoji, OKAWA Tomoki, TAKAYOSHI Shoma, IKETAKA Nobuki
MF:HOMMA Shion, IGAWA Sora, SUZU Naoki, GUNJI Atsuya
FW:IMAMURA Ryoichi, ISHI Kaisei
Substitutions
GK:HAYASHI Shotaro, TAKAYAMA Shioki
MF:FUKUSHIMA Hayato

49' OKAWA Tomoki → FUKUSHIMA Hayato
58' TAKAYOSHI Shoma → OKAWA Tomoki
65' IKETAKA Nobuki → TAKAYOSHI Shoma
73' ISHI Kaisei → IKETAKA Nobuki
77' IMAMURA Ryoichi → ISHI Kaisei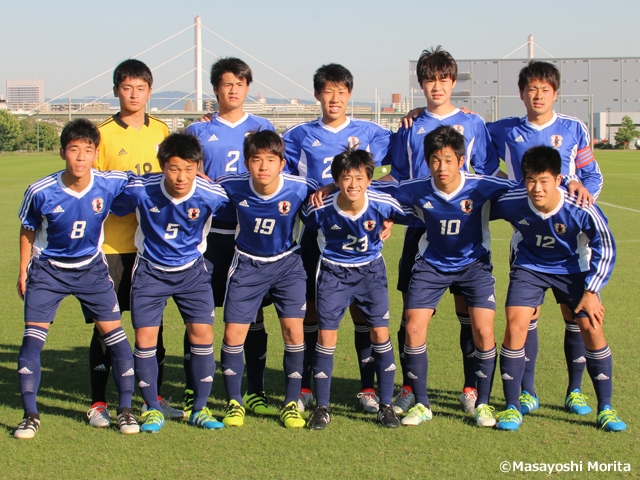 Match Report
The U-16 Japan National squad, '00 Japan', met Riseisha High School for their first training game on the third day of the Osaka training camp on Wednesday 2 November.
Japan were eager to show off their abilities amid high spirits, calmly passing the ball around at the beginning of the match. In the seventh minute, forward MORI Kaito, who reacted to a long-distance ball from defender SEKIGAWA Ikuma, fired a close shot. However, the team struggled to find their rhythm thereafter with mistakes in passing or being too passive. Although defender MATSUI Renji performed well not to let the opponents create any goal-scoring opportunities, the team were not competitive enough to take control of the match. The game stayed scoreless until halftime.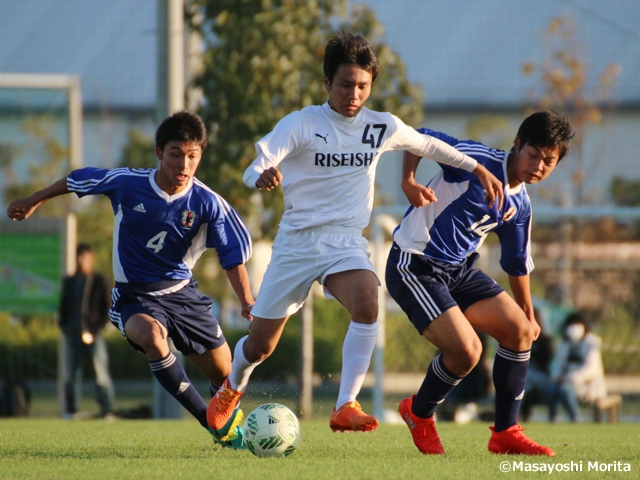 Coach MORIYAMA Yoshiro strictly omstructed the players to 'display their own strengths' and replaced all the players to impact the game in the second half. After 42 minutes, at the beginning of the second half, the team's passing mistake let the opponents strike the opener from a long-distance ball. However, in the 43rd minute, midfielder HOMMA Shion dribbled up to send a through ball to midfielder GUNJI Atsuya, who faced the goalkeeper one-on-one and calmly score the equaliser. Then after 45 minutes, Homma received a cross and returned it to midfielder IGAWA Sora, who fired a strong shot. Although the opponents' goalkeeper punched it away, Gunji slotted the loose ball into the netl to turn the game around.
Japan continued to create goal-scoring opportunities with the forwards, who constantly aimed at space behind the opponents' defenders. After 57 minutes, Homma, who received the ball at left, showed off his strength and cut in to strike a fine goal. In the 62nd minute, a mistake from the opponents' goalkeeper allowed midfielder SUZU Naoki to score directly from his cross, followed by Gunji's third goal in the 63rd minute. He reacted to a cross from forward IMAMURA Ryoichi, who tenaciously got through the right and scored a hat trick. In the third minute of additional time, defender YAMASHITA Ryoji's cross hit the crossbar, but Gunji calmly reacted to push the ball into the goal. The defenders stayed focused until the final whistle and the Japan won the game 6-1.
The team will meet Cerezo Osaka U-18 and Gamba Osaka Youth, both of whom play in the Prince Takamado Trophy U-18 Premier League, on Thursday 3 November.
*Note: "00 Japan" is the nickname of the team led by players born in 2000.
Players' Comments
OKAWA Tomoki (Kyushu International University High School)
I was impressed by each of my teammate's high skills during the training sessions so far. Although I have been desperately working on my weakness, possession, I'm still struggling to display my skills. However, I stayed vocal in today's game without fear in order to showcase my strength. I'd like to point out that I did control the defensive line well and communicate with the forwards, while displaying my tenacity in heading. Since I expect the opponents will be aggressive in taking the initiative tomorrow, I'd like to stay vocal to lead the team and defend well.
YAMASHITA Ryoji (Vegalta Sendai Youth)
I found it difficult to display my playing style until yesterday, since the atmosphere was different from my club. As I felt frustrated, I was determined to stay focused in today's match. I managed to gradually showcase my strengths – passing the ball once to the side to get through, finding space to pass, and dribbling up the wing. There are still many tasks to improve, including the lack of patience moving forward too quickly, not enough competitiveness in one-on-ones, the quality in passing, and the weakness in the air. I'd like to improve them as much as possible in tomorrow's game. I'd like to analyse and learn from today's match, so that I can coordinate the efforts with my teammates well and display my abilities. I'll aim to get positive results without fear of making mistakes.
SUZU Naoki (Sanfrecce Hiroshima Youth)
I've been working on communicating with others in training sessions and sharing the same vision to coordinate both in attack and defence. Although I could assist as well as strike a goal in today's game, I haven't been able to use my teammates' skills well yet. So I'd like to capitalise on my teammate's strength as much as possible in tomorrow's match, while showcasing my abilities, such as through-balls. Since it's a vital opportunity to display my skills tomorrow, I'd like to aggressively look for goals from the centre, while making quick transitions to defence when necessary. I would also like to stay competitive in a one-on-one battles.
OKUNO Kohei (Gamba Osaka Youth)
I felt nervous in the tense environment at the beginning. However, I became more relaxed by communicating with my teammates. I learned what I needed to improve during training sessions in a good atmosphere, which was good for me. In today's game, I couldn't play with good distance in general and focus well in defence. I wasn't able to also display defensive combinations, which we had been practicing.
I'd like to control tomorrow's game by receiving the ball and send it forward numerous times. Since we have shared our achievements and tasks by checking our match video, I'd like to continue to proactively communicate with others in the remaining day, so that we can face the upcoming games as a united team. I'll work hard in order to finish this trip with positive results.
Schedule
Mon. 31 October
PM
Training
Tue. 1 November
AM/PM
Training
Wed. 2 November
AM
6-1
Training
Training Match vs Riseisha High School (J-GREEN Sakai)
Thu. 3 November
10:00
11:30
Training Match vs Cerezo Osaka U-18 (J-GREEN Sakai)
Training Match vs Gamba Osaka Youth (J-GREEN Sakai)
*The schedule is subject to change due to the team condition, the weather, etc.