NEWS
U-16 Japan National Team – Second day of Osaka training camp
02 November 2016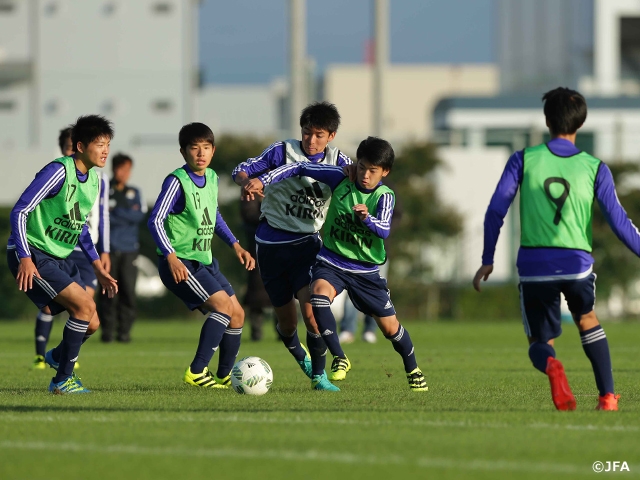 1 November (Tue.)
The U-16 Japan National Team held training session on their second day of the Osaka training camp. Before practice, they had a team meeting, where they watched video footage of top quality football to explain about the aim of '00 Japan', in addition to well-executed attacking plays to improve the quality of their offence.
Similar to the training session of the previous day, they went through movement preparation exercises, followed by the ball handling drills in a group of two players and 3-on-2 work-outs. The entire squad members practiced with high level of concentration, while actively communicating amongst themselves by engaging in discussions about the training, calling out for the ball, and encouraging each other to play harder.
In the 5-on-5 training, coach MORIYAMA Yoshiro inspired the players by saying 'display your strength' and 'make quicker transitions', and the players gradually started to showcase their individual skills. By better understanding each other's characteristics, they also started to score goals from well-coordinated plays. Lastly, they went through shooting exercises to improve the accuracy of shots and wrapped up the morning practice.
In the afternoon session, they warmed up going through game-format relays and passing in group of three forming a triangle. Then, they moved on to practical training drills and spent sufficient time to prepare themselves for the practice match tomorrow.
In the 4-on-4 with one neutral player and two servers and 5-on-4 with the goalkeeper exercises, coach Moriyama stopped the play repeatedly and made advices so that 'the passer and the receiver of the ball can share the same vision while constantly being aware of their surroundings'. Finally, they played a eleven-a-side intrasquad scrimmage to end their action-packed two-a-day practice sessions.
The team will take on Riseisha High School, an Osaka Prefecture powerhouse, tomorrow.
*Note: "00 Japan" is the nickname of the team led by players born in 2000.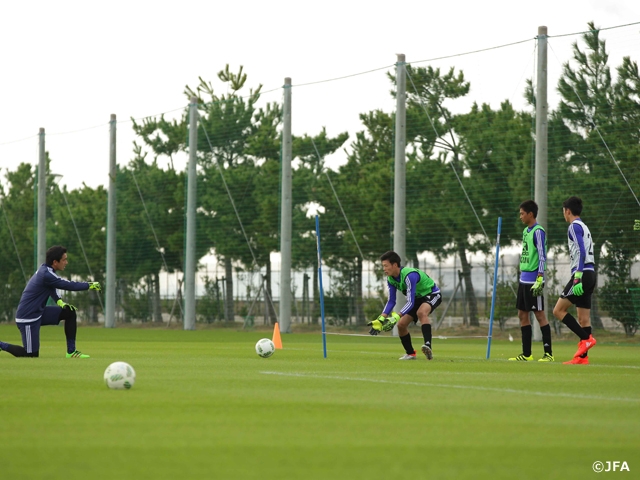 Players' Comments
GK ITO Genta (Matuyama Technical High School)
I was very pleased that I have been called up on the national team for the first time. I still have a long way to improve my technical skills, but I learned so many things in these two days. Goalkeeper coach TAKAKUWA Daijiro gave me clear advises that I can visualize, so I would work on them on a daily basis. In tomorrow's training match, I would like to showcase my strength, while keeping a high level of concentration until the end of the match. I still have issues with saving techniques and taking care of high balls, but I will not shy away from them.
DF TAKAYOSHI Shoma (Kawasaki Frontale U-18)
Getting selected to this national team is only a start. I need to surpass the squad members of the 2016 AFC U-16 Championship by displaying my strength during this camp. Having gone through two days of training, I still have not communicated effectively with my teammates and also have been slow in transitions. So, I need to quicker decisions on the pitch. I have so many things I can learn, including how I can steal the ball by putting myself between the ball and the player and defend collectively. I will work on those every day and absorb as many things as possible.
MF GUNJI Atsuya (Ichiritsu Funabashi High School)
I wanted to see how much I'd be able to do on the national team, so I'm grateful that I've been given a chance like this. Throughout these two days, I got to realize the importance of doing things that you are supposed to do with care and precision, including competing tenaciously for the ball and making quicker transitions. These are issues that were addresses back in my club, so I like to improve them here and also work on them once I get back to my team. My strengths are taking shots after cutting in from the side and getting behind the defenders. I am looking for opportunities to display those in the training and the practice match tomorrow.
FW MORI Kaito (Kashiwa Reysol U-18)
I was a little nervous at the beginning, but gradually I got accustomed to the environment here and had a decent training day. Toughness when competing for the ball, timing of receiving the ball, and tactical battles with the opponent are some of the things I learned from the practice today. Even off the pitch, there are so many things I can learn and we actively talk to each other about football.
In the training match tomorrow, I will try to score goals and defend tenacious pressuring the opponents from the front line, creating problem for the opposing team. Given the limited time, I would like display my skills on the pitch.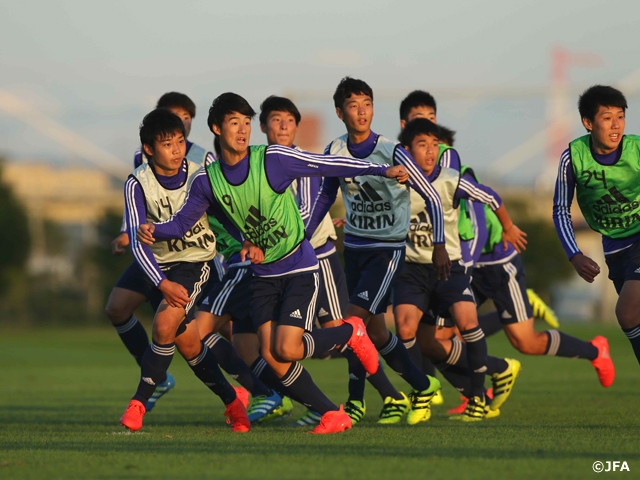 Schedule
Mon. 31 October
PM
Training
Tue. 1 November
AM/PM
Training
Wed. 2 November
AM
15:00
Training
Training Match vs Riseisha High School (J-GREEN Sakai)
Thu. 3 November
10:00
11:30
Training Match vs Cerezo Osaka U-18 (J-GREEN Sakai)
Training Match vs Gamba Osaka Youth (J-GREEN Sakai)
*The schedule is subject to change due to the team condition, the weather, etc.